Events
This event has passed. Check out other things to do instead.
Rangers to visit Bruins for traditional Black Friday matinee
Local star Chris Kreider leads New York into Boston for an anticipated afternoon-after-Thanksgiving affair.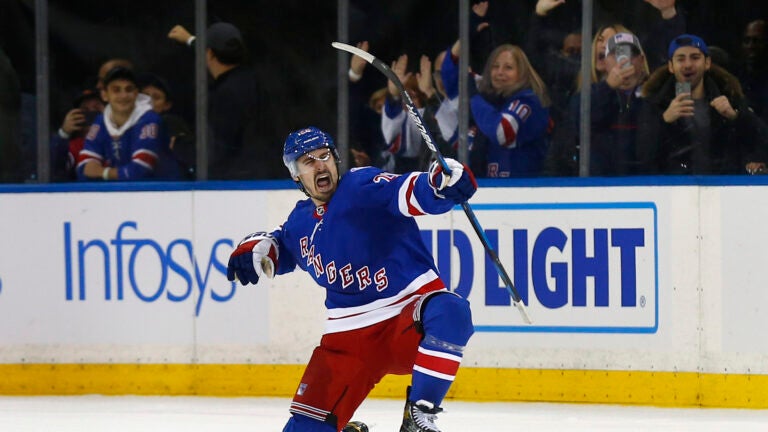 Including almost a week off in mid-November, and only 13 games through the first five and a half weeks, the Bruins' schedule this season has to this point been anything but traditional.
Tradition wins out on Black Friday, however.
Since 1990, the Bruins have played an afternoon home game on the day after Thanksgiving every year when the hockey season wasn't interrupted by a work stoppage or a global pandemic, and after last year's hiatus they'll welcome Rangers to TD Garden for this year's edition. (It's been branded the NHL's 2021 Thanksgiving Showdown.)
Those in attendance are in line to receive a coozie from Black Dog, the game's presenting sponsor, and with that perk they're also promised a competitive game between two clubs that project to be in the mix for Eastern Conference playoff spots. The Bruins have had some trouble finding a rhythm lately in their disjointed season, but the Rangers opened with only four regulation losses in their first 17 contests, and a week from their visit to Boston were near the top of the Metropolitan Division.
The Blueshirts' biggest threat has been Boxford's Chris Kreider, who played at Masconomet, Phillips Andover, and Boston College before turning pro in 2012. Three days before Thanksgiving, he was fourth in the NHL with 13 goals, and that total gave him about three times as many tallies as any of his teammates. After New York's first 17 games, he'd only once gone consecutive games without a goal.
Canton's Kevin Rooney plays center for the Rangers as well — making him another local beacon who fans can follow during a matinee that, traditionally, tends to welcome a younger audience. Tickets are available on the secondary market, though those hoping to get a Black Friday deal on those ducats might be out of luck. On the team-authorized resale site, the least-expensive seats were posted for more than $150 apiece at the start of the holiday week.
Need weekend plans?
The best events in the city, delivered to your inbox