Concerts
This event has passed. Check out other things to do instead.
'Salswing!' with Rubén Blades at the Wang
The talented multi-hyphenate brings his Afro-Cuban flavored salsa to Boston Nov. 28.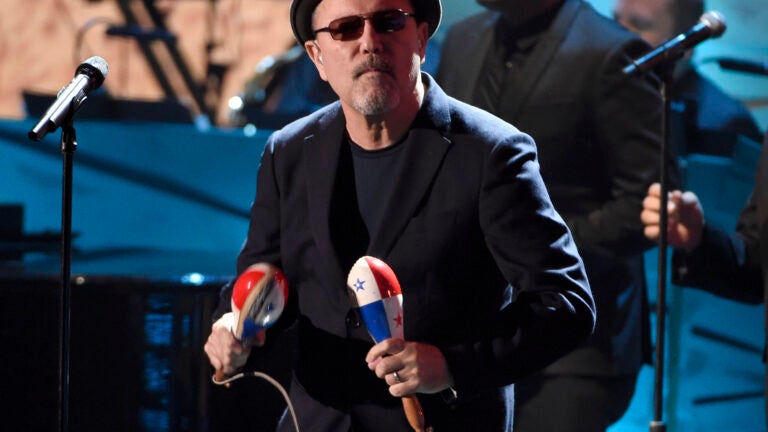 Rubén Blades is one of those show biz folks who's been all over the entertainment spectrum. He's acted in film ("The Milagro Beanfield War," "The Counselor"), on television ("Gideon's Crossing," "Fear the Walking Dead"), and on Broadway ("The Capeman"). He's a singer-songwriter-arranger-producer-guitarist with about 60 albums (not counting greatest hits or concerts) to his credit, and nine Grammys on his shelf.
If that's not enough, he also has a law degree from the University of Panama (he was born in Panama City) and a master's from the Harvard Graduate Law School, and he served as Panama's minister of tourism from 2004-2009.
But Blades (pronounced BLAH-dess) has always returned to his music, easily shifting back and forth between English and Spanish lyrics, most comfortable with the energetic Afro-Cuban flavored salsa style. That's what he'll be concentrating on when his Salswing tour makes a stop at the Wang Theatre on Nov. 28 at 7 p.m., featuring selections from "Salswing!" — his album, released last April, that combines salsa with big-band jazz, and provides a tuneful lesson on the history of Latin jazz.
While Blades has collaborated in the past with the likes of Elvis Costello, Sting, Lou Reed, and Wynton Marsalis, the musical alliance he's putting together for this show is of a more personal nature. His special guest is his singer-actress wife, Luba Mason.
Need weekend plans?
The best events in the city, delivered to your inbox