Shopping
This event has passed. Check out other things to do instead.
Shop at the Seaport Summer Market this season
The Seaport Summer Market will run every Saturday and Sunday through June 18.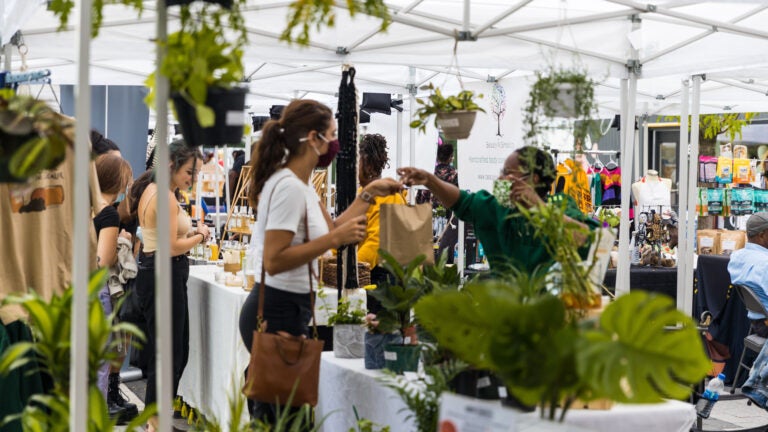 Looking for something fun to do during the weekends? This season, the Seaport Summer Market will host local artists and entrepreneurs selling a range of products including art pieces, clothes, jewelry, pottery, and more. Located in one of Boston's most popular neighborhoods at 85 Northern Ave., the market kicked off May 13 and promises music, food, and fun.
This year the market will have over 130 vendors throughout the summer, with approximately 80 vendors each weekend. New vendors to check out include Shara Porter bringing hand printed accessories, Peace House Studio with up cycled children's clothing, Mind's Eye Collective with handmade co-minded to jewelry, Mayfly featuring their ups cycled are in clothing, and much, much more. The Boston Children's Museum will also be participating this year with their own pop-up. They will have a Dinos in Space exhibit perfect for a trip with family and the market will have outdoor games for all ages.
This year visitors will also be able to experience the market's expanded dining options including wines from 90+ Cellars and farm fresh cider from Downeast Cider House. The dining area will include options like artisan grilled
cheese from Cheese Louise, empanadas from The Nada Cart, fusion bowls from Gogi on the Block's Korean, Turkish pastries and gourmet cookies from Onebitesweet, crepes from The Frenchman's Goods, and more.
Those who also visited the Seaport Holiday Market will be happy to know that there will be some returning artists. This is an Original Work of Art by Miles Perry will feature handmade paintings and customized clothing.
"It's pretty unique. Nothing is mass-produced and everything I do myself… so I love seeing the people's reactions and interacting with the customers," said Perry.
Perry also said that the market is a great weekend activity in the city, not only the vendors and artists there, but also being in the Seaport area with everything so close by.
"The market has food trucks, music, so many vendors and artists, and crafts it's really a great place to go and find a gift or anything like that," he said.
Laurel Greenfield Art will also be at the Seaport Summer Market this year. This will be Greenfield's first time bringing her paintings, prints, and murals "inspired by moments of joy around the table" to the summer market.
"I did the holiday market in Seaport and I wanted to be a part of the summer market too because the Seaport is such a fun and up-and-coming neighborhood. It's definitely seeing a lot more fun and action in the summer than it ever has before," she said.
Greenfield said that the summer market has plenty of places to sit and is a great place to walk around.
"I have done lots of other markets… but Seaport is a totally brand new, different vibe. There's a lot of different trending restaurants, rooftop bar, and lots of different things to do," she said.
The Seaport Summer Market is free and open to the public. The market will have multiple local businesses and food selections to choose from and explore. It will occur weekly from 11:00 a.m. to 8 p.m. on Saturdays and Sundays through June 18.
Need weekend plans?
The best events in the city, delivered to your inbox