Shopping
Snowport 2023 will transform the Seaport into a holiday wonderland
For the fifth straight year, Boston's Seaport neighborhood will combine shopping, a tree lighting, curling, and so much more holiday fun with Snowport 2023.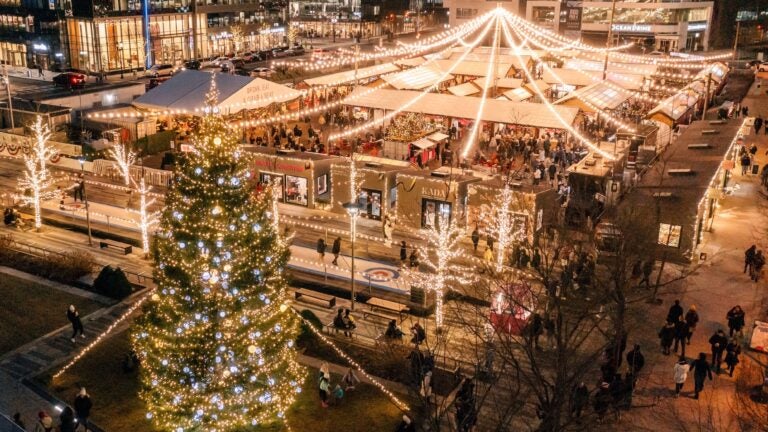 Since 2018, Boston's Seaport neighborhood has transformed into a winter wonderland with Snowport, a multi-week celebration of the holiday season. Snowport 2023, which begins on Friday, Nov. 10, will bring together more than 120 businesses and 17 dining concepts selling their wares at the Snowport Holiday Market, located at 100 Seaport Blvd.
Along with all your gift shopping needs for the holidays, Snowport visitors will be able to enjoy outdoor activities, including iceless curling, a bustling Christmas tree market, and a pair of lighting ceremonies — Snowport's holiday tree lighting ceremony Light Up Seaport (Dec. 1), and its annual menorah lighting (Dec. 10).
Snowport 2023 is run by WS Development, the mixed-use developer that owns the empty lot that serves as the main holiday activity hub.
"Snowport and The Holiday Market have quickly become a favorite tradition for so many families, friends, tourists, and holiday revelers," Ariel Foxman, WS vice president of brand and experience, said in a statement. "We can't wait to spread the holiday cheer and celebrate the season together again."
Below, we've organized everything you need to know about Snowport 2023, from the must-visit vendors at The Holiday Market to where you can find roving Snowport mascot Betty the Yeti.
Snowport 2023 Holiday Market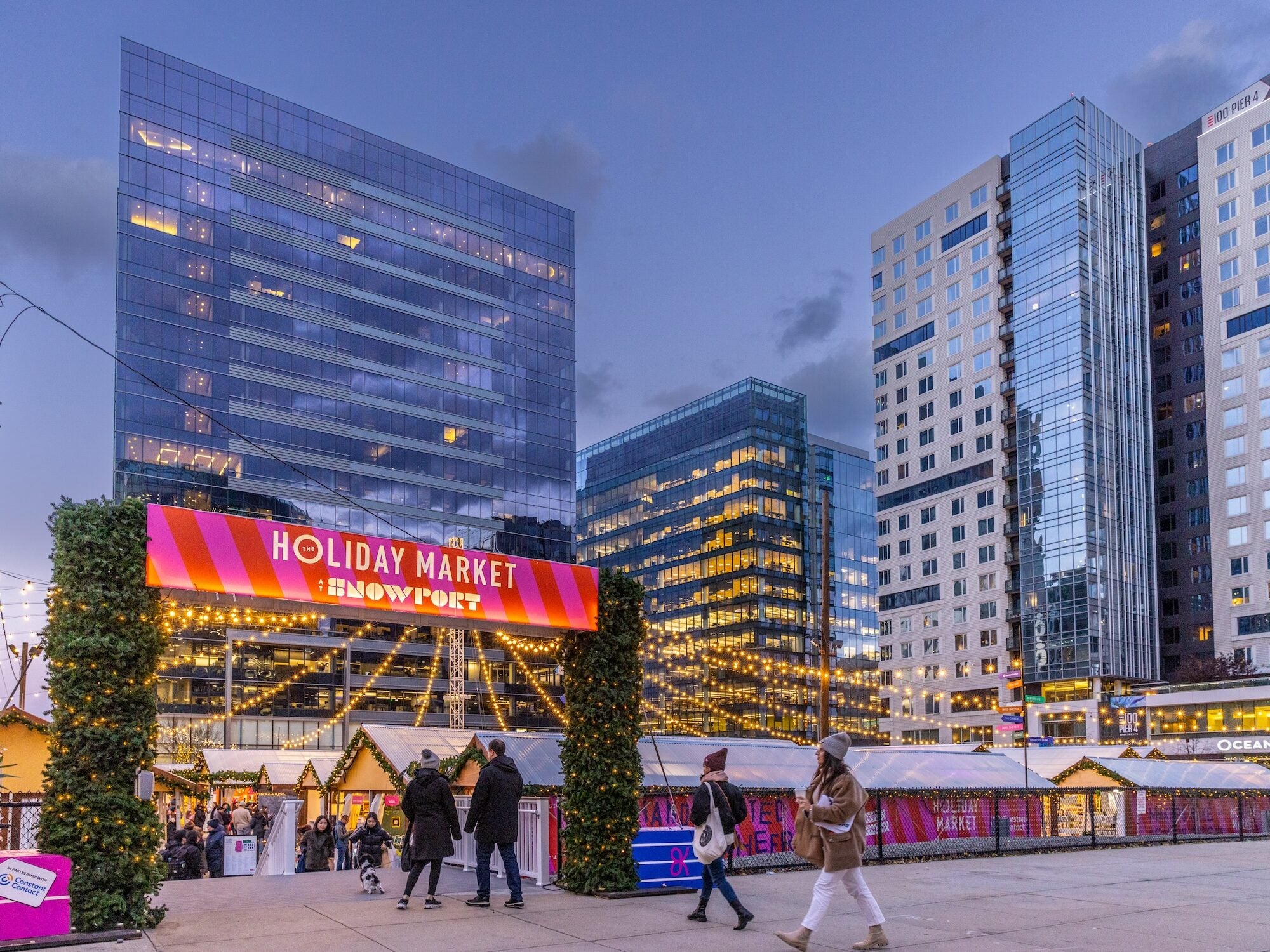 Location: 100 Seaport Blvd., Boston
Hours: Monday-Thursday 3 p.m. – 8 p.m.; Friday-Saturday 11 a.m. – 9 p.m., Sunday 11 a.m. – 8 p.m.
Now in its third season, The Holiday Market at Snowport will feature 120+ small businesses — 60 percent local to Boston and 71 percent minority and/or female-owned. Vendors will be selling gifts for everyone on your shopping list, including art, apparel, gourmet food items, and jewelry.
The Holiday Market isn't just for shopping, though. If you're looking for photo ops, swing by the 10-foot Mistletoe Archway, the oversized gifts at Presents Place, and the Winter Wish Wall, a 25-foot chalkboard where visitors write down their holiday wishes.
Looking for a hands-on activity? The Crafting Corner lets you create mason jar snowglobes, holiday wreaths, ornaments, and more.
A small selection of shops at the Holiday Market include:
For a complete list of businesses at the Snowport 2023 Holiday Market, visit the Seaport's website.
Snowport 2023 food and drink options
Location: 100 Seaport Blvd., Boston
Hours: Monday-Thursday 3 p.m. – 8 p.m., Friday-Saturday 11 a.m. – 9 p.m., and Sunday 11 a.m. – 8 p.m.
This year's Snowport celebration will pack 17 different food and beverage options into the 10,000 square foot dining space. Wander into an après ski lodge and warm up by the (fake) fire pits. Swing by the heated tent for beer garden-style seating and refreshments. Or visit one of four holiday-themed bars, including the Jingle Bar — so named for the hundreds of bells hung with care — or the Dizzy Dreidel, which incorporates spinning dreidels in its design.

A sampling of food and drink highlights at Snowport 2023 include:
Holiday Hot Mulled Cider by Downeast Cider
Made-to-order pasta in giant cheese wheels from Cheese Wheel Pasta
Bisques, chowders, and lobster mac n' cheese from Bluefin
Sweet and savory crepes from The Frenchman's Crepes
Doughnuts and cider from Breezy Hill Orchard
Seasonal cocktails, arancini, meatballs, and pizza baked in a wood-burning oven from Tuscan Kitchen
For a full list of Snowport 2023 food and drink providers, visit the Seaport's website.
Snowport 2023 Tree Lighting and Holiday Stroll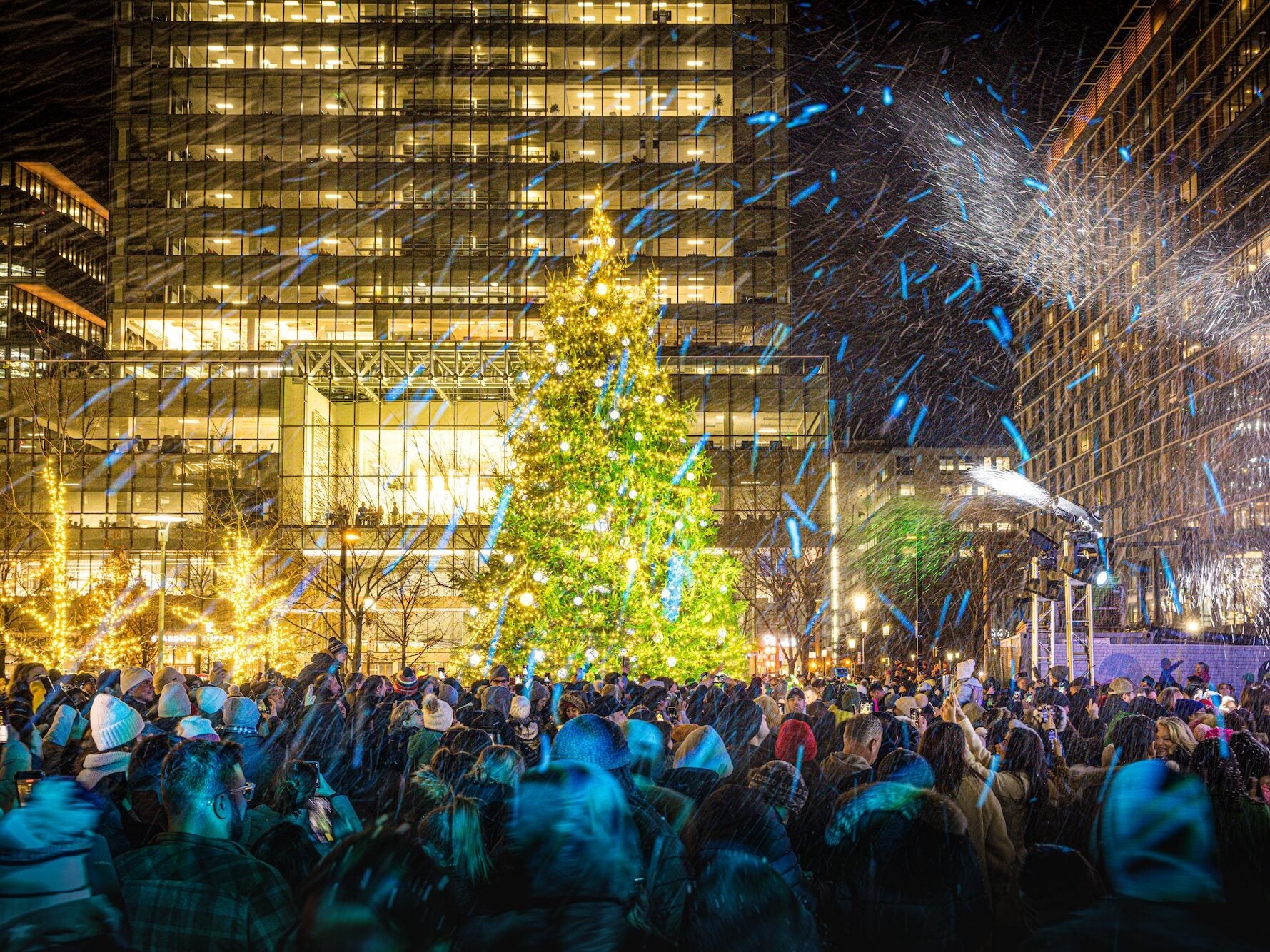 Location: 85 Northern Ave., Boston
Hours: Friday, December 1, from 5 p.m. – 9 p.m.
On the evening of Dec. 1, Snowport 2023 will switch on the 10,000 twinkling lights adorning its 50-foot holiday tree, the largest in Boston. Following the tree lighting and musical performances, visitors are encouraged to stroll through the neighborhood and visit any of the 60+ neighborhood retailers offering one-night-only promotions.
If you can't make it into the city for the tree lighting, NBC10 Boston will televise the ceremony.
Snowport 2023 Menorah Lighting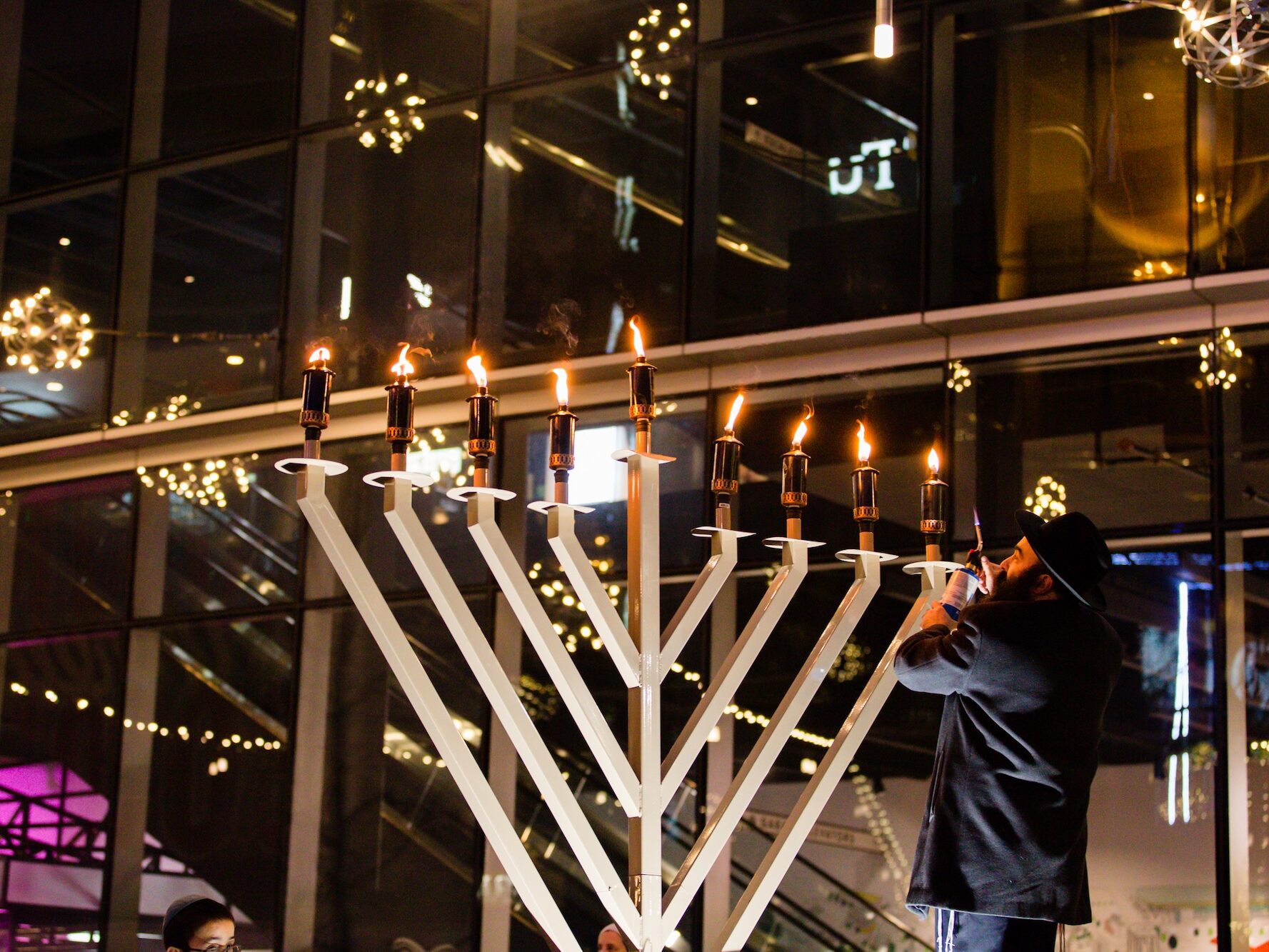 Location: 60 Seaport Blvd., Boston
Hours: Sunday, December 10 from 4 p.m. – 6 p.m.
Nine days after the tree lighting, Snowport 2023 will partner with Chabad of Downtown Boston to celebrate Hanukkah with a Menorah Lighting celebration on Sunday, Dec. 10. Along with the light show, visitors can enjoy treats like kosher jelly doughnuts and chocolate gelt.
Snowport 2023 Iceless Curling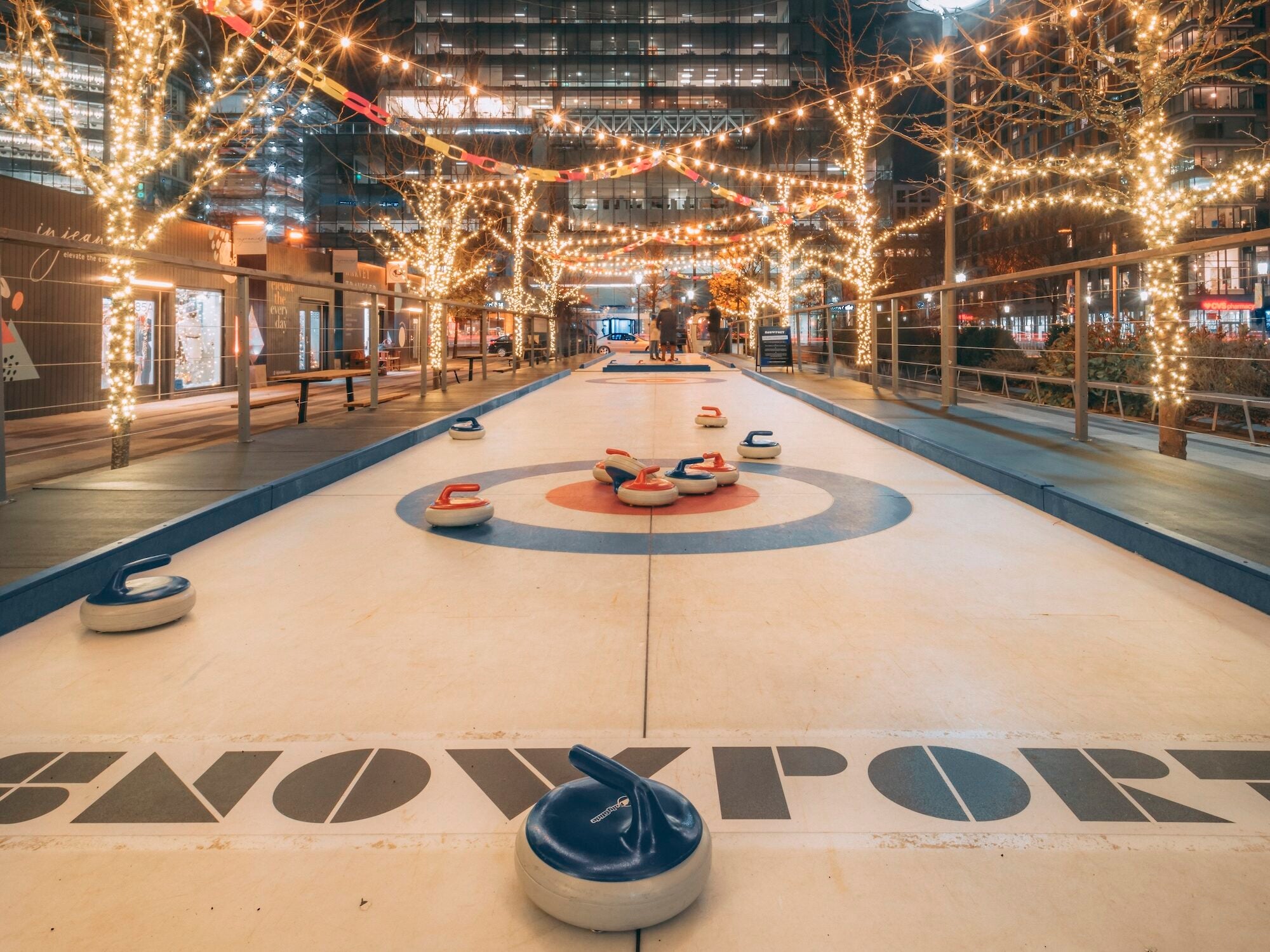 Location: 101 Seaport Blvd., Boston
Hours: Monday-Thursday, 3 p.m. – 8 p.m.; Friday-Saturday, 11 a.m. – 9 p.m.; Sunday, 11 a.m. – 8 p.m.
One of the more popular activities at Snowport each year is the iceless curling rink, which has moved to a new location across the street along Harbor Way for 2023.
If you're a curling novice, be sure to visit on Saturdays from 2-4 p.m., when the North End Curling Club will provide complimentary curling lessons for beginners. Otherwise, book a free reservation for you and your friends on the Seaport website.
Unlike many Snowport activities, the curling rink will be open well past the end of 2023, with reservations available through Feb. 25, 2024.
Snowport 2023 Christmas Tree Market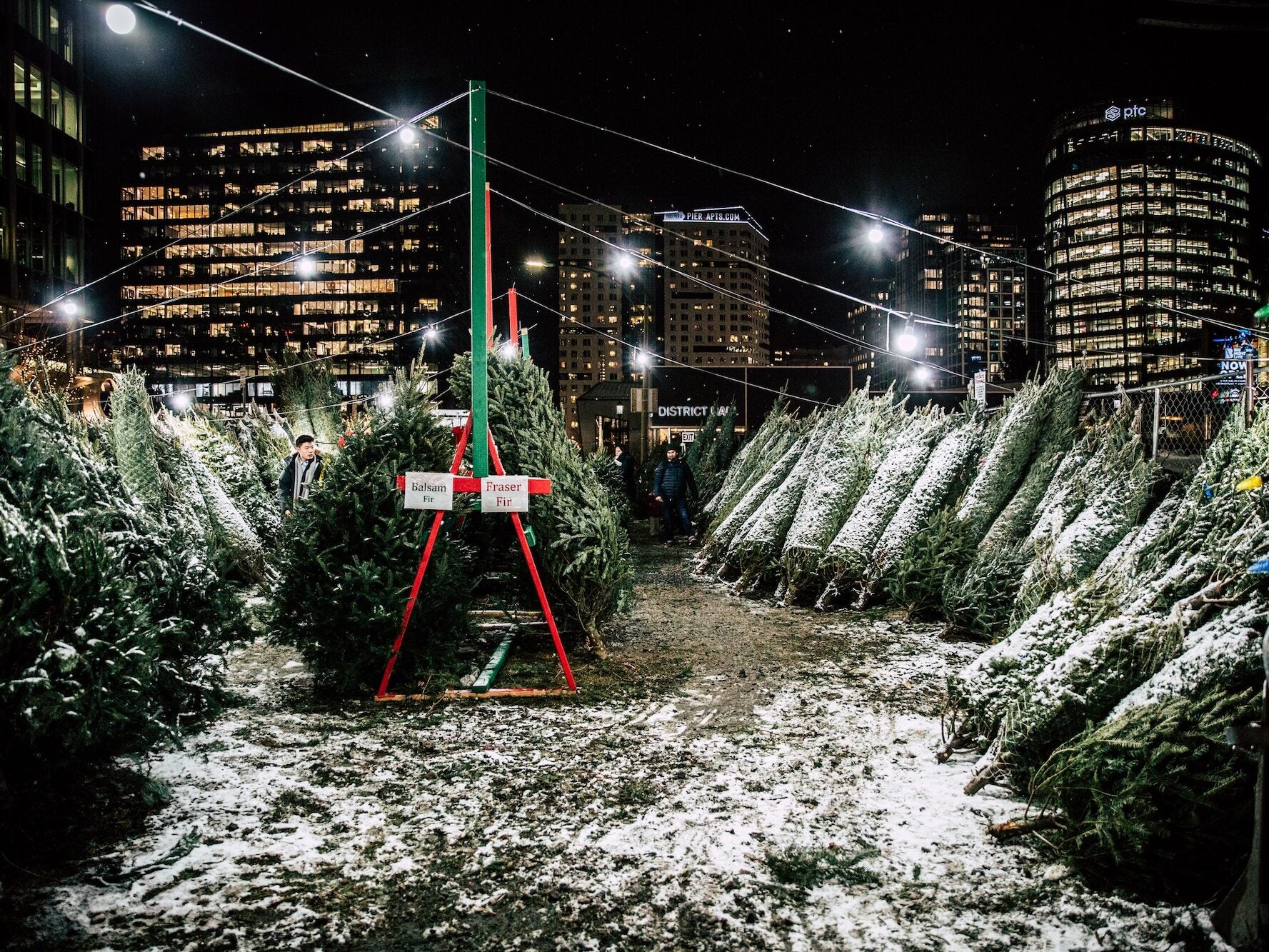 Location: 65 Northern Ave., Boston
Hours: Daily from 9 a.m. – 8 p.m.
If you live out in the suburbs, there's probably an easier way to buy a Christmas tree than in the bustle of the Seaport. But if you're a city dweller or simply want to make Snowport your one stop for holiday shopping, WS Development has partnered with Christmas Tree 4 Me to run its own tree market.
The Tree Market at Snowport will also sell wreaths, kissing balls, tree stands, and holiday lights. Residents who live close enough to the market can even schedule a tree delivery directly to their homes.
Find Snowport 2023 Mascot Betty the Yeti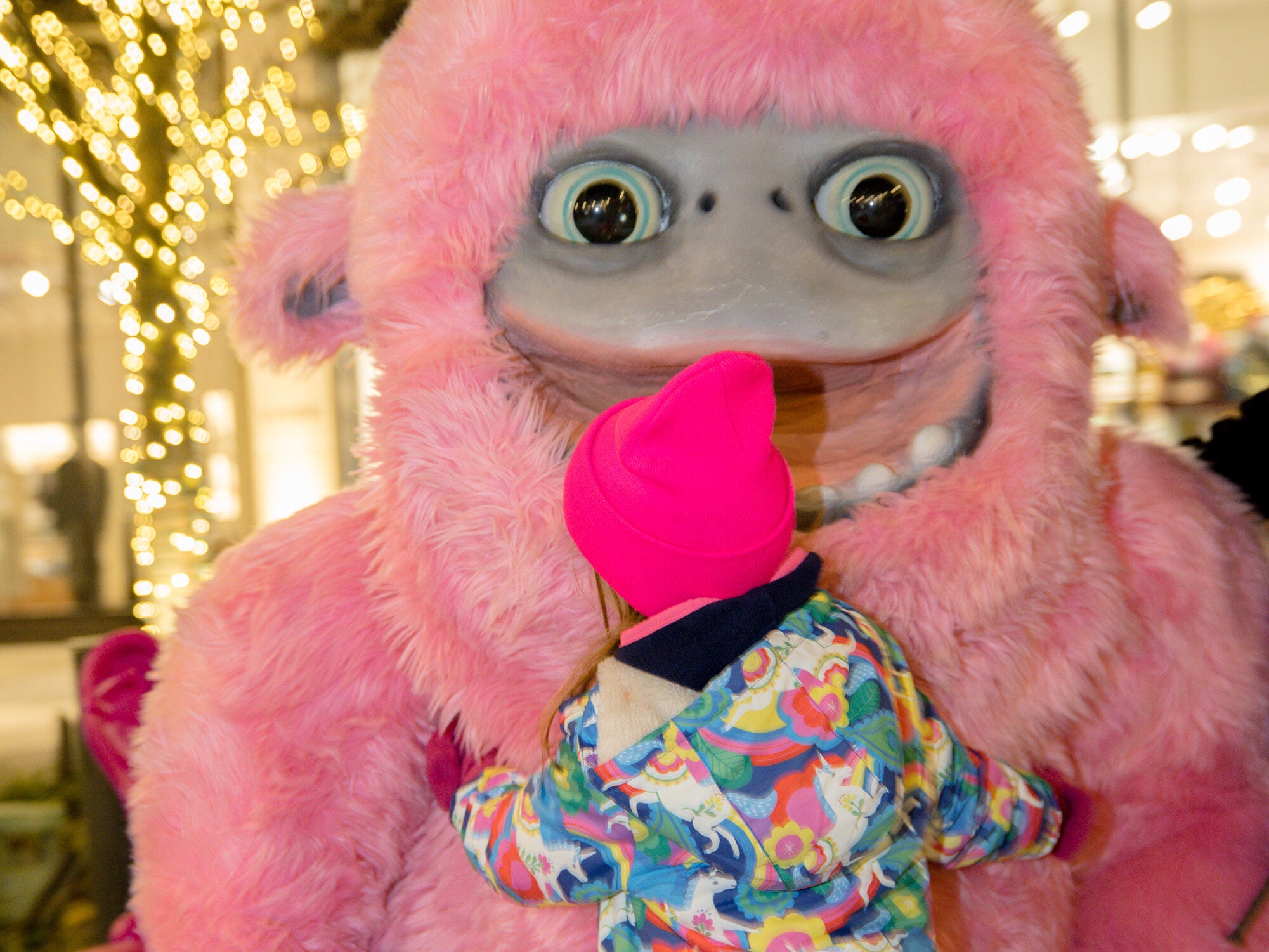 Location: 131 Seaport Blvd., Boston
Hours: 12 p.m. – 3 p.m. on Jan. 7, Jan. 21, Feb. 4, Feb. 18, and Feb. 21
Hang around Snowport 2023 long enough and you're bound to encounter Betty the Yeti, the holiday market's fluffy pink mascot. But because yetis can be elusive, your safest bet is to visit Betty at her home in Blizzard Bluff, located in the Superette Courtyard at 131 Seaport Blvd.
Betty will have photo ops scheduled every other Sunday in 2024 from noon to 3 p.m. through Feb. 21, as well as during the Holiday Stroll on Dec. 1.
Need weekend plans?
The best events in the city, delivered to your inbox