This event has passed. Check out other things to do instead.
Celebrate '90s alt-rock with Boston's own Letters to Cleo
Kay Hanley and her iconic band return to the Paradise Rock Club on Nov. 19 and 20.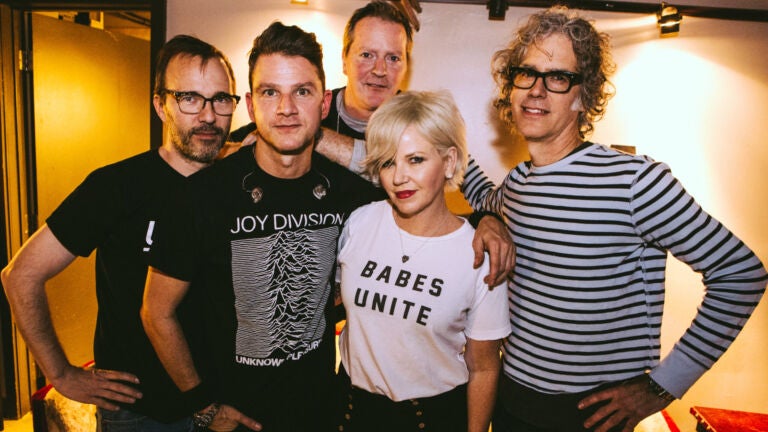 If you were alive and listening to indie rock in the 1990s — especially around these parts — you probably spent at least some time bouncing to Boston's own Letters to Cleo.
It might have been their breakthrough hit "Here and Now" from 1993's "Aurora Gory Alice," or the awesome "Awake" from their underrated sophomore album "Wholesale Meats & Fish" — no matter what the track, the local band and its lead singer, Dorchester native Kay Hanley, brought a sly wit and an infectious pop-punk energy to everything they did, right up through their much-lamented breakup at the turn of the century.
But after some fascinating solo projects — everything from providing the vocals for the "Josie and the Pussycats" movie to backing up Miley Cyrus née Hannah Montana during her iconic "Best of Both Worlds" tour — and a fictional band reunion for "Parks & Recreation," Hanley rejoined her Letters to Cleo compatriots (currently Greg McKenna, Michael Eisenstein, Stacy Jones, and Joe Klompus) for the 2106 EP "Back to Nebraska."
They've since been making it a point to revisit their old Boston stomping grounds, including their most recent stop at the Paradise for a pair of heralded pre-pandemic shows in 2019. "I started playing at the Rat when I was 18," Hanley told the Boston Globe at the time. "Me and Boston have quite a history together and it's my favorite place in the world."
It's something she's proven year in and year out as a performer for the Hot Stove Cool Music benefit concerts, and her hometown pride is bound to be on display again when Letters to Cleo takes to the Paradise stage Nov. 19 and 20, supported by hot up-and-coming power pop band Charly Bliss.
And hopefully the band won't consider November too early to break out some tracks from their excellent 2019 holiday EP "OK Christmas" — notably Hanley's sad strummer "X'mas Time," a crunchy homeless-at-the-holidays lament that name drops Kenmore Square, Boston Common, and the Pine Street Inn.
Need weekend plans?
The best events in the city, delivered to your inbox