This event has passed. Check out other things to do instead.
Dance to the songs of Reverend Peyton's Big Damn Band in Medford
Two-time Blues Music Awards nominees will make these "hard times" easier with a show at The Porch Nov. 19.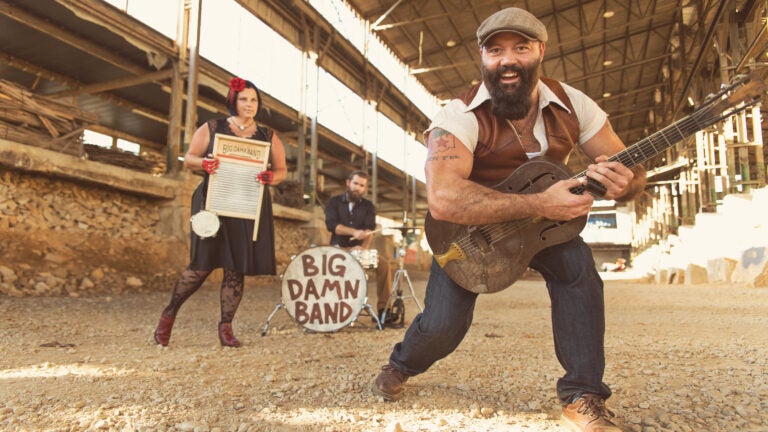 With a name that combines the sacred and the profane, Reverend Peyton's Big Damn Band is a small-in-size but huge-in-sound old-timey trio made up of husband-and-wife Reverend (yes, ordained) Josh Peyton on guitars and vocals and "Washboard" Breezy Peyton on her (nick)namesake instrument, along with beat keeper Max Senteney.
The not-so-big band's "Dance Songs for Hard Times" dropped on April 9 and landed at #1 on the Billboard Blues Albums chart for the first of two weeks on April 24. This marks their first visit to the top of that survey following eight consecutive top 10 entries dating back to 2008's "The Whole Fam Damnily," their fourth LP and first of beginning-to-end original material.
While all of the Big Damn Band's efforts have something to recommend them, 2012's "Between the Ditches" is noteworthy for containing songs that appeared in four season-three episodes of "Shameless," and 2019's "Poor Until Payday" received a Blues Music Awards nomination for Best Blues Rock Album.
The fact that "Dance Songs for Hard Times" also scaled the iTunes Blues chart is almost no big deal for the southern Indianans, as four of their previous releases had done the same. According to bigdamnband.com, the compositions were "written by candlelight" because of a days-long power outage "and then recorded using the best technology available in the 1950s" so as to — in keeping with the band's aesthetic — eschew overdubs.
The lead-off single and opening track "Ways and Means" is one of the highlights that abound among the 11 new tunes, most of which are as uptempo as one would expect from a collection of "dance songs." However, the proceedings slow down significantly for the elegiac, pandemic-themed "No Tellin' When." Here, Rev. Peyton summons his inner Howlin' Wolf and John Lee Hooker as beautifully as he did Charley Patton and Bukka White on previous offerings.
After a summer of riding the high of what might prove to be their most successful recording so far, the Big Damn Band spent September opening 10 dates (and one on Oct. 1) for ZZ Top. Rev. Peyton gushed of this experience, "Some of the first riffs I learned on the guitar were ZZ Top riffs … This whole tour is a dream come true."
The group's Nov. 19 performance at The Porch will be among the last of several that it plays before boarding a plane for more than a dozen dates in Europe.
Need weekend plans?
The best events in the city, delivered to your inbox