This event has passed. Check out other things to do instead.
LeBron James brings the star-studded Lakers to TD Garden
Los Angeles has four members of the NBA's 75th anniversary team on its roster as it renews its rivalry with the Celtics.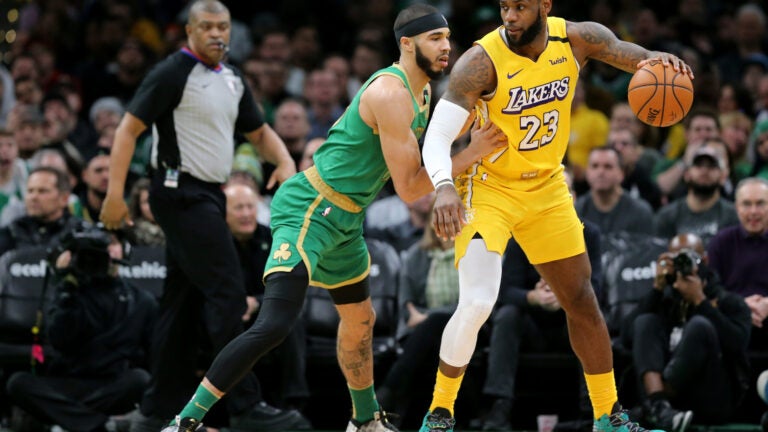 NBA history dictates that any meeting of the Celtics and Lakers qualifies as marquee event, and this one certainly qualifies — even if LeBron James doesn't recover from an abdomen injury in time to participate.
Even without King James, who reportedly began Friday with a 50-50 shot to play, Los Angeles' roster doesn't lack for star power or faces that'll be familiar to the fans filling TD Garden. Beyond James, the group is headlined by Anthony Davis, the unibrowed big man who was the object of Danny Ainge's affection as the former Celtics president looked to acquire another star a few years back. Future hall of famers Russell Westbrook and Carmelo Anthony are also Lakers now, as are longtime centers Dwight Howard and DeAndre Jordan.
It'll also be a return to Boston for two guards who were formerly central figures for the Celtics. Rajon Rondo is back in Los Angeles, coming off the bench, while Avery Bradley has been a starter lately as he's carved out a role in the Lakers' rotation. In a big win over Miami recently, Bradley scored 17 points in 39 minutes.
These rivals last met in January, when a game that was tight from start to finish came down to the final shots, which Jayson Tatum and Daniel Theis missed, as the Lakers eked out a one-point win. The building will be a bit louder this time, considering fans weren't allowed into the Garden for the last one — but those looking to witness the action for themselves will need to pay up. A week ahead of tip, tickets in the last row of the balcony were going for a minimum of $150 on the team-authorized resale market.
Need weekend plans?
The best events in the city, delivered to your inbox