This event has passed. Check out other things to do instead.
Without Kyrie, Nets and Kevin Durant set to take on Celtics
Boston could get a chance to see how it measures up against Brooklyn, one of the Eastern Conference's primary contenders.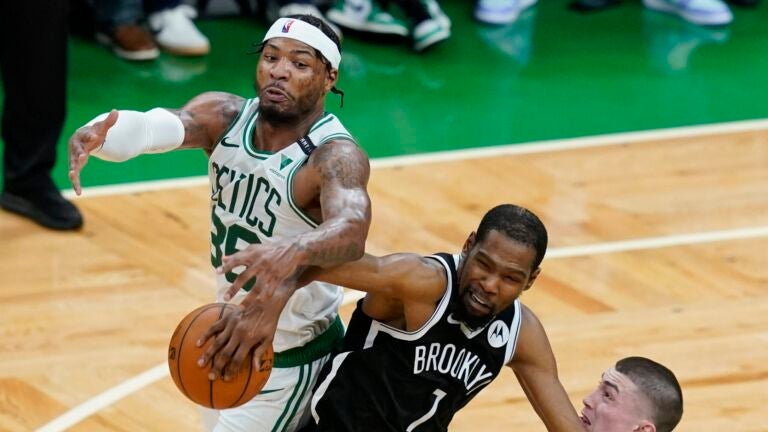 For many, the night before Thanksgiving is an occasion for reunions — and the NBA's schedule makers apparently appreciate that unofficial tradition. When they created the calendar for this season, they arranged for Kyrie Irving's Nets to come to Boston on Thanksgiving Eve.
It might've been a chance for him to gaze up at the place in the rafters where he once dreamed of his No. 11 hanging, or to see some of the fans he was hoping would have him for the rest of his career. Or, maybe more likely at this point, to once again stomp on Lucky the Leprechaun before leaving the floor. Alas, Irving won't be there; because he is not vaccinated against COVID-19, he is not currently playing with the Nets.
His absence hasn't exactly crippled Brooklyn, which was hovering near the top of the conference after the season's first month, and still has as much firepower as any team in the East. Through Veterans' Day, Kevin Durant was leading the league in scoring, while James Harden was fourth in assists, and LaMarcus Aldridge had returned from his brief retirement to be one of the league's most efficient players off the bench.
Wakefield's Bruce Brown has also carved out a nice role for himself with the Nets, and he's joined by a host of experienced players who fill the gaps around what'll be a Big Two for as long as the disconnect between his personal choice and public vaccine mandates require Irving to sit out.
Even without Irving, this projects as a tough test for the Celtics, who were no match for the Nets in last year's playoffs. Perhaps that's why in mid-November tickets were selling for about half the cost of seeing LeBron James' Lakers visit to the Garden just a few days earlier — despite the fact that, in Durant and Harden, a visit from Brooklyn still represents a chance to see two players named to the NBA's 75th Anniversary Team.
Need weekend plans?
The best events in the city, delivered to your inbox