Animals
8 photos of Cori Copley, the adorable black lab who started working at the Fairmont
The Fairmont Copley Plaza's new canine ambassador has her own Instagram.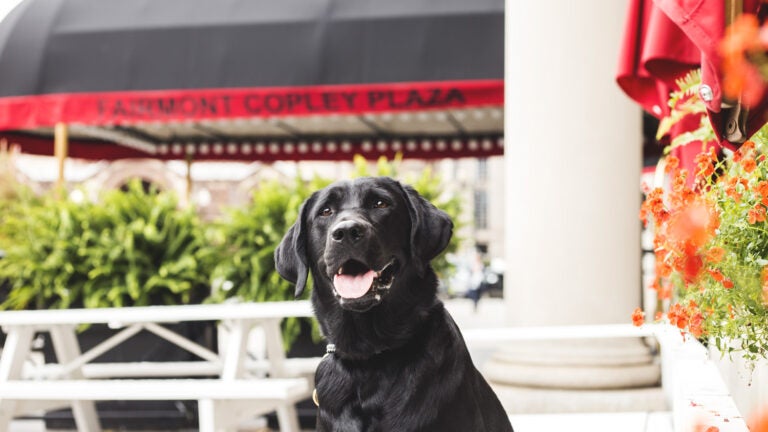 A luxury Boston hotel's new worker enjoys bell cart rides and belly rubs.
Cori Copley, a two-year-old black Labrador from New York, landed the job as "canine ambassador" at the pet-friendly Fairmont Copley Plaza. She replaced retired canine Carly Copley, who took over the role from original ambassador Catie Copley in 2013. Cori is the first ambassador with her own Instagram.
"It's the happiest of times when a hotel introduces a resident dog, for both visitors and our employee family," said George Terpilowski, general manager at Fairmont Copley Plaza, in a press release. "Cori's presence gives the comfort of home to everyone, whether children, adults, conference attendees or neighborhood friends."
The pup works the same hours as concierge Joe Fallon, her caretaker, and has been busy socializing with hotel visitors and accompanying them on walks and runs. The hotel's Oak Long Bar + Kitchen has already named a drink after her (ask for Cori's Cooler), and the store sells plush toys in her likeness. She'll eventually serve as a community liaison by appearing at neighborhood and charitable events, according to the hotel.
"Cori is still acclimating to the hotel environment, but already has a few sweet habits — she loves receiving belly rubs on the lobby carpet, and gives lots of puppy kisses when she meets new friends," according to the release.
The pooch came from the Guide Dog Foundation, a Long Island, N.Y.-based nonprofit organization that provides trained guide dogs to the visually impaired. Her trainer felt she was "more suited to be a pet rather than a working dog," according to the hotel, and so she made a career change.
Ahead, take a look at Cori acclimating to hotel life.