Arts
You can visit these 100 museums and attractions for free this summer
Free Fun Fridays will take place from June 29 to Aug. 31.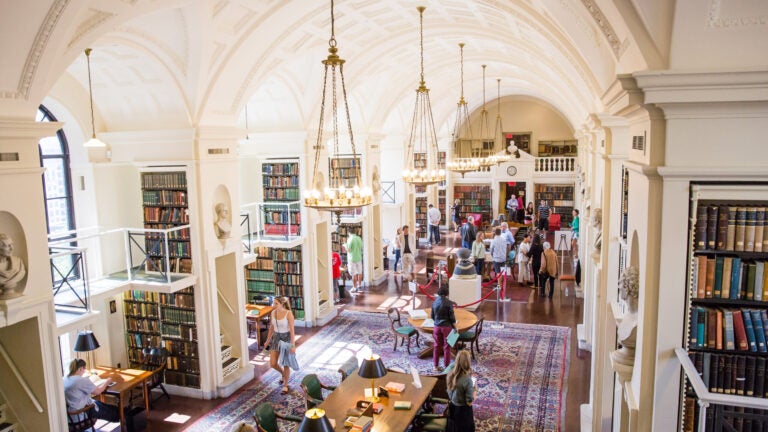 For an essential guide to the city, sign up for How to Boston, Boston.com's weekly culture and lifestyle newsletter.
This summer, 100 museums and attractions across the state will waive admission fees on designated Fridays.
Free Fun Fridays, a program sponsored by the Highland Street Foundation, is celebrating its 10th year by offering $0 admission at 10 spots statewide for 10 consecutive summer Fridays, said Blake Jordan, executive director of the foundation. The total number of museums and attractions taking part in this year's program, which will run from June 29 to Aug. 31, has increased from 85 to 100, Jordan said.
"We wanted to do something special for the 10th anniversary," he said. "It's been an amazingly successful program. So to celebrate 10 years, we wanted to go all out. So we said, 'OK, let's get to 100.'"
Since the program's inception, it has attracted 1.2 million visitors, according to Jordan. During its inaugural event in 2008, 60,000 participants visited 10 participating venues, while last year, more than 163,000 people visited 85 participating venues, he said.
New spots joining in this year include Chesterwood in Stockbridge (July 13), the Chatham Shark Center in Chatham (July 20), the Davis Museum at Wellesley College in Wellesley (Aug. 3), the Paragon Carousel in Hull (Aug. 3), and the Nickols House Museum in Boston (Aug. 10). The Charles River Watershed Association in Weston, another newcomer, will provide free kayaking, fishing lessons, and nature walks on July 13, according to Jordan.
"We're lucky to live in a state that has so many terrific offerings," he said. "We're hoping that people will take the time in the summer to visit for free and, hopefully, continue to go back again and again."
This year as in year's past, the deal is for guests of all ages, whether they live in state or out of state. Parking and transportation are not included.
Here is the Free Fun Fridays schedule for this summer:
June 29
Lyric Stage Company of Boston, Boston
MIT Museum, Cambridge
Berkshire Theatre Group, Stockbridge
Nantucket Whaling Museum, Nantucket
The Mount: Edith Wharton's Home, Lenox
Concord Museum, Concord
Worcester Art Museum, Worcester
Clark Art Institute, Williamstown
Children's Museum in Easton, Easton
Edward Gorey House, Yarmouth Port
July 6
Boston Children's Museum, Boston
Peabody Essex Museum, Salem
Cape Cod Maritime Museum, Hyannis
Battleship Cove, Fall River
Amelia Park Children's Museum, Westfield
Gore Place, Waltham
Falmouth Museums on the Green, Falmouth
Hancock Shaker Village, Pittsfield
Pilgrim Hall Museum, Plymouth
New England Quilt Museum, Lowell
July 13
Edward M. Kennedy Institute, Boston
Charles River Watershed Association, Weston
Larz Anderson Auto Museum, Brookline
Chesterwood, Stockbridge
The Telephone Museum, Waltham
Venfort Hall Mansion and Gilded Age Museum, Lenox
The Sports Museum, Boston
Children's Museum at Holyoke, Holyoke
International Volleyball Hall of Fame, Holyoke
Mahaiwe Performing Arts Center, Great Barrington
July 20
Museum of Fine Arts, Boston, Boston
Gloucester Stage Company, Gloucester
The Gardens at Elm Bank (Massachusetts Horticultural Society), Wellesley
Chatham Shark Center, Chatham
New Bedford Whaling Museum, New Bedford
Nantucket Maria Mitchell Association, Nantucket
Spellman Museum of Stamps & Postal History, Weston
Springfield Museums, Springfield
The Discovery Museum, Acton
The Hall at Patriot Place, Foxborough
July 27
Isabella Stewart Gardner Museum, Boston
Boston Symphony Orchestra at Tanglewood, Lenox
Commonwealth Shakespeare, Boston
JFK Hyannis Museum, Hyannis
Fitchburg Art Museum, Fitchburg
Old Colony History Museum, Taunton
Boston Athenaeum, Boston
Sandwich Glass Museum, Sandwich
Arnold Arboretum, Boston
Museum of Russian Icons, Clinton
August 3
Franklin Park Zoo, Boston
Cape Cod Museum of Art, Dennis
The Children's Museum of Greater Fall River, Fall River
Davis Museum at Wellesley College, Wellesley
Naumkeag, The Trustees, Stockbridge
Worcester Historical Museum, Worcester
Osterville Historical Museum, Osterville
Historic Deerfield, Deerfield
Eric Carle Museum of Picture Book Art, Amherst
Paragon Carousel, Hull
August 10
Boston Harbor Islands National and State Park, Boston
The Institute of Contemporary Art, Boston
Jacob's Pillow Dance, Becket
Cahoon Museum of American Art, Cotuit
Nichols House Museum, Boston
Museum of the National Center of Afro-American Artists, Boston
Wenham Museum, Wenham
Fuller Craft Museum, Brockton
The Greenway Carousel, Boston
Freedom Trail Foundation, Boston
August 17
JFK Presidential Library and Museum, Boston
Plimoth Plantation, Plymouth
Commonwealth Museum, Boston
Lynn Museum, Lynn
New England Historic Genealogical Society, Boston
Fort Devens Museum, Devens
Fruitlands Museum, The Trustees, Harvard
Old State House, Boston
Berkshire Museum, Pittsfield
Museum of the First Corps of Cadets, Boston
August 24
Harvard Museums of Science and Culture, Cambridge
Buttonwood Park Zoo, New Bedford
Mass MoCA, North Adams
Heritage Museums & Gardens, Sandwich
Cape Cod Children's Museum, Mashpee
Smith College Museum of Art, Northampton
The Old Manse, The Trustees, Concord
Emily Dickinson Museum, Amherst
Hull Life Saving Museum, Hull
Museum of African American History, Boston and Nantucket
August 31
Old Sturbridge Village, Sturbridge
EcoTarium, Worcester
Norman Rockwell Museum, Stockbridge
Cape Cod Museum of Natural History, Brewster
Chatham Marconi Maritime Center, North Chatham
USS Constitution Museum, Boston
Cape Ann Museum, Gloucester
Griffin Museum of Photography, Winchester
Provincetown Art Association and Museum, Provincetown
The Mary Baker Eddy Library & Mapparium, Boston