Beer
34 fall beers made in New England you should try to find this year
Leave your summer shandies at home.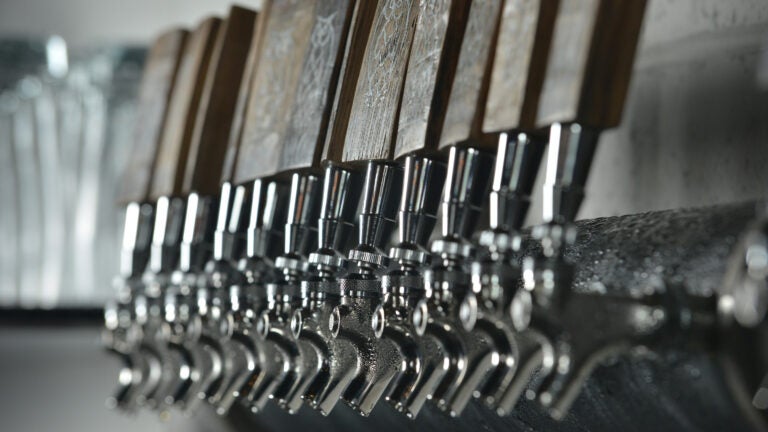 Put down your summer shandies and crisp wheat beers: Fall has arrived, and it's time for a good Octoberfest or pumpkin ale.
A brief history lesson: Octoberfest beers—also referred to as Märzenbiers, festbiers, or Oktoberfest beers—originated before refrigeration was an option and brewing beer during the hot summer months meant lots of warm bacterial growth. Therefore, brewers tended to work in March (aka, Märzen). They either kept the beers in some sort of cold storage or brewed them at a higher gravity to ensure that they'd still be good come fall. These beers were then served at Germany's Oktoberfest festival. When you see a Märzenbier on the store shelf (or below), you'll now know why.
That said, the types of fall brews (and breweries) available across New England are plentiful. They might not all be easy to spot in your local liquor store, but you can take a few weekend trips to find some of the region's finest. Here's a list of 34 fall beers crafted in the region that is by no means exhaustive, but is a good start to get you into the season and get you traveling around gorgeously autumnal New England.
1. Thomas Hooker Brewing Company's Octoberfest
Brewed with imported German malts, Octoberfest from Thomas Hooker Brewing Company (Bloomfield, Connecticut) is a full-bodied beer that is true to its name. It's brewed in the traditional Bavarian style over a long period of time, which in the end creates a mildly hoppy, smooth brew. (Thomas Hooker beers are currently distributed in Connecticut, Massachusetts, New Jersey, New York, and Pennsylvania)
2 & 3. Two Roads Brewing Co.'s Ok2berfest Märzen and Roadsmary's Baby
Ok2berfest Märzen from Two Roads (Stratford, Connecticut) is also a pretty traditional take on the classic Octoberfest style. It's malty, crisp, and has traditional German hops. Another fall beer to look out for is Roadsmary's Baby, a pumpkin ale with hints of the usual fall spices, but also vanilla, oak, and rum. (Two Roads beers are currently distributed in New York, Connecticut, Massachusetts, Rhode Island, Vermont, New Hampshire, Maine, New Jersey, Pennsylvania, Delaware, and the U.K.)
4. Stony Creek Brewery's Crum
The fall seasonal at Stony Creek Brewery (Branford, Connecticut) is called Crum, and it's labeled as an apple cinnamon oatmeal amber ale. Crum, which is short for "crumble," is a reinvention of an apple crumble and has hints of both cinnamon and nutmeg. What could possibly be more fall that that? (Stony Creek beers are currently distributed in Massachusetts, Rhode Island, and Connecticut.)
5. Veracious Brewing Company's Jack'd up Pumpkin Ale
This one-year-old brewery in Monroe, Connecticut uses an English ale as the base for their fall beer, which they refer to as an American-style harvest ale. While this beer is boiling, the Veracious team adds spices to the ale, giving it that fall flavor. (Veracious beer can be found at the brewery and on tap at some select restaurants in Connecticut.)
6. Grey Sail Brewing of Rhode Island's Autumn Winds
Autumn Winds from Grey Sail Brewing of Rhode Island (Westerly, Rhode Island), referred to as a fest beer, is brewed in the malty Octoberfest-style. It has a red hue and a bready aroma. While full-bodied with a caramel-like flavor, the beer also has Hallertau and Saaz hops—German and Czech hops, respectively —and a somewhat dry finish. (Grey Sail Brewing beer can be found in New York, Massachusetts, Connecticut, and Rhode Island.)
7. Revival Brewing Co.'s Bushido Pumpkin Ale
A Japanese take on a German classic, Bushido Pumpkin Ale from Revival Brewing Co. (Cranston, Rhode Island) is a pumpkin beer that's made with ginger, lemongrass, and rose hips, which are the fruit of the rose plant. The brew is actually fermented with sake and an Octoberfest yeast. (Revival Brewing Co. beer can be found at the brewery and throughout Rhode Island and Connecticut.)
8. Tilted Barn Brewery's jack.
jack. from Tilted Barn Brewery (Exeter, Rhode Island) is an amber-colored pumpkin ale, but this isn't just any pumpkin beer—it's brewed with pumpkins grown on the farm where the brewery is located. Though the beer has some spices, you will mostly taste fresh pumpkin. (You can only get Tilted Barn beer at the actual brewery.)
9. Crooked Current Brewery's Plunderdome Pumpkin Maple Ale
Plunderdome Pumpkin Maple Ale from Crooked Current Brewery (Pawtucket, Rhode Island) is (maybe not-so-surprisingly) a fall favorite at Crooked Current. Because what screams "fall" better than pumpkin and maple combined with autumnal spices? (You can find Crooked Current at the brewery.)
10. Foolproof Brewing Company's Augtoberfest
With the goal of celebrating the end of summer and the start of fall, Augtoberfest from Foolproof Brewing Company (Pawtucket, Rhode Island) also plays a big role at the brewery's annual Augtoberfest festival. Keeping with tradition, the beer is brewed with Munich malt, but it's mixed with American hops and has a caramel flavor. (You can find Foolproof beers all over New England, as well as in Texas.)
11, 12 & 13. Night Shift Brewing's Kehl, Awake, and Darkling
Night Shift (Everett, Massachusetts)has a few fall brews: Kehl, a German lager with notes of caramel and pretzel grain, and Awake, a coffee porter. At the end of the month, the brewery will release Darkling, a bourbon barrel-aged imperial stout that'll be perfect for cool fall days. (You can only find Night Shift beers at their brewery and at other restaurants and liquor stores in Massachusetts.)
14 & 15. Samuel Adams's OctoberFest and 20 Pounds of Pumpkin
It wouldn't be a fall beer list without including OctoberFest from Sam Adams (Boston, Massachusetts), which is pretty traditional to its name, featuring hearty malts and a caramel flavor. But that's not the brewery's only fall beer: 20 Pounds of Pumpkin is made with real pumpkin, ginger, cinnamon, and nutmeg. You can also get a Sam Adams fall variety pack, which includes Boston Lager, Hoppy Red, Maple Ale, OctoberFest, Bonfire Blonde, and Toasted Caramel Bock. (You can find Sam Adams distributed across the country.)
16 & 17. Cape Ann Brewing Co.'s Fisherman's Pumpkin Stout and Imperial Pumpkin Stout
Fisherman's Pumpkin Stout from Cape Ann Brewing Co. (Gloucester, Massachusetts) is a dark stout, but it's not lacking in fall flavors, as it's brewed with pumpkin, cinnamon, nutmeg, and allspice. Another seasonal at the Gloucester brewery is the Imperial Pumpkin Stout, referred to as the "big brother" of the original seasonal — its flavors are a little more intense. (Cape Ann beers are distributed to Maryland, Massachusetts, New Hampshire, New Jersey, New York, Rhode Island, Virginia, and Washington, D.C.)
18 & 19. Harpoon Brewery's Octoberfest and Flannel Friday
Though Harpoon Brewery (Boston, Massachusetts, and Windsor, Vermont) is still offering its annual Märzen-style Octoberfest beer, which is always served at its massive Octoberfest festivals, the brewery added a new fall beer to the lineup this year. Flannel Friday is a hoppy amber ale that has plenty of malt, citrus, and pine. (You can find Harpoon beers in New England, all the way down the east coast to Florida, and in Texas and Louisiana, too.)
20. Rockingham Brewing Company's Gourdy
Aptly named Gourdy, this pumpkin ale from Rockingham Brewing Company (Derry, New Hampshire) is a darker brew with enough malt and spices to remind you that summer is just about over. (You can find Rockingham beers throughout New Hampshire at restaurants and liquor stores, as well as at the brewery.)
21 & 22. Smuttynose Brewing Company's Oktoberfest and Pumpkin Ale
A true-to-style Märzen beer, Oktoberfest from Smuttynose Brewing Company (Hampton, New Hampshire) is malty with Sterling hops and a deep golden color. But that's not all. Smuttynose's Pumpkin Ale is advertised as "the pumpkin beer that still tastes like beer!" and is a tribute to the European settlers who would use locally-grown ingredients to brew. (You can find Smuttynose at various locations throughout the country.)
23. White Birch Brewing's Nyx
Given that White Birch Brewing (Hooksett, New Hampshire) wrote on their website, "Just say no to pumpkin beers," you might guess that their fall brew isn't a pumpkin ale. Called Nyx, it's a dark black color with a chocolate aroma. It's also smooth, dry, and paired with American hops. (White Birch is distributed to New Hampshire, Massachusetts, Maine, New York, Virginia, Washington D.C., Connecticut, Maryland, and Delaware.)
24. Moat Mountain Smoke House and Brewing Co.'s OPA's Oktoberfest
OPA's Oktoberfest from Moat Mountain Smoke House and Brewing Co. (North Conway, New Hampshire) is a German-style lager with a hint of toasted bread flavor and a mild sweetness. It has a medium-body and a semi-dry finish with some spices and herbal hops. (You can find Moat Mountain beers in restaurants and retail spaces in Maine and New Hampshire.)
25. Kingdom Brewing's Maple Nut Brown Ale
"We sugar in the spring but don't use the sap for syrup," reads Kingdom Brewing's (Newport, Vermont) website. That's because they use it for their Maple Nut Brown Ale, or Nature's Elixir. The amount of this smooth, earthy beer that they brew is dependent on the amount of maple they can get their hands on, which they claim is never enough. (You can only get Maple Nut beer at the brewery on draft, but you can find their other beers on tap in restaurants throughout Vermont.)
26. Prohibition Pig's Oktoberfest
Prohibition Pig (Waterbury, Vermont) is a brewery and restaurant, serving up sandwiches, burgers, and all your favorite southern-style sides. While you're eating some top-notch barbecue, you can get a classic Märzen Oktoberfest beer. (You should head directly to the brewery if you want to try this brew.)
27. Lost Nation Brewing's Oktoberfest
Lost Nation Brewing (Morrisville, Vermont) serves up a classic, malty Oktoberfest with a hop finish. You can enjoy this orange-colored beer in the tap room at the brewery, along with local food from the on-site restaurant's rotating menu. (You can find Lost Nation at the brewery and sporadically throughout New England and New York.)
28. Otter Creek Brewing Co.'s Overgrown APA
Otter Creek Brewing Co. (Middlebury, Vermont) says their golden haze-colored Overgrown APA is "overgrown with all the American hops we could dig up." The beer has malt flavors, but is more subtle than other fall beers, with the hops serving as the main flavor. (You can find Otter Creek in a variety of stores and restaurants along the east coast.)
29. Whetstone Station's Fall Guy
At Whetstone Station (Brattleboro, Vermont), a brewery, restaurant, and European-style BierGarten, you'll find Fall Guy, an amber ale with honey, crisp toast, stone fruit, and citrus flavors. While you drink, you'll also find waterfront views right on the Vermont/New Hampshire border. The state line runs right through the restaurant. (You can only get the beer at the brewery; note that they're a nanobrewery and never brew a beer twice, so if you want Fall Guy, go soon.)
30. Monhegan Brewing Company's Trap Stacker Special Ale
The brewers at Monhegan Brewing Company (Monhegan, Maine) refer to the Trap Stacker Special Ale as a "malt bomb" that's followed by a hop bitterness. If you're excited to try it, expect quite the trek: Monhegan is an island 10 miles off the coast of Maine. (Their beers can generally only be found on the island.)
31 & 32. Oxbow Brewing's Oxtoberfest and Blended Oxtoberfest
Oxtoberfest from Oxbow Brewing (Portland and Newcastle, Maine) is a smoked biere de garde, meaning a strong pale ale. You can also try to get your hands on the Blended Oxtoberfest, which is a sour, smokey biere de garde that's a blend of vintage Oxtoberfest beers. (Oxbow has two tasting rooms, and you can also find their beers in various places on the east coast.)
33. Baxter Brewing Co.'s Hayride
Brewed with two varieties of rye malt, the reddish-hued Hayride from Baxter Brewing Co. (Lewiston, Maine) has a bready finish and is also a bit sweet. It has two different kids of hops, along with ginger, black pepper, and orange peel flavors. (Baxter currently distributes to Maine, Massachusetts, Vermont, and New Hampshire.)
34. Atlantic Brewing Company's Leaf-Peeping Red Ale
Leaf-Peeping Red Ale from Atlantic Brewing Company (Bar Harbor, Maine) is an English-style ale brewed with German hops, making it a session beer. The brewers also use three kind of malts: pale, wheat, and 10 percent crystal. That last one is what gives the beer its red coloring. (Atlantic Brewing Company distributes to Maine, Vermont, Massachusetts, Maryland, and New Jersey.)