Beer
Provincetown's first brewery opens Monday
Serving craft brews with a side of social activism.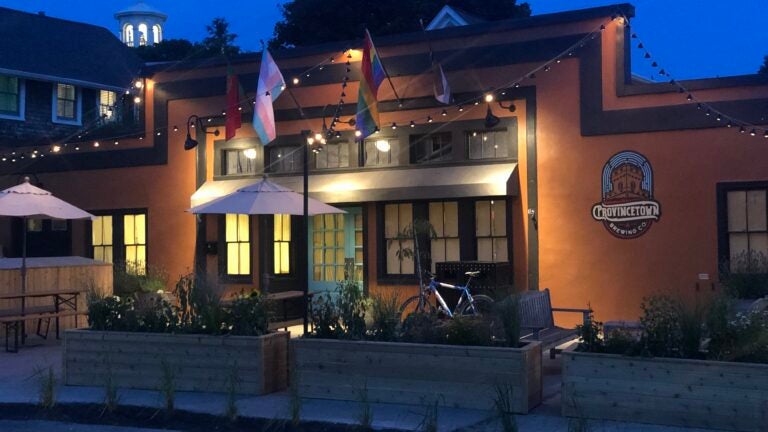 There's a new reason to say "cheers" in Provincetown, with the town's first on-site brewery, Provincetown Brewing Co., celebrating its grand opening on Monday. The location's soft opening kicked off Friday night.
Last fall, co-founders Chris Hartley and Erik Borg introduced the brand during mid-terms, at an event raising awareness for progressive politicians along with $2,500 for the town's LGBTQ community center. But thanks to a permit secured this past spring, their new location allows the company to occupy physical space in the P-town community.
The brewery had been under construction since May; its address was once the site of the 141 Bradford Natural Foods Market. An eatery as well as a brewhouse, it will serve breakfast and lunch before shifting focus to a more taproom-like atmosphere later in the day. Patrons can order Provincetown Brewing Co.'s three craft beers — Golden Hook Ale, the Bearded Mistress IPA, and the Crandaddy Sour — from 9 a.m. through close (or after noon on Sundays). Construction on the duo's "dream brewery," unfortunately, meant replacing a community landmark; the Bradford Natural Foods Market had been in Provincetown for eight years.  What locals lamented the most, Borg said, was the loss of the former market's kitchen, along with its breakfast sandwich. The pair put their heads together and came up with a solution.
"We really wanted to show the town that we're here to benefit them," said Hartley. "So we kept the menu and we kept the two chefs."
Patrons can drop in for morning coffee, pastries and croissants from Iggy's Bread in Cambridge. That beloved holdover from the former market — the breakfast sandwich with egg, cheese, pico de gallo, and chipotle aioli, on ciabatta bread — has been renamed the Brewski 141, after the brewery's mascot dog. Other items include juices, smoothies, and a black bean burger; beef kabobs, sliders, and chicken wings are also among the new additions. The breakfast menu will be available from 8 a.m. to 1 p.m, with a full menu served from 10 a.m. to 10 p.m.
Hartley and Borg view the brewery as a year-round, all-day, casual hangout spot — not a restaurant or a bar. "It's a community space that just happens to be a brewery," Hartley said.
Outside, a hand-painted logo welcomes passersby onto the outdoor patio, and into the 3,200-square-foot interior. Inside, visitors are surrounded by vaulted ceilings, vintage vinyl tile floors, and art — sketched onto chalkboard walls by Provincetown- and Boston-based artist Joshua Wilmoth. Near the entrance, patrons can lounge at a seating area beneath a sixteen-foot "celestial canoe," painted by local artist Mark Adams, who was inspired by the rococo ceilings of Venetian painter Giovanni Battista Tiepolo. Booths line one wall, past the birch bar and an antique claw-foot pool table refinished with electric blue felt. Campy touches like the vintage 1989 toile Smurf wallpaper in the restroom — donated by a friend who'd been hunting down rolls for years — soften the more industrial elements of exposed ductwork and steel.
"We wanted the space to feel casual and comfortable, but at the end of the day it's a working brewery," Borg said. "So it needs to be industrial and real."
The three-barrel brewing system takes center stage behind the bar. Hartley interned at Turtle Swamp Brewing, and the Jamaica Plain brewery's co-founder Nik Walther and assistant brewer Tanner Cobb helped him develop the recipes for the new location's three current brews. Come fall, they'll experiment with porters and stouts.
As part of by their ethos of "draftivism" — using beer to give back to the community and support causes close to the heart of the queer-owned company — 15% of Provincetown Brewery Co.'s profits will be donated to Provincetown Commons, The Generations Project, and Summer of Sass.
"It's really about supporting causes that reflect the principles and values of P-town," Hartley said.
"That, and we want a queer brewery," Borg added.
Hartley agreed: "P-town deserves a queer brewery."
Provincetown Brewing Co.; 141 Bradford St., Provincetown; Daily 8 a.m.-11 p.m.
Correction: A previous version of this story misspelled Joshua Wilmoth's last name. Boston.com regrets the error.