Celebs
Lily Allen asked her 5 million Twitter followers what kid-friendly activities to do in Boston. She got answers.
"Anyone know of cool things to do with 6 yr old kids in Boston?''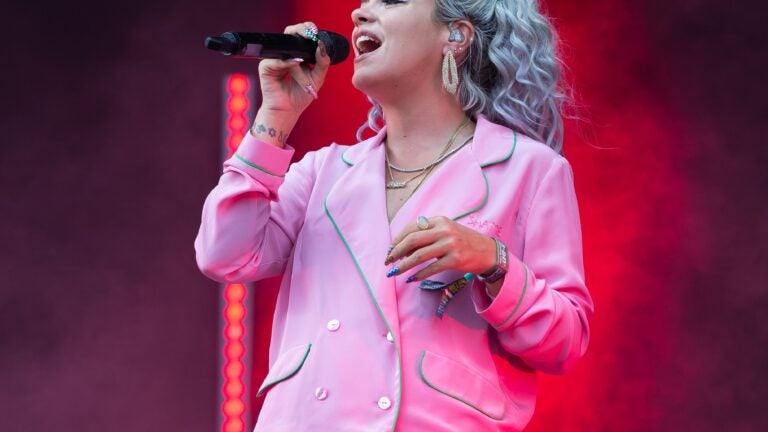 She asked and Bostonians answered — en masse.
Singer Lily Allen on Wednesday turned to her more than 5 million Twitter followers for some advice on what to do with 6-year-old children — to keep them entertained — while visiting the city.
"Anyone know of cool things to do with 6 yr old kids in Boston?'' wrote Allen, who's in town this week for a sold-out performance at the Paradise Rock Club on Wednesday.
Anyone know of cool things to do with 6 yr old kids in Boston ?

— LILY ALLEN (@lilyallen) October 24, 2018
Within minutes, the recommendations came pouring in — though most of the ideas people passed along to the British pop sensation and author were your typical tourist destinations. In all, she received more than 150 replies.
"The Mapparium at the Mary Baker Eddy Library is pretty neat,'' one person wrote, "since it's a cold day for anything outdoors!''
The same person, who identified herself as a nanny who has to come up with creative ways to entertain kids, also told Allen there are trampoline parks in the area to wear the kids out.
"Trampolining sounds good,'' Allen replied.
Others hoping to show Allen what the city has to offer floated activities like visiting the Boston Children's Museum and New England Aquarium; going whale watching; heading over to the Boston Tea Party Ships and Museum; grabbing lunch at the Union Oyster House; walking the Freedom Trail; even popping into Newbury Comics on Newbury Street.
Seeing Legoland Discovery Center at Somerville's Assembly Square and possibly watching the Red Sox take on the Los Angeles Dodgers at Game 2 of the World Series at Fenway Park were also offered as options to Allen and the kids.
Visit Massachusetts, the official Twitter account for the state's Office of Travel and Tourism, also didn't hesitate to share what the region has on tap for visitors.
"We may have a few ideas!'' the agency tweeted to Allen, including a link to a section on its website titled "Bring the Kids.''
We may have a few ideas! cc: @VisitBoston https://t.co/QNfoBC1N94

— Visit Massachusetts (@VisitMA) October 24, 2018
Defo Cheesecake Factory… Halloween coming up maybe a trip to Salem but not the whole tour as a little creepy ?

— Carlywarly (@AriaIngles) October 24, 2018
Hay Maze at Wilson Farm in Lexington, MA (close to Boston) https://t.co/2FuZJvLcZ4

— William Troop (@worldsoccerguy) October 24, 2018
@TheFreedomTrail is a great walk through Boston that takes you past most of the important historical sites in Boston. You can go on your own or take a guided tour.

— Chocophile George (@chocophilenyc) October 24, 2018
World Series! aside from that, Duck Boat tours, Boston Children's Museum, Whale Watching, explore the freedom trail, or take a little drive to Salem and get some Halloweening in.

— Gary Rodrigues (@GRod616) October 24, 2018
The Isabella Stewart Gardner museum is cool

— KRITTY the flesh covered skeleton ?‍♀️ (@masstext) October 24, 2018
If it's Boston USA no if it's Boston England then leave.

— philtastic (@captain_phil_) October 24, 2018
Children's Museum, Museum of Science, Duck Boats, Freedom Trail, walk around the common and public garden. The whole city is beautiful! North End, South End, Boylston, Newbury. If you want to leave Boston, go to Harvard Square in Cambridge ☺️

— Stacey Marie ♋️? (@Stayceecakes) October 24, 2018
Omg ummm Dave & Buster's in Woburn

— gleisis santos (@gleisissantos) October 24, 2018
https://twitter.com/DavidAcquet/status/1055093701658206208