COVID
Here are the U.S. airlines offering COVID-19 testing to travelers
One of them is JetBlue, Logan Airport's largest carrier.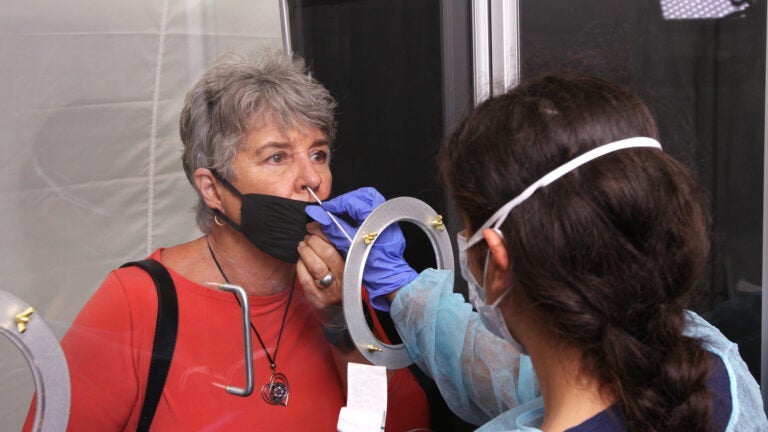 Several U.S. airlines have launched COVID-19 testing programs amid the pandemic.
Some U.S. airports, in cities like New York and Tampa, have already been testing passengers, and in Boston, passengers can get tested at Logan International Airport starting this month. The testing at Logan will be operated in Terminal E by health and wellness company XpresSpa Group. JetBlue, Logan's largest carrier, has its own testing program by Vault Health.
"We continue to hear from health officials that testing is incredibly important in the fight against the coronavirus, and we want to make sure our customers have options for testing, especially prior to travel," said Joanna Geraghty, president and chief operating officer for JetBlue, in a statement. "As more and more regions reopen, many are requiring test results to enter. Now with easier testing options, those safety requirements may not be a deterrent for travel, but rather provide greater public health and peace of mind with little inconvenience."
Here's which U.S. airlines have COVID-19 testing programs and the details of each one.
JetBlue
JetBlue has partnered with Vault Health to provide a physician-ordered, supervised, at-home saliva test to customers "wanting peace of mind and those who must secure a negative COVID-19 test result before entering certain states and countries or in order to avoid certain mandatory quarantines," JetBlue officials wrote in a press release.
Travelers with JetBlue reservations can enter their JetBlue confirmation code on a landing page to order the test. Vault Health tests cost $150, according to the company's website, but JetBlue customers will receive a discount, the airline noted without specifying the discounted cost.
The test is taken under the supervision of a Vault Health supervisor via Zoom and then overnighted to a laboratory, with results provided within 72 hours, according to the airline. Vault Health is providing JetBlue customers a support line as well.
"It is important to note that many but not all jurisdictions accept PCR tests administered at home or from saliva," according to JetBlue. "All travelers should thoroughly research their destination or reentry travel requirements then make the best decision for testing based on their travel itinerary to avoid any disruptions. Properly timing testing to adhere to travel requirements must also be taken into consideration."
Aruba, which has required a negative PCR test since reopening to visitors, has partnered with JetBlue and is now accepting the PCR test by Vault Health.
"Reliable, accurate, and convenient testing is a vital key to safely resuming leisure travel and invigorating the economy," Geraghty said in a statement. "With a long history of promoting seamless travel, we are grateful to the Aruban Tourism Authority and the Aruban government for recognizing our partner, Vault, as an easy way for JetBlue customers to meet Aruba's testing requirements."
United Airlines
Chicago-based United Airlines is offering tests for travelers from San Francisco International Airport to Hawaii and will expand to other U.S. airports later this year, according to a press release. Hawaii dropped its mandatory 14-day quarantine on Oct. 15 for travelers who test negative for the virus within 72 hours of arrival.
United customers have two options when it comes to testing: a $250 day-of-travel rapid test performed by Dignity Health-GoHealth Urgent Care at San Francisco International Airport or a $105 drive-though test administered by Color at a testing facility that travelers must complete 48 to 72 hours prior to travel.
United will offer free testing to customers traveling on select flights from Newark Liberty International Airport in New Jersey to Heathrow Airport in London as part of a pilot program from Nov. 16 to Dec. 11. 
Hawaiian Airlines
Hawaiian Airlines offers travelers a pre-travel COVID-19 test they can take from home. The Honolulu-based carrier offers a mail-in polymerase chain reaction (PCR) test through Vault Health for $143. The kit is mailed overnight to customers who then take their own sample with the help of a testing supervisor via video before express-shipping it to a lab for results within 24 hours.
Travelers can also get drive-through PCR testing completed through the airline's partnership with Worksite Labs. This test costs $150 for day-of travel express service and $90 for results within 36 hours. Travelers get tested at labs located near Los Angeles and San Francisco International airports, with more testing locations to follow, according to a press release.
American Airlines
American Airlines has partnered with LetsGetChecked and CareNow to offer three testing options available to customers traveling to select destinations.
The Fort Worth, Dallas-based airline offers in-person testing for customers traveling to Hawaii at select CareNow urgent care locations near Dallas/Fort Worth International Airport for $150, testing at Dallas/Fort Worth International Airport with results in 15 minutes for $249, and an at-home test from LetsGetChecked for $129. For the at-home test, testing is observed by a medical professional through a virtual visit with results expected in 48 hours.  
Beginning Nov. 16, the airline will also offer at-home testing through LetsGetChecked to all American flights to Belize, Grenada, St. Lucia, and the Hawaiian islands.
Get Boston.com's browser alerts:
Enable breaking news notifications straight to your internet browser.