Events
90 Massachusetts Fourth of July fireworks shows to watch in 2018
All the info you need for 10 straight days of fireworks displays around the state.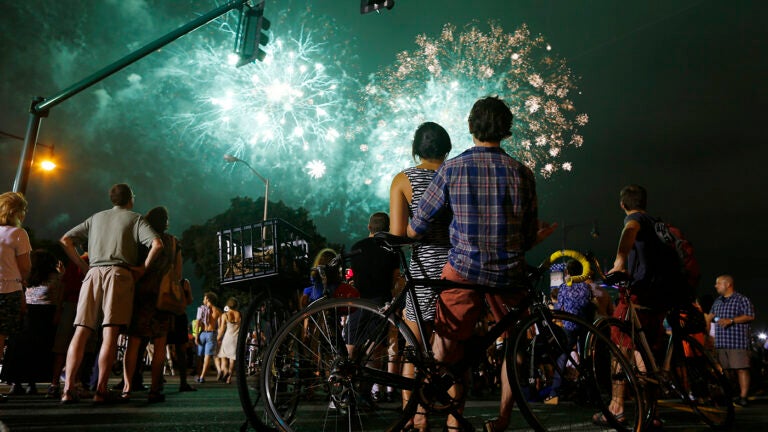 The Boston Pops Fireworks Spectacular is undoubtedly the biggest fireworks display in Massachusetts, with hundreds of thousands expected to flock to the city on July 4 to witness the celebration, and many more ready to watch at home, either on TV via Bloomberg TV or WHDH, or streaming on Boston.com, BostonGlobe.com, or BostonPopsJuly4th.org.
But the Fireworks Spectacular is hardly the only Bay State pyrotechnics show around — countless towns in Massachusetts will hold their own lights-in-the-sky extravaganzas. And with the Fourth of July holiday falling on a Wednesday this year, you could watch fireworks for 10 straight nights starting on Thursday. Here are the times and schedules of every fireworks show in Massachusetts we could find from now through July 7.
Don't see your town's fireworks listed or want to update your town's information? Send an email to [email protected].
June 28
Dracut
Time: 9 p.m.
Location: Dracut High School, 1560 Lakeview Ave.
Rain date: August 30
June 29
Holyoke
Time: 9:15 p.m.
Location: Holyoke Community College, 303 Homestead Ave.
Rain date: June 30
Northbridge
Time: 9 p.m.
Location: Northbridge Middle School, 171 Linwood Ave.
Rain date: None
June 30
Agawam
Time: 9:30 p.m.
Location: Six Flags New England
Rain date: None
Time: 9 p.m.
Location: Long Wharf
Rain Date: None
Brockton
Time: 10:45 p.m.
Location: Brockton Fair
Rain date: None
Braintree
Time: 10 p.m.
Location: Braintree High School, 128 Town St.
Rain date: July 1
Chicopee
Time: 9:30 p.m.
Location: Szot Park, 687 Front St.
Rain date: July 1
Halifax
Time: 9 p.m.
Location: Halifax Elementary School Field, 464 Plymouth St.
Rain date: July 1
Pepperell
Time: 9:30 p.m.
Location: Nissitissit Middle School, 33 Chace Ave.
Rain date: July 1
Salisbury
Time: 10:15 p.m.
Location: Salisbury Beach
Rain date: None
Ware
Time: 9 p.m.
Location: Grenville Park, 73 Church St.
Rain date: None
Webster
Time: 9 p.m.
Location: Memorial Beach, Thompson Road
Rain date: July 1
Westfield
Time: 9:15 p.m.
Location: South Middle School Field, 30 W. Silver St.
Rain date: July 1
July 1
Agawam
Time: 9:30 p.m.
Location: Six Flags New England
Rain date: None
Auburn
Time: 9:30 p.m.
Location: Pappas Recreation Complex, 203 Pakachoag St.
Rain date: July 2
Hingham
Time: 9 p.m.
Location: Button Island
Rain date: None
Ipswich
Time: 9 p.m.
Location: Turner Hill Golf Club, 251 Topsfield Road
Rain date: July 2
Mashpee
Time: 9:30 p.m.
Location: Mashpee High School, 500 Old Barnstable Road
Rain date: July 2
North Andover
Time: 9 p.m.
Location: Hayes Stadium, 495 Main St.
Rain date: July 7
Oakham
Time: 9:30 p.m.
Location: Pine Acres Camping Resort, 203 Bechan Road
Rain date: July 2
Orleans
Time: 9 p.m.
Location: Rock Harbor Beach, 11 Bay View Drive
Rain date: July 5
July 2
Agawam
Time: 9:30 p.m.
Location: Six Flags New England
Rain date: None
Harvard
Time: 9:15 p.m.
Location: Fruitlands Museum, 102 Prospect Hill Road
Rain date: July 3
Wilmington
Time: 9:30 p.m.
Location: Wilmington High School, 159 Church St.
Rain date: July 3
Worcester
Time: 9:30 p.m.
Location: Cristoforo Colombo Park
Rain date: July 3
July 3
Agawam
Time: 9:30 p.m.
Location: Six Flags New England
Rain date: None
Andover
Time: 9:20 p.m.
Location: Andover High School, 80 Shawsheen Road
Rain date: July 5
Attleboro
Time: 9:20 p.m.
Location: Attleboro High School
Rain date: July 5
Brockton
Time: 10:45 p.m.
Location: Brockton Fair
Rain date: None
East Longmeadow
Time: 9:30 p.m.
Location: High School Athletic Field, 180 Maple St.
Rain date: July 5
Fitchburg
Time: 10 p.m.
Location: Rollstone Hill, off of Pratt Road
Rain date: July 6, 7, or 8
Foxborough
Time: 9 p.m.
Location: Patriot Place Parking Lot 51, 2 Patriot Place
Rain date: None
Freetown
Time: 9 p.m.
Location: Hathaway Park, Carleys Way
Rain date: July 7
Gloucester
Time: 9 p.m.
Location: Stage Fort Park, 1 Hough Ave.
Rain date: July 7
Haverhill
Time: 9:15 p.m.
Location: Riverside Park, 162 Lincoln Ave.
Rain date: July 5
Lawrence
Time: 9:30 p.m.
Location: Veterans Memorial Field, Osgood Street
Rain date: July 5
Lynn
Time: 9 p.m.
Location: Red Rock, 76 Marine Blvd.
Rain date: July 5
Manchester
Time: 9:15 p.m.
Location: Singing Beach, Beach Street
Rain date: July 5
Methuen
Time: 9:30 p.m.
Location: 100 Milk St.
Rain date: July 5
Milford
Time: 10 p.m.
Location: Clark Island near Cedar Street
Rain date: July 5
Needham
Time: 9:30 p.m.
Location: Needham High School, 609 Webster St.
Rain date: July 5
Randolph
Time: 9:30 p.m.
Location: Randolph High School baseball field, 70 Memorial Parkway
Rain date: July 5
Rutland
Time: 9:20 p.m.
Location: Memorial Field, 220 School St.
Rain date: July 6
Sharon
Time: 9:30 p.m.
Location: Lake Massapoag, 196 Pond St.
Rain date: July 8
South Hadley
Time: 9:30 p.m.
Location: Michael E. Smith Middle School, 100 Mosier St.
Rain date: July 5
Time: 9 p.m.
Location: Swampscott Pier near Kings Beach
Rain Date: None
Weymouth
Time: 9:15 p.m.
Location: Wessagusset Beach, Wessagussett Road
Rain date: None
July 4
Acton
Time: 9:30 p.m.
Location: Behind Nara Park, 25 Ledge Rock Way
Rain date: None
Agawam
Time: 9:30 p.m.
Location: Six Flags New England
Rain date: None
Amherst
Time: 9:30 p.m.
Location: McGuirk Alumni Football Stadium
Rain date: July 5
Arlington (Boston Fireworks Viewing)
Time: 10:30 p.m.
Location: Robbins Farm Park
Rain date: None
Barnstable
Time: 9 p.m.
Location: Lewis Bay
Rain date: TBA
Bellingham
Time: 9 p.m.
Location: Bellingham Athletic Complex, Blackstone Street
Rain date: None
Beverly
Time: 9 p.m.
Location: West Beach, 121 West St.
Rain date: July 5
Boston Pops Fireworks Spectacular
Time: Concert at 8:30 p.m., fireworks at 10:30 p.m.
Location: DCR Memorial Hatch Shell
Rain date: None
Bridgewater
Time: 9:30 p.m.
Location: Legion Field, 200 South St.
Rain date: July 5
Brockton
Time: 10:45 p.m.
Location: Brockton Fair
Rain date: None
Burlington
Time: 9 p.m.
Location: Behind recreation building, 61 Center St.
Rain date: TBA
Canton
Time: 9:15 p.m.
Location: Irish Cultural Center, 200 New Boston Road
Rain date: None
Edgartown
Time: 9:15 p.m.
Location: Edgartown Harbor – Oak Bluffs Avenue
Rain date: July 5
Fall River
Time: 9:30 p.m.
Location: Taunton River
Rain date: None
Falmouth
Time: 9:30 p.m.
Location: Falmouth Heights Beach
Rain date: TBA

Hyannis
Time: 9 p.m.
Location: Aselton Park
Rain date: Sept. 1
Lincoln
Time: 9:15 p.m.
Location: Codman Field, 1 Ballfield Road
Rain date: July 5
Lowell
Time: 9 p.m.
Location: Pedestrian Walkway, Aiken Street
Rain date: July 5
Marblehead
Time: 9:15 p.m.
Location: Marblehead Harbor, Commercial Street Wharf
Rain date: July 5
Mashpee
Time: 9:30 p.m.
Location: Golf Course, 20 Red Brook Road
Rain date: July 5
Millbury
Time: 9:45 p.m.
Location: True Value, 22 Howe Ave.
Rain date: July 5
Nahant
Time: 9 p.m.
Location: Bailey's Hill Park, Bass Point Road
Rain date: None
New Bedford
Time: 9 p.m.
Location: New Bedford Waterfront, 49 State Pier
Rain date: None
Newton
Time: 9 p.m.
Location: Halloran Field and Sports Complex, Albemarle Road
Rain date: None
North Adams
Time: 9:30 p.m.
Location: Joe Wolfe Field, 310 State St.
Rain date: July 5
Pittsfield
Time: 9 p.m.
Location: Pittsfield Park, 105 Wahconah St.
Rain date: July 14
Plymouth
Time: 9:30 p.m.
Location: Town Wharf
Rain date: July 5
Provincetown
Time: 9 p.m.
Location: MacMillan Pier
Rain date: July 5
Salem
Time: 9:15 p.m.
Location: Derby Wharf, Winter Island
Rain date: July 5
Salisbury
Time: 10:15 p.m.
Location: Salisbury Beach
Rain date: None
Springfield
Time: 9:30 p.m.
Location: Track at Blunt Park, 1780 Roosevelt Ave.
Rain date: July 5
Wakefield
Time: 9:15 p.m.
Location: End of Beacon Street
Rain date: July 5
Waltham
Time: 9:30 p.m.
Location: Leary Field, 19 Athletic Field Road
Rain date: TBA
July 5
Lexington
Time: 9:30 p.m.
Location: Lexington High School baseball field, Worthen Road
Rain date: July 6
Nantucket
Time: 9 p.m.
Location: Jetties Beach
Rain date: July 6
Somerville
Time: 9:15 p.m.
Location: Trum Field, Franey Road
Rain date: None
July 6
Greenfield
Time: 9:35 p.m.
Location: Poet's Seat Tower, Mountain Road
Rain date: July 7
Middleborough
Time: 10 p.m.
Location: Battis Field, Jackson Street
Rain date: July 7
July 7
Ayer
Time: 9 p.m.
Location: Pirone Park, 36 Bligh St.
Rain date: July 8
Brockton
Time: 10:45 p.m.
Location: Brockton Fair
Rain date: None
Otis
Time: 9:15 p.m.
Location: Otis Reservoir
Rain date: None
Salisbury
Time: 10:15 p.m.
Location: Salisbury Beach
Rain date: None
Wareham
Time: 9:15 p.m.
Location: Onset Bay
Rain date: None