Flights
What to know about flight delays, cancellations at Logan Airport
What to know about flying through Logan Airport this Labor Day weekend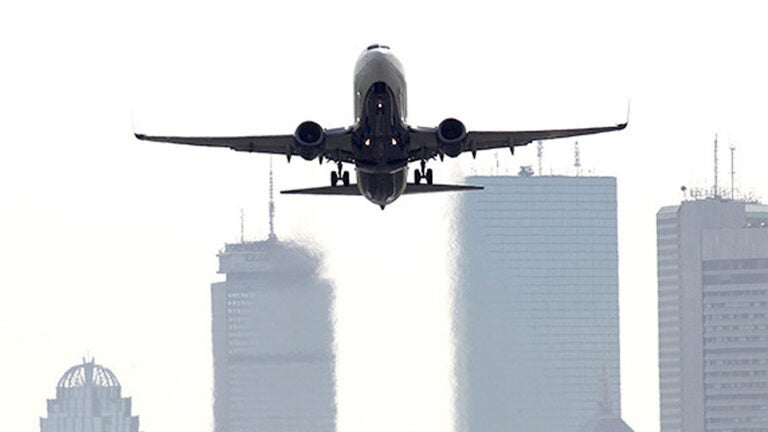 Airline cancellations and delays have plagued Logan International Airport and airports nationwide this summer as carriers struggle with staffing and other challenges.
This Labor Day weekend, U.S. airports are expected to see an anticipated 2.6 million passengers departing each day, according to flight tracker app Hopper. That means airline passenger volume will be about 22 percent higher than in 2019, according to Reuters.
TripIt released a list of the 10 busiest airports over Labor Day weekend and included Logan Airport, which it expects will be the most crowded on Thursday and Friday. TripIt predicts the busiest departure times will be 5 p.m. on both days.
Travelers should prepare for possible disruptions. Since Aug. 17, more than 4,900 U.S. flights have been canceled — about 1.8 percent — and 56,000 have been delayed, according to Reuters.
Transportation Secretary Pete Buttigieg wrote letters to the nation's major airlines this month, calling the level of disruption to passengers "unacceptable."
On Thursday, the Transportation Department will debut a new online dashboard where air travelers can compare airline policies and services for cancellations and delays.
"The message to the airlines is that you've got to make it easier for passengers to understand their rights," Buttigieg told NBC's "Today" earlier this month. "And you've got to support passengers when they experience delays or cancellations."
Here's the latest locally relevant information on the situation at Boston's Logan International Airport. (This post will be updated as new information is available.)
Delays and cancellations at Logan Airport:
Tuesday brought 5,036 flight delays and 882 cancellations across the U.S., according to flight-tracking website FlightAware, including 224 delays and 52 cancellations at Logan Airport. On Wednesday, the site reported 2,103 delays and 140 cancellations nationwide, including 114 delays and eight cancellations at Logan Airport by 4 p.m.
Logan was named among the 10 U.S. airports with the most summer cancellations, according to a FlightAware analysis for CNN, ranking No. 8 with 3.6 percent of flights canceled. The analysis was for the period of May 28 to July 13. In August, daily delays and cancellations at Logan Airport have been less frequent than earlier this summer.
Logan Airport posted the following on social media on Monday ahead of the long weekend: "If you'll be traveling through Boston Logan this upcoming long weekend, make sure to plan ahead how you'll get to the airport. Whether you take the Logan Express, Blue or Silver Line, water ferry or water taxi, consider an HOV option when traveling to Logan!"
The airport has tweeted several construction advisories recently, including information about lane closures and detours and "increased congestion" during Sumner Tunnel closures. Since June 10, the Sumner Tunnel has closed every weekend from 11 p.m. Fridays to 5 a.m. Mondays. The closures will continue for 36 weeks, excluding holidays, according to the Massachusetts Department of Transportation.
JetBlue, Logan's largest carrier, tweeted that Sumner Tunnel closures and roadway construction could add to travel delays in Boston. The airline advised passengers to arrive at Logan three hours before an international flight and two hours before a domestic flight.
MassDOT offered the following advice for Logan Airport travelers during Sumner Tunnel closures:
To reduce traffic congestion during tunnel closures, MassDOT encourages those traveling to or from Logan Airport to leave their cars at home and explore Massport's list of transportation options to and from Logan, which include: the Blue Line or Silver Line, the Logan Express, or the Logan Water Taxi. If you are traveling to or from the airport, allow for extra travel time because of the anticipated heavy congestion.

MassDOT
JetBlue posted the following alert on its website for travelers impacted by delays or cancellations:
We always want your travel experience to be as smooth as possible, but we know there are times when things don't go as planned. Below are some helpful resources so you can stay up to date.

Check your flight status for the most current info.

Get info about delays, cancellations and schedule changes.

See info about Air Traffic Control programs currently issued by the Federal Aviation Administration

JetBlue
Why are so many flights delayed or canceled?
Nationwide, airports and airlines are facing challenges.
"Everyone is having problems dealing with the combinations of not enough staff, not enough equipment, and all sorts of weather problems, and it's been really rough," Charlie Leocha, president and co-founder of Travelers United, told the Today Show.
In a July 25 letter sent to Buttigieg, U.S. Sen. Elizabeth Warren, D-Mass., and U.S. Sen. Alex Padilla, D-Calif., said air travel has grown worse over the past year and urged Buttigieg to hold the airline industry accountable.
Airlines for America said carriers will work with the transportation department to provide transparency, according to Reuters, and Buttigieg said his department is considering writing new rules "that would further expand the rights of airline passengers."
Earlier this month, the Transportation Department proposed a new rule to strengthen protections for travelers seeking refunds. The proposal would make domestic flights delayed by three hours and international flights delayed by six hours eligible for refunds, in addition to flights with changes to the departure or arrival airport, an increase in the number of connections, or changes to the aircraft that create a "significant downgrade in the air travel experience."
United Airlines CEO Scott Kirby recently told CNBC that the airline industry will gradually get better but "we're not going to get back to normal utilization and normal staffing levels until next summer."
"The biggest challenge that faces us for the next 12 months is all the infrastructure challenges around aviation," Kirby said, noting the problems at Heathrow Airport and air traffic control issues.
"The system just can't support our flying," he said, adding that his airline has reduced capacity until it can.
Boston.com Today
Sign up to receive the latest headlines in your inbox each morning.