Flights
JetBlue, other airlines waiving fees due to nor'easter
Massport is asking travelers to check their flight status before heading to Logan Airport.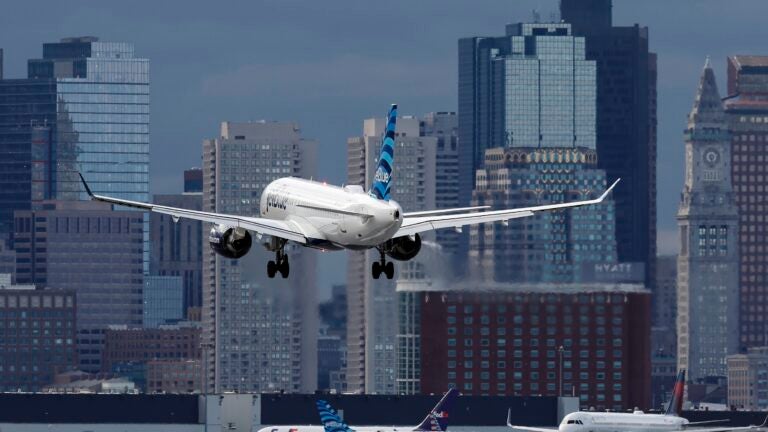 Airlines are allowing itinerary changes as the region braces for a March nor'easter expected to bring significant snowfall to much of the state.
The National Weather Service issued a Winter Storm Watch for Massachusetts from Monday through Wednesday, with possible heavy snow and wind.
"Due to expected weather conditions, passengers are advised to check with their airline on the status of their flight before coming to the airport," Massport wrote in a weather advisory on its website, and provided a link to the flight status page for Logan International Airport.
On Tuesday morning, there were 19 delays and 148 cancellations at Logan Airport by 8:30 a.m., according to flight-tracking website FlightAware.
Ahead, check out the travel alerts and advisories posted by airlines.
JetBlue
JetBlue, Logan Airport's largest carrier, is waiving change fees and fare differences for customers traveling Tuesday and Wednesday between several cities, including Boston, the airline posted in an alert. Customers can rebook flights for travel through March 18 online in the manage flights section of jetblue.com before the departure time of the originally scheduled flight. Customers with cancelled flights can get a refund to the original form of payment. Original travel must have been booked on or before March 13.
Delta Air Lines
Delta Air Lines will waive fare differences when rebooked travel occurs on or before March 18 in the same cabin of service as originally booked, the airline announced in an advisory and listed impacted cities, including Boston. Change fees will be waived when rescheduled travel occurs after March 18, but a difference in fare may apply.
American Airlines
American Airlines customers can change their trip without paying a change fee, the airline advised in a travel alert that listed impacted cities, including Boston. The change fee is waived in any fare class if travelers bought the ticket by March 11, are scheduled to travel March 14-15, can travel between March 12-20, and don't change their origin or destination city. Changes must be booked by March 15.
Southwest
Southwest issued a travel alert letting customers know that travel between March 14-15 may be rebooked in the original class of service as long as it takes place within 14 days of the original travel date and between the original cities. The airline listed the impacted cities, including Boston. Customers can use waiver code EVENT03122023.
Spirit
Spirit posted an advisory that says the airline is waiving change fees and fare differences for travel March 14-15 at impacted cities, including Boston. After March 20, the change fee is still waived, but a fare difference may apply.
United Airlines
United Airlines will waive change fees and fare differences for flights departing on or before March 11, as long as travel is rescheduled in the originally ticketed cabin — in any fare class — and for the original cities, the airline wrote in a travel notice. The airline listed the impacted cities, including Boston. The original ticket must have been purchased by March 11 for travel between March 14-15. The rebooking window is March 12-20.
Need weekend plans?
The best things to do around the city, delivered to your inbox.