Flights
JetBlue responds to report it had among the worst complaint ratios, on-time record last year
JetBlue says it is dedicated to serving customers, including when trips don't go as planned.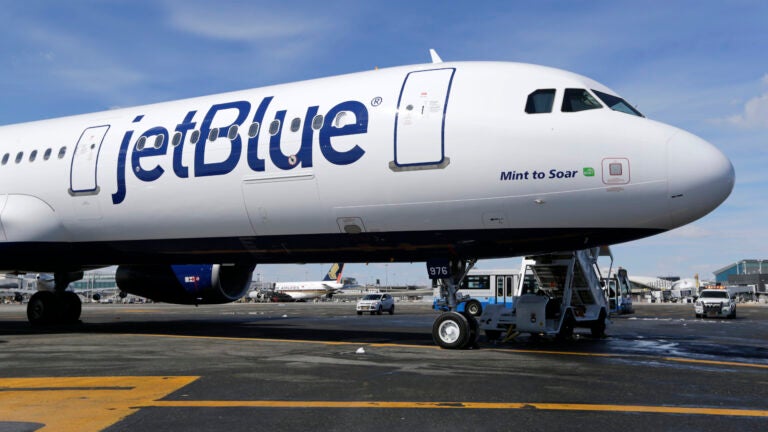 The airline industry received the most passenger complaints in at least a quarter of a century in 2022, according to a recent report by the US PIRG Education Fund.
And the report found that JetBlue, Logan Airport's largest carrier, was among the worst offenders.
Travelers filed 47,591 complaints with the U.S. Department of Transportation against U.S. airlines last year, according to the report, with the average ratio of complaints per 100,000 boarded customers among the 17 largest airlines, jumping from 3.1 in 2021 to 5.6 in 2022.
The three airlines with the worst complaint ratios were Frontier with 20.3 per 100,000 passengers, Spirit Airlines with 10.1 per 100,000, and JetBlue with 9 per 100,000. It is the second year in a row that those three airlines have had the worst ratios.
The complaint ratio of Southwest Airlines, which had a meltdown in December that resulted in about 17,000 canceled flights, increased from 1.4 per 100,000 passengers in 2021 to 6.8 in 2022.
"Air travel is just a mess right now," Deirdre Cummings, consumer program director at MASSPIRG Education Fund, told The Boston Globe.
"Airlines often post unrealistic schedules, they cancel flights, and they drag their feet with refunds," she added. "Airlines and online ticket agents just don't face enough consequences when they abuse customers."
The bulk of the complaints were about flight problems such as cancellations, delays, and missed connections, according to the report, followed by refunds and mishandled baggage.
JetBlue ranked No. 6 in total flight problem complaints with 1,506, placing behind Spirit, Frontier, United, American, and Southwest.
As for on-time flight performance — defined as arriving within 15 minutes of the scheduled time — the 17 largest airlines last year had an on-time performance of 76.6%, a percentage that has dropped under 77% just one other time in the last 15 years.
Allegiant Air had the worst on-time record at 63.4%, followed by JetBlue at 64.6% and Frontier at 66.1%, according to the report. Delta had the best on-time record at 82.5%.
While some flights are delayed due to weather, heavy traffic, and security delays, the biggest reason for delays are within the airline's control, according to the report, such as maintenance or crew problems, cabin cleaning, baggage loading, and fueling.
JetBlue provided the following statement to Boston.com in response to the report:
"It is important to note, the Northeast is by far the most congested airspace in the U.S., with more air traffic control delays and weather delays than any other region. In 2022, 76% of our operations touched congested airspace compared to 42% for our closest competitor and other competitors ranging from 7% to 32%.

We're pleased to have significantly improved completion factor in the second half of 2022. We also had one of the highest completion factors during the Christmas and New Year's holidays and didn't cancel a single flight over the Thanksgiving travel period. Additionally, our acquisition of Spirit Airlines will diversify our network outside of the congested Northeast, giving us greater operational resiliency and increased relevance to customers."

— JetBlue statement
JetBlue also pointed to its Customer Service Plan, which it says reinforces the company's dedication to serving customers when trips don't go as planned. The plan details the compensation rules for various issues such as delays and cancellations.
Horizon Airlines had the lowest complaints-to-passengers ratio, followed by SkyWest Airlines and Mesa Airlines.
Check out the US PIRG Education Fund report.
Need weekend plans?
The best things to do around the city, delivered to your inbox.