Flights
Here's every nonstop international destination out of Logan Airport
From Grand Cayman to Paris and all the way to Hong Kong.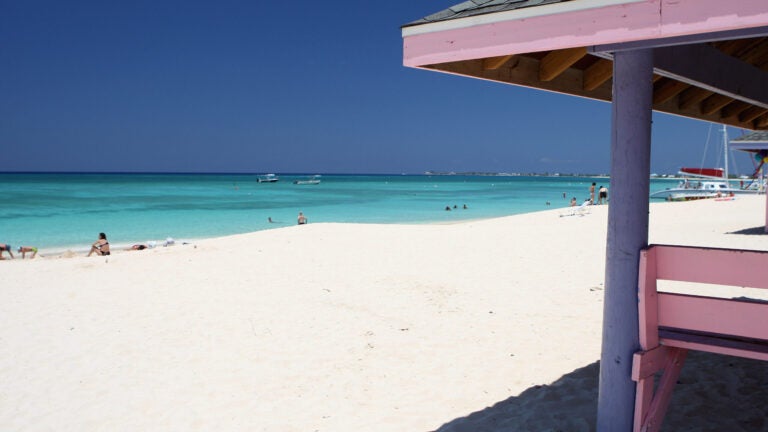 Do you envision yourself strolling along Grand Cayman's gorgeous Seven Mile Beach? Or wandering the bustling Plaza Mayor in Madrid? You can get to both on a nonstop flight out of Logan Airport.
In fact, you can reach 52 international destinations via nonstop flights out of the Boston airport, according to Massport.
The following is a list of where you can go.
Amsterdam, Netherlands
Aruba
Athens, Greece
Barcelona, Spain
Bogota, Colombia
Bridgetown, Barbados
Calgary, Alberta
Cancun, Mexico
Copenhagen, Denmark
Doha, Qatar
Dubai, United Arab Emirates
Dublin, Ireland
Edinburgh, UK
Frankfurt, Germany
Grand Cayman, Cayman Islands
Halifax, Nova Scotia
Hamilton, Bermuda
Hong Kong
Istanbul, Turkey
Liberia, Costa Rica
Lisbon, Portugal
London
Madrid, Spain
Montego Bay, Jamaica
Montreal, QC
Munich, Germany
Nassau, Bahamas
Ottawa, Ontario
Panama City, Panama Republic
Paris, France
Philipsburg, Sint Maarten
Ponta Delgata, Portugal
Port-au-Prince, Haiti
Providenciales, Turks and Caicos Islands
Puerto Plata, Dominican Republic
Punta Cana, Dominican Republic
Reykjavik, Iceland
Rome, Italy
San Salvador, El Salvador
Santiago, Dominican Republic
Santo Domingo, Dominican Republic
Sao Paulo, Brazil
Seoul, Republic of Korea
Shannon, Ireland
St. Georges, Grenada and South Grenadines (beginning in November)
St. Lucia
Tel Aviv, Israel
Terceira, Portugal
Tokyo, Japan
Toronto, Ontario
Vancouver, British Columbia
Zurich, Switzerland
Newsletter Signup
Stay up to date on all the latest news from Boston.com