Travel
Late to the table, tourist destinations begin to accommodate travelers' food issues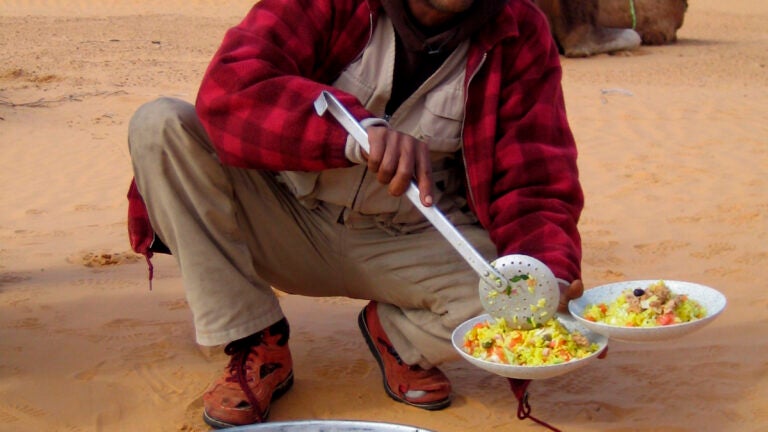 FORT LAUDERDALE, Fla. — One of the newest restaurants in this resort town offers entrees as enviable as its ocean view: smoked tuna rillettes, Florida stone crab, roasted sea bass with shiitake mushrooms and a miso glaze.
Terra Mare at the Conrad Fort Lauderdale Beach Resort serves up something else, too, with the same flair: palatable alternatives, for guests who can't or won't eat certain foods.
If there's a risotto on the menu, for example, diners who shun gluten can request it with quinoa or other grains. The grass-fed burger with smoked cheddar and artisanal pickles comes with an optional gluten-free bun, and can be prepared with a plant-based meat stand-in for vegetarians, who might also enjoy the banana bread or avocado mash.
"Instead of saying no, we embrace it,'' said the chef, Jorge Ramos, taking a pre-dinner break in a hotel bar backed by a blue-tinted mirror etched with a map of the Atlantic under an arched ceiling hung with hip chandeliers. "We take the same pride as if we were sourcing a regular ingredient.''
What may sound like fairly simple substitutions symbolize a stark departure for the tourism industry, which has been surprisingly late to the table in accommodating people with food issues that can include life-threatening allergies.
That inflexibility compounds the frustration of travelers who try to order gluten-free, dairy-free, or nut-free foods — and their dining companions, who have become accustomed to sitting through seemingly endless lists of unacceptable ingredients recited to indifferent servers.
After all, on the road, people typically have to eat all or most of their meals at restaurants or hotels. On cruise ships and international flights, and at all-inclusive resorts, they're practically held captive.
For them, something that's normally an integral part of the pleasures of travel — eating — becomes a time-consuming, stress-producing complication.
Some just stay home.
Lesley Hayden-Hock, a Framingham travel agent who has found a niche catering to customers with gluten intolerance — she came up with the idea, she said, when a client couldn't find a single hotel in Mexico or the Caribbean that served gluten-free food — works with families that haven't traveled for pleasure since their children were diagnosed with celiac disease. Other clients, she said, talk of weeks at sea on cruise ships that offered them a steady diet of chicken fingers and fries. Still others rented houses or hotel suites equipped with kitchens so they could cook themselves.
"That's not a vacation,'' Hayden-Hock said.
Two of her customers, Edith and Rodney Keenan, said they couldn't wait to hit the cruise ship circuit when they both retired. But after he was diagnosed with celiac disease, Edith Keenan said, they never left port. "I thought our traveling days were over,'' she said.
Busy restaurants in tourist destinations often chafe at special requests. Cruise ships, too, serve thousands of guests at once from limited menus, and resorts mount lavish buffets that risk cross-contamination or feature foods with ingredients that may be hard to deconstruct.
There are cultural and language problems in ordering distinctive meals abroad, especially in remote places. And boutique hotels that often serve only breakfast often aren't equipped to accommodate food issues.
Hotels in particular "have probably been a bit slower to respond to this than maybe restaurants have been,'' said Chris Harvey, general manager of the bed-and-breakfast-style HarbourView Inn in Charleston's historic district.
The HarbourView has adapted by adding gluten-free, vegetarian, and vegan options to its breakfast and afternoon wine-and-cheese receptions. Guests can order hard-boiled eggs, gluten-free toast, yogurt, almond milk and fruit and, in the afternoons, gluten-free crackers and crudités.
That's not easy for a property that doesn't have a full kitchen or much space to store food, said Harvey. But eventually "there was just a buildup of requests. We were making more and more frequent trips to the grocery store or more frequent calls to our bakers for these kinds of items and decided it would be a lot easier if we just put them on the menu.''
He's right about this trend. Three million Americans have been diagnosed in the United States with celiac disease, according to researchers at the University of Maryland, and many others have gone gluten-free as a lifestyle decision.
Gluten-free products account for 6.5 percent of all food sold, up from 2.8 percent in 2013. One in five people asks for gluten-free ingredients when dining out, the National Foundation for Celiac Awareness reports, and the market analysis firm Datamonitor says 22 percent avoid certain foods because of all kinds of allergies or intolerances.
"You go to your supermarket and everyone is gluten-free,'' said Hayden-Hock. "There's power in numbers.''
That's gotten hard to ignore, even in the busiest of destinations. And it's magnified by social media and websites that review the responsiveness of restaurants, hotels, and cruise lines to food issues.
"It's one of those things that as an industry, people are becoming more prepared for, and training their staffs to deal with,'' said Harvey, who said the topic can be an emotional one for people with food intolerances. "Our ultimate goal is that those guests who we can take care of will come back and see us when they return to Charleston.''
Some companies are jumping on this as a way of distinguishing themselves in a competitive market. Hilton, for example, which includes the Conrad chain, has added online and in-person training for employees at many of its properties in how to handle special food requests. Marc Ehrler, vice president of culinary for the Americas, likens the trend to the farm-to-table movement now firmly rooted in restaurant kitchens.
"A lot of people [in the business] forget that hospitality means being hospitable,'' Ehrler said. "Dietary restrictions can be allergies, they can be religious or they can be just preferences, but they all need to be accommodated.''
Consumers, meanwhile, have become so well-educated about food allergies "that we can't ignore this,'' he said. "There used to be a time when we would have a guest request and we would say, 'Oh, yes, of course.' And the kitchen would do what it felt was right. We can't do that any more because our guests are so knowledgeable.''
Other properties may not be so attentive, Hayden-Hock and others say.
"Everybody is trying to jump on this bandwagon, but they're not doing it right,'' said Hayden-Hock, who works for the agency Travel Leaders. "Hotels will advertise that they're doing things gluten-free and they're very proud of themselves. They put the little symbol next to an entrée that never had gluten in the first place. And they don't know anything about cross-contamination.''
The Keenans, who are traveling again, have found this, too. "There have been a few mistakes,'' Edith Keenan said. "You have to be on guard. We give all of these instructions and then they bring the salad completely covered in croutons. Maybe they don't take it seriously, maybe they don't understand. But it is better than it was.''
Including overseas, where food issues have long been amplified by cultural and language divides.
"If you're going out on your own and traveling through Croatia, you're not going to be able to read the menu,'' said Julie Ruston, US and Canada sales director for the international walking, hiking and cycling company Exodus Travels. "If you're not in North America or Western Europe, most people don't know the difference between vegetarian and vegan.''
Exodus makes a specialty of accommodating travelers with food issues, even in off-the-beaten-track camps and lodges. It's not just a matter of tapping into a huge and growing market, said Ruston, herself a vegetarian; it's also because "no one wants to be a tour leader of a tour with people who aren't feeling well'' because of a food allergy.
"We have a responsibility to our travelers,'' she said. "If we want to inspire them to travel, we should be able to do the best we can to meet their dietary requirements.''