Food
10 food experiences you need to have this summer
From lobster in Rockport to food truck grub at a Cape Cod vineyard.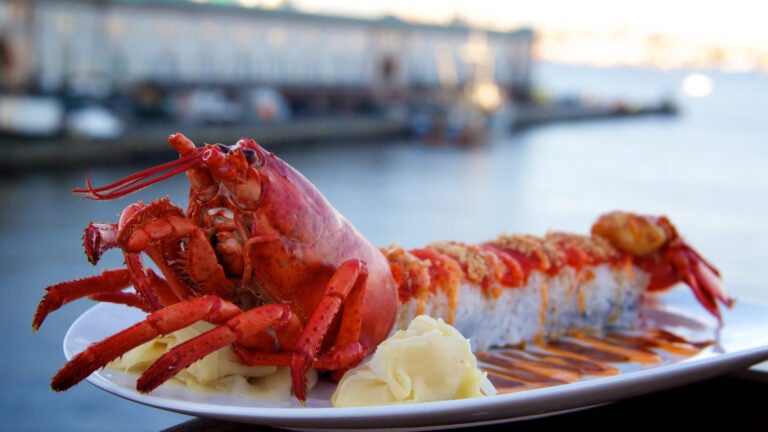 Get amazing travel deals when you sign up for Boston Traveler. Find the perfect getaway, grab special fares for local and international trips, and much more.
Ah, summertime in Boston: those beautiful few months when Bostonians gather on patios and outdoor spaces around the city to soak in the sunshine, eat fried food, drink iced coffee, and forget that winter exists. Below are 10 food experiences in Boston and beyond that you need to experience this season—before the warmth disappears again.
1. Treat yourself to fried clams at Wollaston Beach
No New England summer is complete without a trip to one of the clam shacks that line the shores here. So head to Wollaston Beach in Quincy, a short T ride away on the Red Line, and make a beeline for either The Clam Box (789 Quincy Shore Dr., Quincy; 617-773-6677) or Tony's Clam Shop (861 Quincy Shore Dr., Quincy; 617‑773‑5090), which both specialize in fried seafood. Take a seat on a bench or bring a couple of beach chairs, and listen to the waves as you dig in.
2. Picnic on the Harbor islands
One of the most underrated summer attractions in the Boston area is a trip to the Boston Harbor islands. Even though the five islands are only a short ferry ride away, they feel remote, which can be a great respite from spending long summer days in the city. Pack a picnic with provisions from the Boston Public Market (100 Hanover St., Boston; 617-973-4909) before stepping onto the ferry, or buy lunch at one of the island's cafes, like Seaglass Cafe on Spectacle Island or Rita's Mess Hall Cafe on Georges Island. You can chow down during a hike, or just while sitting and taking in the views of the Boston skyline.
3. Eat lobster at Roy Moore in Rockport
There's something about New England fishing villages that's just so quaint. At Roy Moore Lobster Company (39 Bearskin Neck, 978-546-6696) in Rockport, the setup is simple: You take a look at the menu on the wall, place your order, and have a seat at one of the bare, wooden picnic tables out back, overlooking the harbor filled with small boats, bobbing in the placid water. Steamed lobsters are the specialty here, but the smoked fish cakes and chowder are also standouts. Don't forget to bring a bottle of wine—Roy Moore is BYOB.
4. Crush the Crush Pad food truck at Truro Vineyards
The Outer Cape is a popular summer destination because of its beautiful beaches; it's also home to the only vineyard on Cape Cod. Truro Vineyards (11 Shore Rd., Route 6A, North Truro; 508-487-6200) is located right off of Route 6 with gorgeous grounds, tours, and a food truck called Crush Pad, run by the Cape Cod restaurant Blackfish (17 Truro Center Rd., Truro; 508-349-3399). The menu changes frequently but always includes summer favorites like lobster rolls, burgers, and more innovative fare like General Tso's duck wings. Also check out Truro Vineyard's new venture, South Hollow Spirits, a small-batch craft distillery located on the same property.
5. Have a lazy Sunday at South End Open Market
Now is the perfect time to explore a farmer's market and check out all of the local produce that's native to the area. One of the biggest and best: the South End Open Market (375 Harrison Ave., Boston) in the South End, which boasts 15 food trucks, a farmer's market, an arts market with handmade crafts, and, as of this summer, a beer and wine license so you can sip while you shop. The market is open 10 a.m. to 4 p.m. every Sunday. Get ready to Instagram your artistic finds and food porn shots.
6. Find the "secret" patio at The Canteen in Provincetown
There are few towns as synonymous with summer as Provincetown in Cape Cod. The summer months there are filled with revelers enjoying the gorgeous water views and party atmosphere. That's why finding the little patio tucked behind The Canteen on Commercial Street (225 Commercial St., Provincetown; 508-487-3800) feels like such a discovery. Although the restaurant is technically in the middle of the busiest part of town, the patio seems to be in another world, a tiny space overlooking the Atlantic where you can enjoy a glass of wine, pristine seafood, creative vegetarian dishes, and the most delicious clam chowder in the area. Takeout is also available, so you can enjoy your food at Race Point Beach.
7. Get your swim on (and eat, too!) at the Colonnade rooftop pool
The rooftop pool at the Colonnade Hotel in Back Bay (120 Huntington Ave., Boston; 617-424-7000) feels more like South Beach than Boston. It's the perfect place to cool off—and eat out—after working all day: Every Tuesday from 5:30 p.m.-7:30 p.m. this summer, the rooftop hosts a chef for a poolside cookout with tastings and cocktails for $20 per person. Some of the best chefs in the area, like Tiffani Faison of Sweet Cheeks (1381 Boylston St., Boston; 617-266-1300), Andy Husbands of The Smoke Shop (1 Kendall Square, Cambridge; 617-577-7427), and Matt King of Smith & Wollensky (101 Arlington St., Boston; 617-423-1112), will be stopping by. Find tickets and the full lineup of chefs here.
8. Do it up at the Dewey Square food trucks
Don't let work keep you from enjoying a nice day—if you're near South Station, have lunch at Dewey Square Park Plaza. Some of the city's favorite food trucks, like Bon Me, Clover, Cookie Monstah, and Stoked Pizza, park here for lunch, and there's plenty of outdoor space for sitting and catching up with a friend or coworker. On Tuesdays and Thursdays, there's also a farmer's market with produce, seafood, and meat vendors, so you can pick up your ingredients for dinner before heading home on the T or commuter rail. Check the schedule of food trucks here.
9. Discover what summer tastes like at the Kream 'n Kone in Dennis
Situated in the mid-Cape region, the Kream 'n Kone (961 Main St., West Dennis; 508-394-0808) is a classic seafood shack destination in Dennis, serving all of your favorite fried seafood dishes—whole belly clams, lobster rolls—and onion rings that are not to be missed. During the summer season, the restaurant is open until 11 p.m. and has seating available on a riverfront patio. Finish off your meal with an ice cream cone for the full summery effect.
10. Dine out on the patios at Legal Harborside
A summertime meal at Legal Harborside (270 Northern Ave., Boston; 617-477-2900), the massive, three-floor complex that is part of the Legal's chain, means waiting in line for the crowded roof deck, right? Not quite: The patios on the first and second floor are just as enjoyable as the beloved and busy lounge on the top floor, and they have tables that tend to open up quicker than the lounge tables on the top floor. During the summer, you can sit outside and enjoy classic seafood dishes on the first floor or the fine dining menu on the second floor and listen to artists like Bob Dylan and Paul Simon play at the Blue Hills Bank Pavilion (290 Northern Ave., Boston; 617-728-1600) next door.