Food
These are a doughnut expert's favorite spots for cider doughnuts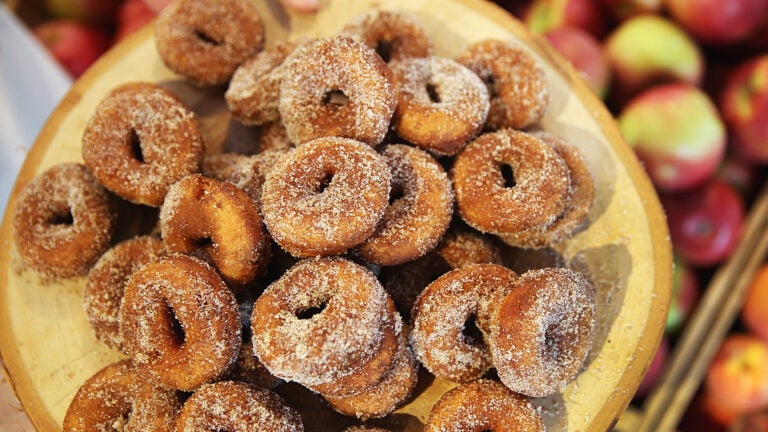 Cider doughnut season is finally here, so we asked Blackbird Doughnuts chef/owner Anna Perna to round up her favorite spots to find the sweet fall treats. The picks range from day trip-worthy to local, so whether you're thinking about making a weekend of apple picking and doughnut eating or simply hoping to snag something on your way home from work, Perna has you covered.
"The doughnuts at Cider Hill Farm are rolled in sugar, which ups the crunch factor. There are also pies and other sweet treats to nibble in the bakery." —Perna
This third-generation farm and cidery provides hard cider tastings in addition to activities for kids, like bee observation and a giant sandbox. Its market also sells homemade bread, pies, and breakfast items in addition to its own honey. Plus, you can nab lunch at the Pitchfork, Cider Hill's lunch cart, featuring menu items like apple cider pulled pork sandwiches, fresh-squeezed lemonade, and cider doughnut ice cream.
(45 Fern Ave., Amesbury; 8 a.m. to 6 p.m. seven days per week in season; check the farm's website for seasonal hours)
"These cider doughnuts are served right from the fryer on the Russell Orchards farm. The farm is located right near Crane Beach, so it's a great place to visit in the early fall—when you're not quite ready for summer to be over, but totally ready for apple picking and doughnuts." —Perna
In addition to from-scratch doughnuts, Russell Orchards offers wine tastings, hayrides, and pick-your-own activities. The large on-site barn is chock-full of homemade New England fare, from pies and cider to candles and honey, and the farm is home to animals like ducks, chickens, and bunnies, which visitors can interact with while walking the grounds.
(143 Argilla Road, Ipswich; 9 a.m. to 6 p.m. in October and 9 a.m. to 5 p.m. in November)
"Red Apple Farm set up shop in the Boston Public Market with mini cider doughnuts. You can get your fix all year long. Plus they have cider slushies!" —Perna
Perna's only Boston Metro farm stand pick is the popular Red Apple Farm, which has a large booth on the Congress Street side of the Boston Public Market. Though Red Apple sells cider, fruit, and sundries year-round, it's the mini cider doughnuts (and their aroma) that bring the crowds to the fourth-generation farm's doughnut cart. 
(100 Hanover St., Boston; 8 a.m. to 8 p.m. Mondays through Saturdays, and 10 a.m. to 8 p.m. on Sundays)
"The hilly landscape and the doughnuts are totally worth the drive. They also make a Thanksgiving sandwich with cider doughnut stuffing. Plus, my Grampy used to work at the pick-your-own apple area, so I had to mention it." —Perna
The three-hour drive from Boston might make a visit to this decades-old farm a hard sell, but the beauty offered by the surrounding hills and pine forests is difficult to beat. Its location overlooking the Saco River Valley makes it a popular wedding destination—in addition to a favorite for cider doughnuts and pies. The orchard also offers pick-your-own apples, and yoga.
(363 Durgintown Road, South Hiram, Maine; 8 a.m. to 5 p.m. seven days per week in season; check the farm's website for seasonal hours)
"These doughnuts are fantastic. Definitely buy a bag and get there early—the line can get quite long. I also like to grab a caramel apple." —Perna
Honey Pot's website warns that a serious wait sometimes forces the cider doughnut queue to close an hour early, at 5 p.m. Be prompt, then spend the day enjoying a host of other activities post-doughnut indulgence: picking apples and pears, making your way through hedge mazes, taking hayrides, and visiting with the farm's animals, including sheep, goats, and bunnies.
(138 Sudbury Road, Stow; 9 a.m. to 6 p.m. seven days per week)
"Had to throw our own spot a mention! We just revamped our cider doughnut to include more spices in the batter, and we roll them in cinnamon sugar while still warm." —Perna
Blackbird Doughnuts expanded beyond its original South End location to include a small counter space in the Fenway neighborhood earlier this year. The doughnut shop's offerings include raised doughnuts made from brioche dough to cake doughnuts made with buttermilk and sourcream, and the creative flavors rotate often. Cider doughnuts are a seasonal offering available at both locations throughout the fall season.
(492 Tremont St., Boston; 20 Kilmarnock St., Boston; both open from 7 a.m. to 6 p.m. Mondays through Fridays and from 8 a.m. to 6 p.m. Saturdays and Sundays)