Food
10 ways to soak up rosé season
The pink drink is the star of many events this spring and summer.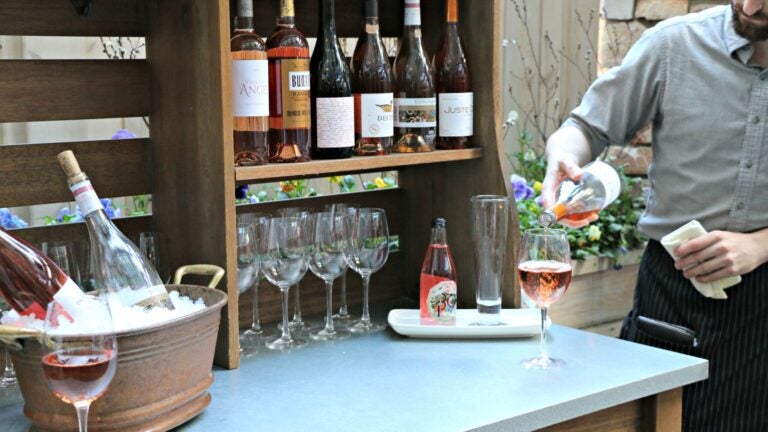 For an essential guide to the city, sign up for How to Boston, Boston.com's weekly culture and lifestyle newsletter.
Rosé season has arrived. By which we mean the city is overflowing with rosé events over the next several weeks. Do you like your rosé with oysters? In sangria? From a fountain? There are events for all of that.
Alibi Bar & Lounge is celebrating patio season with a rosé fountain — as one does — during the Beacon Hill spot's "Kickoff Summer Patio Party." The night will also include a raw bar and passed appetizers, other summer cocktails, giveaways, and a bubble machine. (Thursday, May 31 from 7 to 10 p.m.; Alibi Bar & Lounge, Boston; prices vary; 21+)
Get fancy at a four-course dinner prepared by The Liberty Hotel's restaurant, Clink, and served in the hotel's private outdoor courtyard, The Yard. It's all part of Clink's outdoor summer dinner series, during which the restaurant will pair a certain type of wine with an alfresco meal on select Fridays. The series will kick off with June 1's event, at which each course will be paired with a different rosé. Chef Daniel Kenney and a wine expert will explain each drink pairing as the courses are served. The rosé dinner will repeat on Aug. 3. (Friday, June 1 and Friday, Aug. 3 from 6:30 to 9:30 p.m.; The Liberty Hotel, Boston; $95 for one person and $175 for two; 21+)
How about some complimentary oysters with your rosé? That's what you'll get when you attend Coda Bar + Kitchen's 10th birthday celebration. The South End spot has updated its appearance just in time for a party celebrating its decade in business, and will show off a new mural created by local artist Aggie Pavlidis as well as a new back bar. (Saturday, June 2 from 2 to 4 p.m.; Coda Bar + Kitchen, Boston; all ages, but guests must be 21 to drink)
Learn all about the pink stuff at the Boston Center for Adult Education's "All About Rosé: Drinking Pink" class on June 7, during which students will sample rosés with sommelier Erika Frey. Frey will discuss the origins of the wine, how it is produced, and recommend pairings. (Thursday, June 7 from 7 to 9 p.m.; Boston Center for Adult Education, Boston; $50 plus a materials fee of $18; 21+)
Does it get more spring-like than rosé and flowers? It doesn't. On June 11 at local wine shop The Urban Grape, you can learn to create floral arrangements with Boston flower business Alice's Table, and simultaneously participate in an expert-led tasting. At the end of the aptly and adorably named "Summer Roses & Rosé Tasting" event, you'll get to take your arrangement home. (Monday, June 11 from 6:30 to 8:30 p.m.; The Urban Grape, Boston; $80; 21+)
No WWE-style fighting here — this matchup is between wines. At Puritan & Company's rosé event, you can taste and discuss several rosés throughout the evening while enjoying unlimited appetizers from Chef Will Gilson. There are two time slots — one at 6 p.m. and one at 8 p.m. — and tickets to both can be purchased here. Both events end at 10 p.m. (Thursday, June 14 at 6 and 8 p.m.; Puritan & Company, Cambridge; $65-$75; 21+)
For the sixth year in a row, guests dressed in pink can sip pink wine on the Boston Harbor during the 90+ Cellars "Rosé on the Water" cruise. The event will take place rain or shine on the MV Provincetown II, which will board at the World Trade Center. Tickets, which you can purchase here, include rosé and appetizers. (Saturday, June 23 from 2 to 5 p.m.; Boston World Trade Center, Boston; $85; 21+)
At Harvest Restaurant, a rosé menu is for amateurs — the Cambridge restaurant opened a rosé bar earlier this month. Customers can order glasses, bottles, and rosé cider and sangria from the patio-set bar, which is open three nights a week. (Wednesdays through Fridays from 4 to 6 p.m.; Harvest Restaurant, Cambridge; prices vary; all ages, but guests must be 21 to drink)
Picture this: you and someone special sipping rosé Champagne during a romantic picnic for two on Nantucket. Pretty sweet, right? And that's not just the rosé talking. It's all part of a "Ride & Rosé" package offered at The Wauwinet, a seaside island resort with breathtaking views. The package includes a two-night stay at The Wauwinet; the aforementioned picnic for two; bicycles; and a port, sherry, and cheese service in the afternoon. (Package available all spring and summer; The Wauwinet, Nantucket; $175)
When you purchase ACK rosé and MVY rosé made by the Boston-based beverage company Latitude, one dollar of every bottle sold will benefit the Nantucket Boys & Girls Club and Martha's Vineyard Boys & Girls Club. The wines are part of the company's new Places Wines, which feature U.S. locations on the wine labels. You'll find them in shops like Kappy's Fine Wine & Spirits, the South End's Urban Grape, and the North End's Prezza, and for $16.99 on the company's website.