History
How Salem's first witch shop started a movement
Salem's modern-witch scene is now one of the most famous parts of its culture, but in 1971 there was just 'The Witch Shoppe.'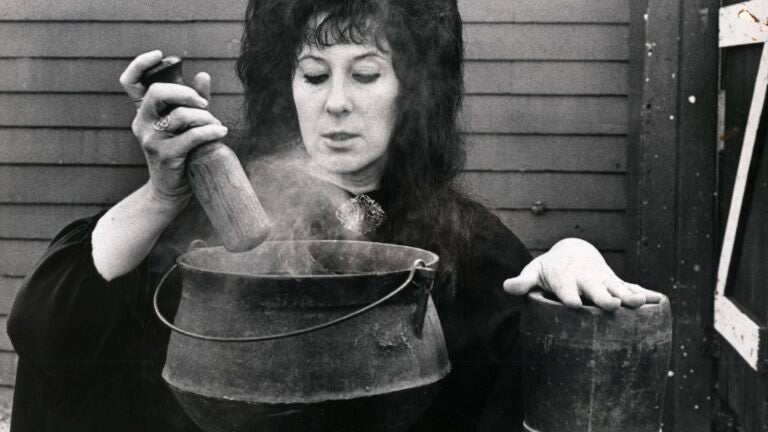 Laurie Cabot, the woman who started Salem's modern witch movement, never wanted to live there.
She pooled money with a friend to leave Boston after a divorce, and circumstances led them to Salem in 1971.
Once there, the 38-year-old Cabot opened a shop. It was called simply "The Witch Shoppe." At the time, there was no need to be more specific. There were no witch shops, and there weren't vendors selling pentacle jewelry, herbs intended for magical use, or other items for her shop to carry.
"I had to make everything myself," said Cabot, who now teaches witchcraft classes and sells products online. "I found an herbal shop in New Hampshire, they helped me, but everything else [I did myself]. Even my potions—I had to get old bottles, I couldn't find modern bottles."
Goth fashion, now associated with witches, also hadn't developed yet. Many didn't understand Cabot's wardrobe of black robes and dark eye makeup, especially for a mother and small-business owner.
"I had made a vow to my goddess that I would wear the black robes and never take them off," she said. "Of course I was very naive. I didn't think that being portrayed in black robes would be shocking to people."
Two weeks after The Witch Shoppe opened a woman came into the store screaming that Cabot was going to hell and bringing the devil to Salem. Another time, a man stopped his car to tell her that "they're going to burn you and hang you again," she recalled. At the time, Cabot was walking with her two young daughters.
"[Cabot] paved the way with lots of criticism," Lorelei Stathopoulos, the current owner of Cabot's first shop, told Boston.com. "She stood alone."
If Cabot paved the way, the appearance of witches in popular culture may have primed the route. In 1970, the television show Bewitched filmed in Salem. Its protagonist, Samantha Stephens, was sweet, conventionally attractive, and only used her powers for good, a contrast to many previous depictions of witches.
"She's really the most palatable witch you could imagine for mainstream American culture," said Melissa Nierman, a local historian and owner of a tour company, NOW Age Travel.
With the show came the beginning of witch tourism in Salem. Back then only the Salem Witch Museum and the Witch House were present, and both were focused on the Salem witch trials exclusively. While Wicca, a federally-recognized religion incorporating witchcraft and pagan rituals, gained an American audience in the late 1960s, Cabot's store started the modern witch conversation in Salem, Stathopoulos said.
Two years after Cabot opened The Witch Shoppe she moved it to Essex Street. She also gave it its current name, Crow Haven Corner.
Cabot became a well-known figure, and then Salem's Official Witch via a declaration by Governor Michael Dukakis in 1977, according to The Boston Globe. The store was taken over by her daughter, Penny, while Cabot wrote books and taught courses at Salem State, Wellesley College, and Harvard, the Globe reported. Her courses focused on witchcraft as a "science, art, and religion."
"My intention was to help educate about what magic is, and then I started teaching classes," she said.
At 84, Cabot is still teaching students around the world about witchcraft.
Stathopoulos, who goes by only "Lorelei" in her practice, grew up with the Cabots.
"Her tradition is scientific as well as religion," she said. "[Cabot]'s so intelligent."
Stathopoulos's approach, however, is slightly different, and it's apparent at Crow Haven Corner, which she took over 20 years ago. While Cabot made a commitment to her dark robes and serious witchcraft, Stathopoulos sometimes takes a lighter approach. Her office in Crow Haven Corner features a traditional altar and tarot cards, but also floral decorations, landscapes, and two of her dogs, each in a Halloween costume. 
"It's OK to be a sexy conservative witch," she said. "It's OK to be funny and light. I'm not as serious as some witches."
Stathopoulos has also worked to be active in all parts of Salem's community. She leads a nonprofit called "Salem Saves Animals" that focuses on promoting animal welfare in the city. 
Crow Haven Corner also gives out food carts to homeless people, along with some of the other witch shops on Essex Street.
"We're an Essex Street family," Stathopoulos said.
She and Christian Day, another of Salem's most prominent witchcraft practitioners, were two of the first witches to become politically active in Salem. They testify at city council meetings and have a personal relationship with the mayor, who Stathopoulos considers a support and a friend. There is a "Kim Driscoll for Mayor" sign in one of Crow Haven Corner's windows, opposite a mural honoring Cabot.
"We stood up and said we're going to be a part of this city, and we're going to go to the council meetings, and we're going to object to the things we don't like, and we're going to make sure they know we're here," Stathopoulos said.