Lifestyle
10 best fall hikes in New England and Massachusetts
From leaf peeping to ocean views, these awe-inspiring trails are the perfect way to escape the city's noise.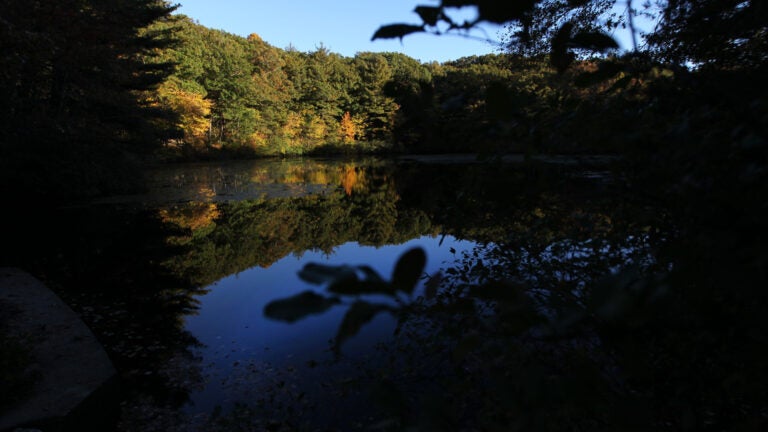 New England's foliage season may be cut short this fall, but hiking season doesn't have to be.
Trails here are beautiful year-round, but especially this time of year. Whether you want to peep at leaves along the Boston skyline or get away to see the waves of the Atlantic crash along Maine's shores, these 10 hiking trails in New England will inspire you to lace up and get in tune with nature this fall.
Maine
Acadia National Park
Acadia National Park has more than 120 miles of trails to choose from. One trail, the Beehive Trail, is short, challenging, and highlights beautiful fall scenes on slopes rising above the Atlantic Ocean. This hike is not for those afraid of heights: You use iron rungs on exposed cliffs. The hike also includes a stop at the Bowl, a pond nestled high in the mountain. (Sand Beach Parking Area on Park Loop Rd., Acadia National Park, Maine)
Massachusetts
Mass Audubon's Ipswich River Wildlife Sanctuary, Topsfield
If you're bird lover, this is the hike for you. The 1,954-acre sanctuary offers 12 trails that feel quiet and intimate because hikers are so spread out. If you're a Mass Audubon member, you can also rent canoes to explore the marshes of the Ipswich River, which crosses the southern part of the sanctuary. (87 Perkins Row, Topsfield, Massachusetts)
Middlesex Fells Reservation Skyline Trail
The Skyline Trail follows the outer perimeter of the western Fells for just under seven miles. The hike is challenging, with a mostly wooded landscape and multiple steep and rocky ascents. But if you make it to the top, you'll be treated to stunning views of Boston's skyline. (4 Woodland Rd., Stoneham, Massachusetts)
Noanet Woodlands, Dover
There are more than 17 miles of shaded trails and wooded roads for hikers of all experience levels on these 595 acres owned by the Trustees of Reservations. Check out Noanet Peak for views of the city's skyline or extend your hike by exploring trails that link to the 1,200-acre Hale Reservation. For those looking to go for a walk with their kids, Noanet Woodlands also offers a half-mile route, the Caryl Trail, that leads to an old mill site. (Powisset Street, Dover, Massachusetts)
Race Brook Falls
More than six miles of trails through the southern Berkshires incorporates five gorgeous waterfalls and views from the Taconic Ridge. Visit Mount Race or Mouth Everett, the highest peak in the southern Berkshires, for what seems like never-ending views of an orange- and yellow-filled countryside. (Route 41, Sheffield, Massachusetts)
Tully Mountain
This central Massachusetts mountain—and its namesake pond—offers great fall trails for both advanced and beginner hikers. Hike the mountain for colorful scenes extending from Mount Monadnock to the hills surrounding the Quabbin. If you're looking for a more relaxed hike, take a walk around the pond for impressive views of Doane's Falls. (Route 32 near Tully Lake Dam, Royalston, Massachusetts)
New Hampshire
Fox Research and Demonstration Forest
In 1922, Caroline Fox bequeathed to the state her 348-acre farm with a house and barn. Now, the land totals 1,445 acres with an environmental center, forestry museum, and more than 20 miles of well-marked trails. Check out the four-mile Ridge Trail, which winds through a forest of maples, pines, hemlocks, and birch before arriving at Mud Pond. (Fox State Forest, 309 Center Rd., Hillsboro, New Hampshire) 
Mount Garfield
A long, but gradual ascent, the climb to Mount Garfield's summit will give you sweeping views of the White Mountains. During peak fall foliage, you could easily spend hours admiring the colorful display by the Pemigewasset River. The 10-mile roundtrip hike follows the Garfield and Garfield Ridge trails. (Gale River Loop Road off Route 3 in Bethlehem, New Hampshire)
Vermont
Marsh-Billings-Rockefeller National Historic Park
Beginning in the 1870s, Frederick Billings designed a forest with numerous tree plantations and constructed a 20-mile network of carriage roads to showcase his work. Now visitors can tour the exhibits in the Carriage Barn before hitting the carriage path trails through the 550-acre forest. The longest trail circles around The Pogue, a man-made 14-acre pond tucked into the hills of the park's Mount Tom Forest. (54 Elm St., Woodstock, Vermont)
Mount Hunger
At 3,539 feet tall, Mount Hunger's scenic, rock-covered mountain located east of Stowe is surrounded by valleys, peaks, and farmland—all of which are covered in a rainbow of colors during the fall. This short but challenging 3.5-mile, heavily trafficked trail also features a waterfall. (Sweet Road in Waterbury, Vermont)