Lifestyle
100 things to do in Maine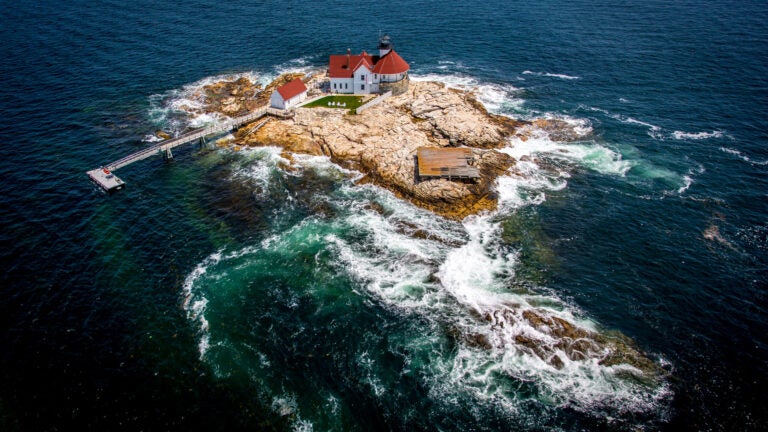 Seafood, lighthouses, and a stunning spot called Acadia National Park—need we say more? The East Coast's tip-top is top-notch.
(And for 900 things to do in the rest of New England, click here.)
• • •
1. Bike on the Carriage Roads in Acadia National Park
The 45 miles' worth, gifted by philanthropist John D. Rockefeller Jr. and his family, encompass a number of sights, including Eagle Lake. (Acadia National Park)
2. Indulge in popovers at the Jordan Pond House restaurant
Located in the center of Acadia National Park, this classic English-style eatery is surrounded by lush gardens and scenic water views. (2928 Park Loop Road, Seal Harbor)
3. Watch the sun rise atop Acadia National Park's Cadillac Mountain
The highest peak along the East Coast offers the first view of the sun's rays in the United States during certain parts of the year. (707 Cadillac Summit Road, Bar Harbor)
4. Rappel down a cliff in Acadia National Park
Sign up for a lesson with Acadia Mountain Guides Climbing School, and soon you'll be scaling an outdoor rock wall in Maine's only national park. (228 Main St., Bar Harbor)
5. Spot a sea mammal with Bar Harbor Whale Watch Co.
Maine's chilly waters are filled with wildlife, so keep your eyes peeled for humpback, finback, and minke whales when you go on one of the company's whale-watching cruises. (1 West St., Bar Harbor)
6. Learn about Wabanaki Nations at the Abbe Museum
The museum showcases the work of historic Wabanaki craftspeople and contemporary artists, from tightly woven wooden baskets to beautifully sewn ceremonial clothing. (26 Mount Desert St., Bar Harbor)
7. Take a stroll to Bar Island during low tide
Twice a day, visitors can walk from Bar Harbor to this tiny, uninhabited island populated by white birches and crisscrossed with hiking trails. (Bar Island)
8. Surround yourself with views of Casco Bay at Cook's Lobster & Ale House
The restaurant serves up — you guessed it — lots of lobster dishes, from Maine lobster stew to lobster mac and cheese. (68 Garrison Cove Road, Bailey Island)
9. Explore Maine's nautical history at the Maine Maritime Museum
Learn about early boatbuilding, modern ship-making, and the significance of the state's picturesque lighthouses in this sprawling, interactive indoor/outdoor museum. (243 Washington St., Bath)
10. Rock out at the Maine Mineral and Gem Museum
This new addition to Bethel, a cool ski town in western Maine, boasts glimmering examples of local tourmaline, beryl, mica, and quartz. (99 Main St., Bethel)
11. Shop for vintage cookbooks at Rabelais
Owner Don Lindgren has amassed a spellbinding collection of food-centric tomes of all types, from early American cookbooks to humorous screeds on rare wines. (2 Main St., Biddeford)
12. Sip beer surrounded by books at Elements
This hip café and bookstore combines three of the world's greatest pleasures — coffee, books, beer — into one low-key hangout. (265 Main St., Biddeford)
13. Stop and smell the flowers at the Coastal Maine Botanical Gardens
Located on the waterfront, this meticulously maintained garden sprawls more than 270 acres and features a dizzying variety of flora and fauna. (132 Botanical Gardens Drive, Boothbay)
14. Visit Brooklin, the "Boatbuilding Capital of the World," according to The New York Times
This charming town on the Blue Hill peninsula is home to fewer than 1,000 people, a top-notch boatbuilding school, and the headquarters of WoodenBoat magazine. (Brooklin)
15. Gaze on the gorge hikers call "The Grand Canyon of the East" at Gulf Hagas
After checking out the ruins of the Katahdin Iron Works, head to the 5.2-mile Gulf Loop Trail to see a series of dramatic waterfalls and cliff views. (Brownville)
16. Chill out at the Peary MacMillan Arctic Museum at Bowdoin College
Robert Peary, a Bowdoin College alumnus, claims he was the first explorer to reach the North Pole. The museum offers a fascinating look at his expeditions in the early 1900s. (9500 College Station, Brunswick)
17. Indulge in the small but flavor-packed doughnuts at Frosty's
We recommend the vanilla bean — and that you arrive early. The shop closes up when they sell out. (54 Main St., Brunswick)
18. Spend the night in a 19th-century "castle"
The Norumbega Inn looks like something out of a fairy tale. Book the Library Suite for a truly literary experience. (63 High St., Camden)
19. See Camden Harbor and Penobscot Bay from above by hiking Mount Battie
Camden Hills State Park offers a number of trails of varying difficulty leading up to its postcard-esque views. (280 Belfast Road, Camden)
20. Picnic near an 18th-century lighthouse at Fort Williams Park
Snap pictures of Maine's oldest lighthouse, Portland Head Light, before setting up a picnic blanket on the 90 acres of rolling green lawn. (1000 Shore Road, Cape Elizabeth)  
21. Ride the trails at Sugarloaf
With mountain biking in the summer and backcountry skiing in the winter, Sugarloaf is a year-round outdoor playground. (5092 Access Road, Carrabassett Valley)
22. Sleep like a nomad at Maine Forest Yurts
Owned by reality TV star and Survivor alum Bob Crowley, these rustic (yet fully outfitted) round tents are the perfect solution for reluctant campers. (430 Auburn Pownal Road, Durham)
23. Visit Raye's Mustard Mill Museum
Taste Raye's Mustard, which has been made according to the same tangy recipe and using the same stone-ground mill for more than a century, while learning about the history of the hot dog topper. (83 Washington St., Eastport)
24. Enjoy some happy plundering at the Eastport Pirate Festival
The annual weekend event (Sept. 8-10 this year) is a lovely day for the community, with a carnival and games, a 5K race, and even a bed race through curvy Main Street. The catch? Virtually everyone is dressed like a pirate. (Register at 42 Water St., Eastport)
25. Walk around an island — literally — at Mackworth Island State Park
While strolling this easy one-mile loop trail, keep your eyes peeled for the whimsical fairy houses that have been built all across the island. (Mackworth Island, Falmouth)
26. See America's First Mile
A granite monument marks the beginning of Route 1, the iconic highway that runs north from Maine all the way south to Key West, Florida. (341 West Main St., Fort Kent)
27. Snag a coveted reservation at The Lost Kitchen
When reservations opened for this season, the 40-seat restaurant got 10,000 calls in 24 hours. (22 Mill St., Freedom)
28. Tour the Desert of Maine
This natural wonder formed thousands of years ago by the movement of glaciers, and now tourists can enjoy 30-minute guided tours over its rolling dunes. (95 Desert Road, Freeport)
29. Get some gear at the L.L. Bean headquarters
It has everything an aspiring adventurer might want, from tents to to flannels to those famous Bean Boots. (95 Main St., Freeport)
30. Then learn to skeet shoot at L.L. Bean
The headquarters offers budget-friendly "Discovery Courses" for beginners in many disciplines, including clay pigeon shooting, kayaking, and archery. (95 Main St., Freeport)
31. Marvel at the scenery at Five Islands Lobster Co.
You'll find all the usual coastal fare at this fishing wharf on the fringe of Sheepscot Bay, along with one incredible view. It's quintessentially Maine. (1447 Five Islands Road, Georgetown)
32. Catch some waves at Reid State Park
Reid's small pond is perfect for lazily floating on an inner tube. If it's the ocean you prefer, this place is renowned for its surf-crashing waves on its ocean side. (375 Seguinland Road, Georgetown)
33. Dine like a trucker at Dysart's Restaurant and Truck Stop
Get a taste of the long-haul lifestyle at this old-school diner with better-than-average fare and a souvenir-stocked gift shop. (530 Coldbrook Road, Hermon)
34. Haul traps on a lobster tour
Hop on board Kylie's Chance for a scenic trip down the Kennebunk River, which cruises by the Bush family estate at Walker Point. (4 Western Ave., Kennebunk)
35. Ride an electric trolley at the Seashore Trolley Museum
Touting itself as the "oldest and largest trolley museum in the world," this quirky attraction is a must-visit for any model train fanatic. (195 Log Cabin Road, Kennebunkport)
36. Sleep in a bed and order lobster to your tent while glamping at Sandy Pines Campground
This new 320-site campground offers "glamp tents" fashioned by interior designers. They include a king-sized bed, seating area, lights, a mini fridge, heaters, fans, a deck, and even a lobster service. (277 Mills Road, Kennebunkport)
37. Taste-test the goods at Rococo Artisan Ice Cream
Challenge your palate with one of Rococo's unexpected flavor combinations, like banana red hot or Earl Grey and rose hip jam. (6 Spring St., Kennebunkport; 259 Main St., Ogunquit)
38. Go apple picking at Brackett's Orchards
An eighth generation family business, Brackett's Orchards grows nine varieties of apples, operates a farm store, and offers hayrides on the weekends. (224 Sokokis Ave., Limington)
39. Stand on the easternmost point of America, in Lubec
In a charming coastal town located at the very top of Maine, you'll find the red-and-white striped West Quoddy Head Lighthouse—and perhaps a few bikers. Motorcyclists often make the pilgrimage to this far-flung location, named one of the four corners of America. (South Lubec Road, Lubec)
40. Say hello to through-hikers at the Appalachian Trail Café
It's traditional for AT hikers to celebrate their brag-worthy accomplishment with coffee, pastries, and other high-calorie goodies at this quaint eatery. (210 Penobscot Ave., Millinocket)
41. Conquer the Knife's Edge in Baxter State Park
This section of trail on Mount Katahdin earned its name from the serrated appearance of the granite rocks that line the narrow (and highly treacherous) path. (64 Balsam Drive, Millinocket)
42. Relax on the Songo River Queen II on Long Lake
This 350-passenger boat has daily cruises, as well as a variety of themed cruises. (841 Roosevelt Trail, Naples)
43. Taste a farmhouse brew at the Oxbow Brewing Company
Tucked back in the woods, you'll find Oxbow's headquarters, where they make unique, wild-fermented Belgian-style ales and sour lambics. (274 Jones Woods Road, Newcastle)
44. Go on an eco-tour to search for puffins with Hardy Boat Cruises
This small company offers daily trips, narrated by a naturalist from the Audubon Society, to visit the Atlantic puffins that live on skerries off the coast. (129 ME-32, New Harbor)
45. Take your sketchbook to the Artist's Bridge
Built in 1872, this covered wooden bridge earned its nickname from the bevvy of painters who have depicted it in their work. (Sunday River Road, Newry)
46. Zip-line through the woods at Sunday River
The mountain gives two-hour zip line tours and has two 750-foot-long zip lines side-by-side. (15 South Ridge Road, Newry)
47. Soak in the spray at Screw Auger Falls
An easy walk takes you from the parking lot to this majestic waterfall, where curtains of cold liquid plunge 23 feet into giant potholes, shallow pools, and grottos. (Grafton Notch State Park, 1941 Bear River Road, Newry)
48. Walk along the coast on Marginal Way
The mile-plus route is famous for its Atlantic views, and it has 39 benches if you get tired along the way. (Marginal Way, Ogunquit)
49. See sculptures in the open air at the Ogunquit Museum of American Art
While the indoor collection is great, the real draw is the sculpture garden, which features large stone, wood, and metal pieces in a lovely coastal setting. (543 Shore Road, Ogunquit)
50. Catch a show at the Ogunquit Playhouse
For 85 years, the Ogunquit Playhouse has brought world-class theater — including Tony Award-winning musicals like Ragtime and West Side Story — to this summery coastal town. (10 Main St., Ogunquit)
51. Win big at Old Orchard Beach
Palace Playland in Old Orchard Beach (or OOB to those in the know) is Maine's only beachfront amusement park, complete with rides and arcade games. (1 Old Orchard St., Old Orchard Beach)
52. Chow down on a double dough at Pat's Pizza
Founded in 1931 in Orono, Pat's has expanded all over the state in recent years. To get the authentic experience, we recommend ordering the double dough — a crust with two thin layers — at the flagship. (11 Mill St., Orono)
53. Witness the most dramatic tides in the world at Gleason Cove
The Bay of Fundy boasts the globe's most awesome tides — water recedes over 28 feet at low tide — and you can witness the magic at this little-known beach. (Gleason Cove Road, Perry)
54. Go camping on an island
With acres of rolling green lawns and seemingly endless stretches of white sandy beaches, Hermit Island Campground is a fantastic way to experience island life on a budget. (6 Hermit Island Road, Phippsburg)
55. Explore Fort Popham
Built in 1861 as a defense fortification of the Kennebec River during the Civil War, it is now a fascinating relic on one of midcoast Maine's loveliest beaches. Trivia: The 1999 film Message in a Bottle was filmed at one the most prominent cottages nearby. (Popham Beach, Phippsburg)
56. Take a thirst-quenching tour of Portland on the Maine Brew Bus
Portland's craft beer scene is thriving, and a satisfying way to enjoy it thoroughly (and sample it safely) is to take one of the Brew Bus's tailored tours to breweries, wineries, and distilleries. (79 Commercial St., Portland)
57. Shop for local home goods and gifts at specialty shop More & Co.
This Instagrammable store features Maine-made objects and art, including offbeat ceramics, wooden children's toys, and funky T-shirts. (112 High St., Portland)
58. Sip a mocktail at Vena's Fizz House
Retro-inspired and nostalgia-heavy, this darling cocktail bar has just as many non-alcoholic options as they do stiff drinks—plus a retail shop stocked with bitters, shakers, and other paraphernalia. (345 Fore St., Portland)
59. Venture across Peaks Island on two wheels
This sleepy island community is best seen on bicycle, available for rent at Brad's Bike Rental and Repair. (115 Island Ave., Portland)
60. Buy local at the Portland Farmers' Market
Open year-round, this market has locally grown flowers, produce, handmade cheese, beef, and a rotating roster of craftspeople and vendors. (Various locations, Portland)
61. Stargaze indoors at the Southworth Planetarium
Spend a few hours ooh-ing and aah-ing as you journey from Mercury to Pluto and back. With offerings like "Dinosaurs at Dusk," it's a perfect rainy day activity for families with young kids. (70 Falmouth St., Portland)
62. Dig through the piles of vinyl at Strange Maine
The well-stocked and aptly named shop features a wide range of records, tapes, vintage video games, DVDs, VHS tapes, books, and more. (578 Congress St., Portland)
63. Slurp local oysters at Eventide
This chic yet casual oyster bar has claimed several James Beard Awards, making it a must-visit for any seafood enthusiast. (86 Middle St., Portland)
64. Walk the labyrinth at the University of New England in Portland
Located behind the Art Gallery at the University of New England (also worth a visit), this quirky stone structure is made for quiet and moving meditation. (716 Stevens Ave., Portland)
65. Bar hop in Portland's Old Port
The historic district offers so many options that serve Maine's best brews — from Novare Res Bier Café to Gritty's. (Portland)
66. Buy some buzz-worthy gifts at The Honey Exchange
Inside this little yellow shop, you'll find honey from every corner of the globe, as well as bee-themed gifts and bee-keeping gear. (494 Stevens Ave., Portland)
67. Flash dance at Bubba's Sulky Lounge
Every Friday night is '80s night at this '60s-era dance club. Dress the theme and you'll get in free. (92 Portland St., Portland)
68. Go kombucha tasting at Urban Farm Fermentory
The tasting room's 22 rotating taps offer more than just kombucha — with jun, cider, mead, and beer mixed in. (200 Anderson St., Portland)
69. Root for the home team at a Sea Dogs game
Cheap tickets, tasty game-day snacks, riveting action on the field, and a beloved minor league baseball team — what more can you want? (271 Park Ave., Portland)
70. Dance outdoors at Thompson's Point
Located at the southern tip of the City of Portland, this waterfront concert venue frequently hosts headliners like Elvis Costello and the Alabama Shakes, to name a few. (10 Thompsons Point, Portland)
71. Stroll along the First Friday Art Walk
Rain or shine, Portland's arts community takes to the streets at 5 p.m. on the first Friday of every month to celebrate creativity and artistic innovation. (Portland)
72. Treasure hunt at Portland Flea-for-All
This market in Portland's Arts District features a plethora of vendors and consignors. (585 Congress St., Portland)
73. Plan a trip on the Maine Island Trail
Stretching up the entire coast of Maine and encompassing more than 200 islands, this water trail is accessible for kayakers, boaters, and sailors of all stripes. (100 Kensington St., Portland)
74. Indulge yourself with duck-fat fries at Duckfat
Nancy Pugh and James Beard Award-winner Rob Evans opened this sandwich shop in 2005 known for its Belgian fries, which can be ordered as poutine. (43 Middle St., Portland)
75. See the sea like a painter at the Winslow Homer Studio
Designed by famed American architect John Calvin Stevens in the 1880s, this shingle-style home is worth visiting for the architecture alone — but you'll also get a glimpse into the life of Maine's most famous landscape painter. (Tours depart from the Portland Museum of Art, 7 Congress Square, Portland, to the Winslow Homer Studio, 5 Winslow Homer Road, Scarborough)
76. Ride the elevator to the top of the Penobscot Narrows Bridge and Observatory
At 420 feet, the tallest public bridge observatory in the world offers 360-degree views of the Maine countryside. (740 Fort Knox Road, Prospect)
77. Try a red snapper dog at Wasses
Dyed bright red and named for the sound they make when you bite into them, these juicy sausages are best enjoyed with sauerkraut and mustard. (2 N. Maine St., Rockland)
78. Wander the galleries at the Farnsworth Art Museum
Specializing in American art, the Farnsworth is easy to spot from a mile away, thanks to the iconic Robert Indiana "EAT" sculpture that adorns its roof. (16 Museum St., Rockland)
79. Breathe in a moment of stillness at Vesper Hill
Perched overlooking the ocean and surrounded by a formal garden, you'll find a surprising sight: a small but beguiling little chapel with glorious ocean views. (30 Chapel Road, Rockport)
80. Catch a flick at the Saco Drive-In
Load up your car with snacks and blankets for a retro-style drive-in date night. (969 Portland Road, Saco)
81. Paddle through Scarborough Marsh
Rent a canoe at the Scarborough Marsh Audubon Center and head out to observe graceful egrets, herons, and glossy ibis in their watery natural habitat. (92 Pine Point Road, Scarborough)
82. See a life-size chocolate moose at Len Libby Chocolatier
This sweet shop has delectable edibles of all types, including local treats like lobster gummies and wild blueberry-flavored coffee. (419 U.S. Route 1, Scarborough)
83. Cruise around Sebago Lake on a Jet Ski from Long Beach Marina
The huge freshwater lake is a favorite of boaters, and you can join their ranks by renting a Jet Ski (or a power boat) and hitting the waters. (81 Sebago Road, Route 114, Sebago Lake)  
84. Eat campfire s'mores ice cream at Gifford's Famous Ice Cream
Flavors like s'mores and wild blueberry make Gifford's worth a visit. The attached whimsical mini golf course just sweetens the deal. (307 Madison Ave., Skowhegan)
85. Live like a lighthouse keeper at The Inn at Cuckolds Lighthouse
Reserve an entire private island and sleep inside a lighthouse at this one-of-a-kind luxury resort. For a slightly more affordable option (rooms start at $500 per night), rent out one of the two well-appointed suites. (Cuckolds Island, Southport)
86. Go for a walk with your pup at Willard's Beach
Many beaches don't allow dogs, but before 9 a.m. and after 7 p.m., pups are free to roam on this sandy stretch of shoreline. (Willow Street, South Portland)
87. Smell the beans at 44 North Coffee
A fantastic coffee roaster and café located on what seems like the very edge of the world, 44 North is an essential stop for any caffeine fiend. (70 Main St., Stonington) 
88. Dine on German comfort food at Morse's Sauerkraut
Located in the bucolic farmland of interior Maine, this cozy restaurant serves sauerkraut made on-site alongside heaping plates of sausage and schnitzel. (3856 Washington Road, Waldoboro)
89. Swim on top of a mountain at Tumbledown
A strenuous hike ends with beautiful views of Maine's highlands, which are best enjoyed while soaking your feet in the clear water of Tumbledown Pond. (Weld to Byron Road, Weld)
90. Get in touch with your inner conservationist at the Rachel Carson National Wildlife Refuge
Keep your binoculars handy as you hike over boardwalks through fragrant sea marshes. Rare birds are known to nest in this historic park. (321 Point Road, Wells)
91. Devour a smoked turkey sandwich at the Wine and Cheese Shop
This place is hard to miss — the building is circular and painted yellow like a wheel of cheese, with a cartoon mouse on the roof. Its sandwiches are massive and delicious. Don't skip the homemade pickles. (259 Post Road, Wells)
92. Take a getaway from your getaway at Drakes Island
Located between trendy tourist destinations Ogunquit and Kennebunk, Drakes Island is a tucked-away beach, with the ocean on one side of the jetty and a peaceful harbor on the other. (Drakes Island Road, Wells)
93. Go on a mushroom tour with North Spore
This wild little company offers classes in foraging for mushrooms, spawning your own fungi, and other offbeat events. (90 Bridge St., Westbrook)
94. Buy pretty much anything at Hussey's General Store
This store's catch phrase: "If we ain't got it, you don't need it." You've likely seen photos of its famous sign reading, "Guns, weddings gowns, cold beer." (510 Ridge Road, Windsor)
95. Put things in perspective at Eartha
The world's largest revolving globe is, rather fittingly, located in the lobby of GPS tech company Garmin's local outpost. (2 DeLorme Drive, Yarmouth)
96. Play celebrity chef at Stonewall Kitchen Cooking School
Impress your family with an ideal Maine meal after taking an afternoon course from one of Stonewall Kitchen's professional chefs. You can learn to cook local specialties like lobster, clams, and more. (2 Stonewall Lane, York)
97. Time travel with the Museums of Old York
The Old York Historic Society runs several impressive museums, including the Old Gaol, which is believed to be one of the oldest prison buildings in the United States. (3 Lindsay Road, York)
98. Savor the lobster roll at Maine Lobster Outlet
There are countless worthwhile, popular, and even famous places to get a lobster roll in Maine. The real trick is to get one where a true Mainer would. This is the place, but be warned: You'll have to take it elsewhere because there is no place to sit. (360 U.S. Route 1, York)
99. Get Jiggy on the Wiggly Bridge
Take a scenic walk through Steedman Woods down to the famous Wiggly Bridge, a Lilliputian-sized suspension bridge built in the 1930s. (Old Mill Road, York Harbor)
100. Find everything you need at Reny's Department Store
Mainers adore Reny's, and for good reason: You can find anything from smoked tinned oysters to Carhartt jackets at this uniquely Maine shopping destination. (Various locations)
What's your favorite thing to do in New England? Tell us on Facebook.
Katy Kelleher is a writer, editor, and teacher who lives in the woods of Buxton, Maine. She is the author of 
Handcrafted Maine
, an in-depth look at the maker culture in her adopted home state.