Lifestyle
100 things to do in New Hampshire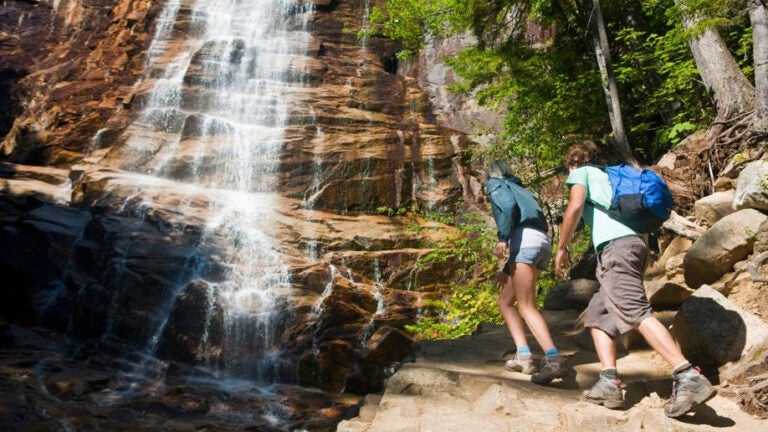 Here, you just might spot a moose or a big-time politician; you'll definitely find hiking trails with insane views. Get ready to plan perfect days in the Granite State.
(And for 900 things to do in the rest of New England, click here.)
• • •
1. Visit the vineyard at LaBelle Winery
Explore on your own, schedule a guided tour, or couple your wine tasting with an art talk, yoga class, or cooking workshop. (345 Horace Greeley Highway, Amherst)
2. Take a plunge down the longest alpine slide in North America
Ride the Flying Yankee chairlift up Attitash Mountain, and wind down slopes on one of two nearly mile-long chutes that travel through the forest. (Route 302, Bartlett)
3. Hike Diana's Baths
This wide, gravel, kid-, and dog-friendly path leads to cascading falls, brooks, and pools fed from Big Attitash Mountain. (3725 West Side Road, Bartlett)
4. Catch a show at The Colonial
Since it opened a century ago, this venue has hosted film screenings, indie bands, and, now, intermission drinks on a twinkling outdoor patio. (2050 Main St., Bethlehem)
5. Channel your creative side at 42 Maple Contemporary Art Center
An 1877 church now houses a communal arts studio space where you can make your own masterpieces or check out the resident artists' work on display. (42 Maple St., Bethlehem)
6. Spend an hour on the patio of the Omni Mount Washington Resort
Even if you're not spending the night at this historic grand hotel, it's worth grabbing a cocktail on the sweeping porch overlooking the nearby peaks. (310 Mount Washington Hotel Road, Bretton Woods)
7. Hike the Andres Institute of Art sculpture garden
The largest sculpture park in New England boasts more than 80 works blended into nature along the slopes of Big Bear Mountain. (98 Route 13, Brookline) 
8. Tee off (or, well, putt) at the world's longest mini-golf hole
Chuckster's has a lot more than just mini-golf, but the main reason to visit is to take a shot at getting a hole-in-one at the world-record 201-foot 13th hole. (9 Bailey Road, Chichester)
9. Lace up your lifejacket at the Contoocook River Canoe Company
Whether for kayaks, canoes, or stand-up paddleboards, the staff can hook you up with rentals or lessons and help you set sail for an afternoon. (9 Horse Hill Road, Concord)
10. Swing by the State House for a tour
Even when the legislature's out of session, you're likely to stumble upon high-profile characters around the capitol, like the country's longest-serving secretary of state, Bill Gardner. (New Hampshire State House Visitor Center, 107 North Main St., Concord)
11. Drink a pint at The Barley House, a fixture of the presidential campaign trail
Follow in the footsteps of presidential contenders with a beer — and maybe a burger — across the street from New Hampshire's State House. (132 North Main St., Concord)
12. Have a tubular afternoon on the Saco River
Once you're shuttled to the tubing kickoff point, you're free to float at your leisure, or linger at any of the beaches and rope swings along the way. (558 White Mountain Highway, Conway)
13. Walk over the country's longest wooden covered bridge
The Cornish-Windsor has connected New Hampshire and Vermont at this site since 1866, and to this day remains the longest two-span covered bridge in the world. (Off Route 12A, Cornish)
14. Don't let Haunting Whisper Wine and Spirits's name scare you off
The state's wine trail brochure lauds this tucked-away vineyard, nestled on 75 acres overlooking "panoramic lake and mountain views." (77 Oak Ridge Road, Danbury)
15. Savor the last bit of summer at the Deerfield Fair
Go for the festival food, fluffy cows, and carnival rides. Stay for the pig scramble and "alpaca obstacle course," which is, essentially, a bunch of alpacas jumping and zig-zagging through objects. (34 Stage Road, Deerfield)
16. Peruse gadgets and gizmos aplenty at Whirlygigs
Kids, or kids at heart, are sure to love a detour to this local institution, named "best toy store in New England" by Yankee magazine. (107 Water St., Exeter)
17. Ride a cable car to the summit of Cannon Mountain
In less than 10 minutes, this 80-passenger aerial tramway transports visitors 4,080 feet to the top and offers views across four states and Canada. (260 Tramway Drive, Franconia)
18. Tackle three waterfalls and three summits on one of the White Mountains' most scenic hikes
Don't be intimidated by the Franconia Ridge Loop's elevation. Falling Waters Trail offers cascading waterfalls on the way up, while Old Bridle Path offers stunning views of the ridge on the way down. (Trailhead Parking, Franconia) 
19. Spend a night near the sand at Ellacoya
Note that overnight camping is limited to RVs and by reservation only. The views of the peaks across Lake Winnipesaukee make it worth a day trip, too. (266 Scenic Road, Gilford)
20. Relive childhood at Story Land
Make sure you seek out the German doll collection that inspired this storybook-themed amusement park with 21 attractions modeled after favorite kiddie tales. (850 NH Route 16, Glen)
21. Earn the right to sport a "This Car Climbed Mt. Washington" bumper sticker
Drive from base to summit on the Mount Washington Auto Road, where brave drivers experience weather extremes and dramatic mountaintop panoramas. (1 Mount Washington Auto Road, Gorham)
22. Check out the natural, flowing art of Sculptured Rocks
Carved during the ice age, this river canyon flowing into scenic Newfound Lake includes unexpected photo ops and even a few swimming holes. (251 Sculptured Rocks Road, Groton)
23. Stroll along the Hampton Beach Casino Boardwalk
This beachfront stretch has been home to entertainment, food, and shopping since 1899, and you can pick up everything from famous boardwalk fries to beach gear. (169 Ocean Blvd., Hampton)
24. Catch a flick at Monday Night Movies on the Beach
During the summer, put your feet in the sand and your hands in a tub of popcorn while watching films that start at dusk near the playground at Hampton Beach. (Hampton Beach, Route 1A, Hampton)
25. Sample the most iconic local beers at Smuttynose Brewery
Brewery tours involve a flight from the Hampton brewery's tasting room — including some experimental, yet-to-be-released brews — as well as discounted drinks at the adjacent Hayseed Restaurant. (105 Towle Farm Road, Hampton)
26. Spend a night at the state's oldest inn and oldest bar
The Hancock Inn has been in continuous operation since 1789, used to be frequented by New Hampshire's only U.S. president, Franklin Pierce, and offers a classic New England dining experience. (33 Main St., Hancock)
27. Browse public art at Hood Downtown
While its main facility is closed for expansion, you can still meander through Dartmouth's renowned collection of contemporary art at its sister space. (53 Main St., Hanover)
28. Gawk at Frankenstein Cliff and Arethusa Falls
The payoff for this challenging trek inside Crawford Notch State Park: a chance to behold the state's steepest waterfall. (1464 U.S. Route 302, Harts Location)
29. Go off the grid at the Lake of the Clouds Hut
If you're up for an intensive hike, see why the Appalachian Mountain Club calls this "an essential bucket list destination." (Accessible via Ammonoosuc Ravine Trail or Mount Washington Summit, Jackson)
30. Visit Keene's downtown for a mix of quintessential New England and movie nostalgia
This small college town has a diverse array of restaurants, local shops, a historic theater. For fans of the Robin Williams movie Jumanji, which was filmed in Keene, this painting may look familiar. (Central Square, Keene)
31. Pack the family into the car for a night at Weirs Drive-In Theater
Four screens showcase the latest flicks. Pack two movies into one night for $28 per car for up to four people. (76 Endicott St. North, Laconia)
32. Unleash your inner pinball wizard at Funspot
This record-holding gallery of vintage games boasts an arcade museum and indoor mini golf under one roof — perfect for a rainy afternoon. (579 Endicott St. North, Laconia)
33. Take a sunset cruise on the M/S Mount Washington
Or, if you don't want to commit to hours looping around Lake Winnipesaukee, wave goodbye at the dock, then linger on the glowing Weirs Beach boardwalk. (211 Lakeside Ave., Weirs Beach, Laconia)
34. Tour Lake Winnipesaukee on the nation's oldest floating postal office
It may not be the biggest tour boat on the lake, but the Sophie C keeps the 125-year tradition of mail service on Winnipesaukee alive. Ride along on the twice-daily trip for $28. (211 Lakeside Ave., Weirs Beach, Laconia) 
35. Swing above the White Mountains with Alpine Zipline
Whether you're bringing kids or looking for something more daring, there's a tour sure to please everyone — unless you're acrophobic. (41 Main St., Lincoln)
36. Watch "bearsketball" at Clark's Trading Post
Trained black bears play games and perform tricks with basketballs, swings, and ice cream during a 30-minute bear show under a covered arena. (110 Daniel Webster Highway, Lincoln)
37. Follow the 2-mile loop through the forest to the Flume Gorge
Walk along a boardwalk, including uphill stretches and stairs, to access the plunging natural gorge that extends 800 feet at the base of Mount Liberty. (852 Daniel Webster Highway, Lincoln)
38. Visit the self-proclaimed world's longest candy counter at Chutters
More than 500 types of candy tempt your sweet tooth at 112-foot sugar-stocked counters. (43 Main St., Littleton; 165 Main St., Lincoln)
39. Pick your own berries at Durocher Farm
No need to bring your own bucket — Durocher Farm has you covered, and has been welcoming families to its fields for more than 70 years. (157 Charles Bancroft Highway, Litchfield)
40. Settle in for a flight at Schilling Beer Co.
Inside this 18th-century gristmill along the banks of the Ammonoosuc River, you'll find a cheese plate to rival all others and a plethora of local craft brews on tap. (18 Mill St., Littleton)
41. Cheers to the Fisher Cats from The Patio at the Hilton Garden Inn
If you want to skip stadium seats for the minor league baseball team, head next door for a full bar and unfettered view of the on-field action, including post-game fireworks. (101 South Commercial St., Manchester)
42. Get the purrfect photo op in Cat Alley
Show appreciation for feline-themed street art in this alleyway that got its nickname from a catfight between two strays. (Dean Avenue, Manchester)
43. Experience an iconic political campaign stop — and iconic chicken tenders — at the Puritan Backroom
This 100-year-old Manchester restaurant is a classic campaign spot during New Hampshire's seasonally booming political scene, and not only because of its acclaimed chicken tenders and ice cream. (245 Hooksett Road, Manchester)
44. Have a slice of pie, and history, at Red Arrow Diner
This narrow 95-year-old establishment — still a favorite of Manchester native Adam Sandler, who has a burger on the menu named after him — is well known both inside and outside the state. Just be careful if it's an election year; you never know whom you'll run into. (61 Lowell St., Manchester)
45. Order the poutine at Chez Vachon
This diner has been keeping gravy-soaked tradition alive for years. The crepes are pretty great, too. (136 Kelley St., Manchester)
46. Let the artisans at the Hot Glass Art Center blow you away
Take a glassblowing class or marvel at the professionals who tinker inside this converted gas station, recently dubbed "Best Art Studio" by Yankee magazine. (99 Main St., Marlborough)
47. Start your day with maple syrup and a side of pancakes at Parker's Maple Barn
The fresh maple syrup is made just steps away from the dining room, which sits inside a reconstructed 19th-century dairy barn. (1316 Brookline Road, Mason)
48. Drive by the boyhood home of Uncle Sam
The residence is marked to honor the meat packer named Sam Wilson who became an iconic American face after his company supplied rations to troops. (490-730 Valley Road, Mason)
49. Load up the car and head to the Milford Drive-In
It dates back to 1958, and it's one of the last remaining drive-ins in the state. (531 Elm St., Milford)
50. Get up close and personal with local agriculture at the New Hampshire Farm Museum
A pair of 18th-century farmsteads now host lots of hands-on agricultural activities — and, of course, a chance to meet chickens, goats, pigs, and sheep. (1305 White Mountain Highway, Milton)
51. Go for a jaunt at Castle in the Clouds
The grounds of this 16-room mountaintop estate are open for exploration by people and pets alike. Take man's best friend for the Dog Walking Group every Wednesday morning. (455 Old Mountain Road, Moultonborough)
52. Dive into a sundae at Hayward's Ice Cream
Take your appetite if you stop by this third-generation ice cream stand, which has been been serving homemade scoops in generous portions—and steamed hot dogs—since 1940. (7 D.W. Highway, Nashua)
53. Get your extra steps in at the Portsmouth Harbor Lighthouse
It's 44 stairs to the landing and another ladder climb to the lantern, but it pays off with a panoramic view of the Piscataqua River. (25 Wentworth Road, New Castle)
54. Capture the most Instagram-worthy shot at the Outdoor Picture Frame
This metal rectangle atop an artist's easel highlights a scenic view of the water. Pose inside the painting for a photo that's both gorgeous and meta. (Tabbutt Memorial Way, New Castle)
55. Slurp some sun-powered suds at Flying Goose
Feel a little better about your carbon footprint by sampling pilsners and pale ales at the state's first "solar-powered brewery." (40 Andover Road, New London)
56. Find your way around The Fells
This historic 83-acre estate, home to a former diplomat, lets you enjoy both lake and mountain views from its veranda. (456 Route 103A, Newbury)
57. Walk around Newmarket's unique Main Street
Twisting through its rocky geography, the Lamprey River, and restored mill buildings, this small, bayside community's downtown is surprisingly rich with music, dining, and shopping venues. (Main Street, Newmarket) 
58. Stock up at Zeb's General Store
A landmark shopping destination, Zeb's has a large collection of New England-made products, including hot sauces, jams, candy, maple syrup, and gifts. (2675 White Mountain Highway, North Conway)
59. Spend the night in the Adventure Suites
The themed rooms include a tree house, dragon's lair, and aliens for families, and a love shack and wine cellar for romantics. (3440 White Mountain Highway, North Conway) 
60. Enjoy a lobster roll as you watch the waves roll in at The Beach Plum
The North Hampton location of what is perhaps the state's most well-known lobster roll shack sits across the street from the Atlantic Ocean. (17 Ocean Blvd., North Hampton)
61. Snack local at Sandwich Creamery
Whether you're craving aged cheddar or ice cream — or both — you'll find plenty of farm-fresh flavors at this Lakes Region store. (134 Hannah Road, North Sandwich)
62. Snag the end table of your dreams on Antique Alley
This 20-mile strip was once profiled in The New York Times for its ability to "win a following among serious collectors and leisure-time browsers" alike. (Route 4 between Chichester and Durham) 
63. Grab a locally sourced bowl or brunch at Umami
This casual Route 4 spot opened last year and has already gotten buzz for its contemporary menu, at times accompanied by live music. (284 1st New Hampshire Turnpike (Route 4), Northwood)
64. Indulge in clam strips and massive cones of homemade ice cream at Johnson's
Even the "kiddy"-sized ice cream at this homestyle seafood restaurant and dairy bar is enough for two people. For a bonus, check out the new bar with an extensive craft beer menu. (1334 1st New Hampshire Turnpike (Route 4), Northwood)
65. Get your goat yoga on at Jenness Farm
…If you can naaa-b a coveted spot, that is. The fitness classes featuring these fluffy friends are sold out for now, but you can still stop by the farm to shop for locally produced goat milk soaps and other products. (77 Garland Road, Nottingham)
66. Hunt for treasure at Bowerbird and Friends
Whether you're scouting souvenirs for yourself or loved ones, take New England Home magazine's word for it: This is "a place where one is meant to be smitten." (16 Depot Square, Peterborough)
67. Take a serene vacation in the Connecticut Lakes Region
Despite its name, the sparsely populated Connecticut Lakes Region is located in the northernmost tip of New Hampshire and provides a remote getaway for all manners of outdoor recreation, including hiking, fishing, swimming, boating, and hunting. (Pittsburg)
68. Have a taste of everything at Appleview Orchard
Appleview has it all: cider, pumpkins, fritters, crisps, ice cream, hayrides, a small petting zoo, views of the orchard, and, of course, the chance to pick your own apples. (1266 Upper City Road, Pittsfield)
69. Jam out at outdoor concerts in Portsmouth
There's no better way to be serenaded than on a blanket under the stars at Prescott Park. This year's stellar summer lineup runs through early September. (105 Marcy St., Portsmouth)
70. Hop on an Isles of Shoals Steamship to Star Island
A 10-mile ride to this picturesque seaside enclave is all it takes to travel back in time and experience the island's more-than-400 years' worth of history. (315 Market St., Portsmouth)
71. Hide away for an evening inside The Latchkey
To hear Seacoast Online tell it, F. Scott Fitzgerald would've felt right at home inside this "mysterious, experiential" speakeasy. (41 Vaughn Mall, Portsmouth)
72. Tour Colonial homes and gardens at Strawbery Banke Museum
See how the 32 houses and 10 gardens at this outdoor living history museum stack up against Massachusetts' living history museum, Plimoth Plantation. (14 Hancock St., Portsmouth) 
73. Imbibe at Portsmouth Book & Bar
The city's historic Custom House is home to a used bookstore with a bar serving craft beer, wine, and espresso drinks, plus a menu of salads, sandwiches, and small plates. (40 Pleasant St., Portsmouth) 
74. Visit craft beer pioneer The Portsmouth Brewery, open since 1991
Grab some nachos and beer-battered chicken tenders, and tip back a beer tasting at the family-friendly Portsmouth Brewery — there's even a kids' menu. (56 Market St., Portsmouth)
75. Climb aboard the USS Albacore
This former research submarine was designed by the Navy to test features, and it offers self-guided tours with recordings by former crew members. (600 Market St., Portsmouth) 
76. Indulge in oysters and craft beer at Row 34
Find out how Island Creek Oysters and other varieties taste just over the border at the oyster company's Portsmouth location. (5 Portwalk Place, Portsmouth)
77. Sip brews with Granite State Growler Tours
The brew bus has eight tours that could include stops at old favorites and the newest breweries across state lines. (Most tours meet at Hanover Street Parking Garage Bus Stop, 55 Hanover St., Portsmouth)
78. Catch a soccer game at Ri Ra
This historic bank building-turned-Irish pub, which includes a restored vault, seems to always carry the biggest soccer games, domestic or abroad. (22 Market Square, Portsmouth)
79. Get lost inside the Portsmouth Athenaeum
This historic library and museum, which is free and open to the public three days a week, celebrates its bicentennial this year with a series of exhibitions showing off its many treasures. (6-9 Market Square, Portsmouth)
80. Try hop-free beer at Earth Eagle Brewings
The brewers make gruits, flavored with a mix of herbs instead of hops. The Spontanale features blue lotus flowers, foraged colt's foot herb, a touch of licorice, and a bit of molasses. (165 High St., Portsmouth)
81. Sample eclectic cuisine at the aptly named street food restaurant Street
Street's diverse menu of sandwiches, cocktails, and other global dishes — all of which pair well with its yuca fries — make it well worth the trip away from the city's restaurant-packed downtown. (801 Islington St., Portsmouth)
82. See a show at Portsmouth Gas Light's outdoor deck bar
Portsmouth Gas Light hosts nightly music on its back deck through the end of the summer season. (64 Market St., Portsmouth)
83. Enjoy a harborside drink or meal on Bow Street
A quintessential Portsmouth summertime experience: Get an outside table at one of Bow Street's waterfront restaurants and look out on the tugboats and the Old Harbor. (Bow Street, Portsmouth)
84. Drive the Coastal Byway along New Hampshire's only coastline
This 18.5-mile route travels from Portsmouth to Seabrook, weaving through Rye, Hampton, and Hampton Beach while passing ocean views and seaside mansions. (Route 1A and 1B in Portsmouth)
85. Revel in nature's beauty at Cathedral of the Pines
With stones from all 50 states, its Altar of the Nation memorial offers a solemn but serene place to pause and reflect, overlooking Mount Monadnock. (10 Hale Hill Road, Rindge)
86. See and taste the fermentation process at hole-in-a-wall cidery North Country Hard Cider
At this tasting room, located off the side of an old mill building, you can sip classic and innovative ciders with a front-row view of the production process. (3 Front St., Rollinsford)
87. Go year-round to Petey's Summertime Seafood
You'll likely have to jostle for a parking space along Ocean Boulevard, but take that demand as an endorsement for this no-frills seafood shack. (1323 Ocean Blvd., Rye) 
88. Stroll along the shore at Odiorne Point
Military history mingles with miles of scenic hiking paths at this fort-turned-state park. Bring your bike, a picnic basket, or a fishing pole. (570 Ocean Blvd., Rye)
89. Say "Hi!" to a sea star at Seacoast Science Center
Get up close and personal with catsharks and other local creatures in the Tide Pool Touch Tank — or just wave from behind the glass. (570 Ocean Blvd., Rye)
90. Visit Canobie Lake Park's century-old amusement park
It officially opened in 1902 on the shore of Canobie Lake and now boasts more than 85 games, live shows, and attractions, including the Yankee Cannonball wooden roller coaster. (85 N. Policy St., Salem)
91. Crack open a lobster with an ocean view at Brown's Lobster Pound
Catch a summer sunset over steamed lobsters or fried seafood platters inside the 1950s timber-framed, BYOB, and cash-only dining hall. (407 NH Highway 286, Seabrook)
92. Venture north to Polly's Pancake Parlor for, well, pancakes
This nearly-80-year-old pancake house — located in the small, fittingly named town of Sugar Hill — made Eater's recent list of the best New England restaurants. (672 Route 117, Sugar Hill)
93. See The Barnstormers take a bow
Where else can you watch one of the nation's oldest professional summer theater troupes perform at a venue founded by the son of President Grover Cleveland? (104 Main St., Tamworth)
94. Taste the spirits at Tamworth Distillery
Find out why Gizmodo called this hidden gem "the best booze you've never heard of," then stop into its sister kitchen for homegrown post-sipping snacks. (15 Cleveland Hill Road, Tamworth)
95. Grab a cone or a carton at Walpole Creamery
Walpole might not be as old as some other ice cream stands, but its claim to fame is a "super premium" hyperlocal cow-to-cone supply chain. (532 Main St., Walpole)
96. Get a bite of small-town New England in Warner
Whether you take that advice literally (see: plate-sized pancakes and cinnamon rolls at the Foothills Restaurant) or by exploring the historic town's vintage Main Street, there are no bad options. (Warner) 
97. Become a master of bad jokes in Weare
Stop in Weare, then ask a resident what town they're from. Look thoroughly confused when they answer. (Weare) 
98. Take the Rockingham Recreational Rail Trail from Manchester to Newfields, or anywhere in between
It features leftover railroad structures from its glory days and now provides a scenic biking path that runs past several lakes, old train depots, and even a caboose. (Several access points, including Massabesic Lake Parking, 16 Londonderry Turnpike, Auburn and Rockingham Junction, Ash Swamp Road, Newfields)
99. Get off the paved roads and Ride the Wilds
New Hampshire's northernmost county boasts more than 1,000 miles of ATV trails. Just make sure to understand the rules before you rev up. (Various locations, find a map here) 
100. Meander in search of moose in the Great North Woods
If you don't want to cross the border for the annual North Country Moose Festival, try one of the state-recommended moose tours (and follow the safety guidelines). (Locations vary)
What's your favorite thing to do in New England? Tell us on Facebook.
Jamie Coelho is an associate editor at Rhode Island Monthly magazine, where she edits the local food newsletter, The Dish. Follow RI Monthly at @RIMonthly and @TheDishRIM.
Casey McDermott is a reporter for New Hampshire Public Radio. Follow her on Twitter at @CaseyMcDermott for dispatches on Granite State politics, policy, and the occasional day trip.