Lifestyle
100 things to do in Rhode Island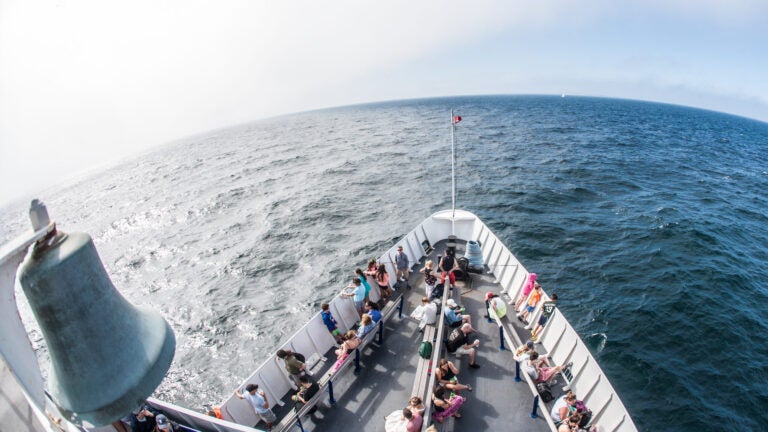 In Rhode Island, Gilded Age mansions rise up over rocky cliffs, while bonfires light up another city's river. The smallest state packs a whole lot of bustle.
(And for 900 things to do in the rest of New England, click here.)
• • •
1. Take the ferry to Block Island
Explore the island's Mohegan Bluffs, Mansion Beach, and Corn Neck Road. They all helped it earn the nickname "Bermuda of the north." (Board at 304 Great Island Road, Narragansett)
2. Visit the Abrams Animal Farm
This exotic menagerie includes a rare zebu (a humped breed of cattle from India), llamas, camels, goats, and mini horses. (1 Spring St., Block Island)
3. Descend the staircase at Mohegan Bluffs
Go down the steep, wooden steps to capture one of the best views on the whole island, then relax on a secluded beach. (Mohegan Trail, Block Island)
4. Take a walk in patriotic Bristol
It's always Independence Day in Bristol, the home of the oldest Fourth of July parade in the nation. Road divides are even painted red, white, and blue. (Hope Street, Bristol)
5. Tackle the rocky shoreline at Colt State Park
Four miles of walking and bicycling paths hug the shore along Narragansett Bay. (Route 114, Bristol)
6. Visit the Audubon Environmental Education Center
Walking trails and a quarter-mile wooden boardwalk border marshes and lead to a sweeping view of Narragansett Bay. (1401 Hope St., Bristol)
7. Stroll the grounds of the Blithewold Mansion, Gardens and Arboretum
The century-old waterfront estate's landscape includes beautiful trees and gardens along walking paths. (101 Ferry Road, Bristol)
8. Hit up the buffet at the Nordic Lodge
This all-you-can-eat restaurant serves lobsters, Black Angus prime rib, filet mignon, jumbo shrimp, and oysters. (178 E. Pasquiset Trail, Charlestown)
9. Get a heaping plate of chicken parm at Twin Oaks
A Rhode Island landmark that began as a speakeasy across the street in 1928, the space transformed into a restaurant in 1933. More than 83 years later, it's still the place to go for chicken parm and baked stuffed shrimp. (100 Sabra St., Cranston)
10. Sip beers at Tilted Barn Brewery
Guests line up an hour before opening time for the New England-style IPAs here. Some say it's a Rhode Island version of Vermont's well-known Hill Farmstead Brewery. (1 Helmsley Place, Exeter)
11. Play at an old-school penny arcade at Spring Lake Beach
The beach facility includes a swim dock and beach, concessions, and an arcade with some really retro games. (50 Old Hillside Drive, Glendale)
12. Order from a carhop at the Smithfield A&W
The longest-running carhop in Rhode Island serves its famous root beer floats, burgers, fries, and hotdogs right to your car door window. (460 Putnam Pike RT 44, Greenville)
13. Have a family-style chicken dinner at Wright's Farm Restaurant
All-you-can-eat roasted chicken, French fries, pasta, salad, and rolls are served for $12.75 per person at this Rhode Island institution. (84 Inman Road, Harrisville)
14. Walk along the rocky coastline at Beavertail
Camp out in a lawn chair along the craggy shore at Beavertail State Park, where its namesake lighthouse frames some of the most gorgeous views in the state. (Beavertail Road, Jamestown)
15. Visit Fort Wetherill
This state park includes granite cliffs and a beach where scenes from Wes Anderson's Moonrise Kingdom were shot. (3 Fort Wetherill Road, Jamestown)
16. Try pizza chips from The Original Italian Bakery
Those in the know seek out these rounded snacks of crusty dough topped with sweet tomato sauce and Romano cheese. (915 Atwood Ave., Johnston)
17. Go horseback riding in Lincoln Woods
Sunset Stables offers trail rides through the 600 acres of the park during all four seasons. (1 Twin River Road, Lincoln)
18. Stroll the grounds of Carolyn's Sakonnet Vineyards
The winery, owned by Alex and Ani founder and CEO Carolyn Rafaelian, features stunning grounds and an outdoor vineyard cafe. (162 W. Main Road, Little Compton)
19. Spend the day at South Shore Beach
Rolling waves and white sand make South Shore Beach one of the most breathtaking seaside escapes in the state. (S. Shore Road, Little Compton)
20. Pose with kids at Simmons Organic Farm's goat yoga
Baby goats might take a nap on your back or kick you off your mat while you chaturanga, but it's all part of the fun. Sign up early to secure your spot. (1942 W. Main Road, Middletown)
21. Pick your own berries at Sweet Berry Farm
Raspberries and blackberries grow on the grounds through late August. Don't miss the jars of house-made jams and fresh pies in the market. (915 Mitchell's Lane, Middletown)
22. Go butterfly spotting at Sachuest Point
Venture along 2.5 miles of nature trails at this national wildlife refuge with panoramic ocean views. (769 Sachuest Point Road, Middletown)
23. Get a taste of the Napa of Rhode Island at Newport Vineyards
Sip wine by the glass on the patio overlooking the vines while enjoying an outdoor summer music series through September. (909 East Main Road (Route 138), Middletown)
24. Go on a helicopter ride over Newport's mansions
Bird's Eye View Helicopters takes off on tours over Narragansett Bay that showcase Newport's mansions, bridges, and coastline. (Newport State Airport, 211 Airport Access Road, Middletown)
25. Have a picnic on Third Beach
Bring a cooler filled with good eats and set up camp at Third Beach for an afternoon feast. There's free parking after 4 p.m. (Third Beach Road, Middletown)
26. Take home some off-the-boat lobsters in Galilee
As boats come back in from the bay in the late afternoon, many of them sell lobsters and crabs right at the docks. (Intersection of Great Island Road and Galilee Escape Road, Narragansett)
27. Eat Rhode Island fried calamari at George's of Galilee
More than 22.6 million pounds of squid were caught in Rhode Island last year, and George's serves a great version of the state's official appetizer. (250 Sand Hill Cove Road, Narragansett)
28. Take the 10-mile Ocean Drive tour
Cruise by some of the largest 19th-century oceanfront mansions in New England. Fun fact: They once served as summer "cottages" for New York's elite. (Ocean Drive, Newport)
29. Ogle rare cars at the Audrain Automobile Museum
This automobile showcase displays rare cars from 1899 to modern day in an ever-changing, gallery-like space. (222 Bellevue Ave., Newport)
30. Sign up for a tennis lesson at the International Tennis Hall of Fame
Schedule private time on the court with an experienced instructor who will teach you the basics. (194 Bellevue Ave., Newport)
31. Participate in improv comedy at the Firehouse Theater
One single word can lead to a performance that'll have the whole audience roaring — it's either that, or the theater's BYOB policy. (4 Equality Park Place, Newport)
32. Walk the entire stretch of the famed Cliff Walk
Wear sturdy shoes and conquer the 3.5-mile rocky trail that hugs the ocean on one side and Gilded Age mansions on the other. (Memorial Boulevard and Eustis Avenue, Newport)
33. Take the kids to the aquarium at Easton's Beach
Save The Bay's Newport Exploration Center is home to more than 40 species from Narragansett Bay. (175 Memorial Blvd., Newport)
34. Go on a water journey at the Bodhi Spa
The hydrotherapy circuit alternates a hot mineral bath, steam room, and sauna with a cold plunge pool to invigorate your senses. (654 Thames St., Newport)
35. Drop in for beach yoga at Easton's Beach
Do sun salutations in the sand at this class held weekly on Saturday and Sunday mornings from 8:30-9:30 a.m. well into September. (175 Memorial Blvd., Newport)
36. Take a Downton Abbey-like tour at the Elms
See the butler, cooks', and maids' hidden quarters of one of Newport's Gilded Age mansions during the Servant Life Tour. (367 Bellevue Ave., Newport)
37. Go lobstering with Fish'n Tales Adventures
Head out on a lobster boat to learn about the life of a lobsterman and see how traps are hauled. (Northeastern is docked next to Aquidneck Lobster Company, Bowens Wharf, Newport)
38. Run and chug with the Newport Run and Chug Club
Participants meet up at the Fastnet Pub on Thursdays at 6:20 p.m. year-round for a run around the City by the Sea followed by beers inside the pub. (1 Broadway, Newport)
39. Fly a kite at Brenton Point
It's always breezy at this point of land where Narragansett Bay meets the Atlantic along Ocean Drive. (Ocean Drive, Newport)
40. Embark on a Rhode Island Red Food Tour
These guided walking tours hit delicious destinations in Newport and Providence. (Newport: Storer Park at the intersection of Washington Street, Marsh Street, and Gladys Carr Bolehouse Boulevard by the Goat Island Causeway; Providence: Providence City Hall, at the corner of Washington and Dorrance streets) 
41. Sip with a stellar view at the Roof Deck at Grace Vanderbilt
Take the hotel's elevator to the top, then have your drinks with a spectacular sunset of Newport Harbor. (41 Mary St., Newport)
42. Bite into a fresh-off-the-boat lobster roll at The Newport Lobster Shack
Lobstermen bring in their haul at the very same dock where the little shack turns out steamed lobsters, lobster rolls, and lightly fried lobster bites. (150 Long Wharf, Newport)
43. Go on a guided tour of Fort Adams
Multiple daily tours include tunnel exploration, a look at quarters where officers lived, plus a scenic overlook of Newport Harbor. (90 Fort Adams Drive, Fort Adams State Park, Newport)
44. Visit Touro Synagogue, the oldest synagogue in the United States
It stands atop a hill in Newport, and the historical place of worship is open for tours Sunday through Friday. (Loeb Visitors Center, 52 Spring St., Newport)
45. Go on a Save the Bay Lighthouse Tour
The Southern Bay Lighthouse Tour cruises past nearly a dozen lighthouses and includes a stop at the Rose Island Lighthouse and grounds. (Depart from Alofsin Piers at Fort Adams, Newport)
46. Relive Jackie O. and JFK's wedding
The iconic couple married at St. Mary's Catholic Church in 1953. Now the church has launched a Return to Camelot presentation on Tuesdays at 3 p.m. that includes vintage film clips and live music from the ceremony and reception. (Corner of Spring Street and Memorial Boulevard, Newport)
47. Watch a documentary during newportFILM's outdoor summer series
Free outdoor movies are shown on Thursday nights through August on oceanfront mansion lawns, at public parks, and on the grounds of working farms. (Various locations, Newport)
48. Learn about rum history on board the Rum Runner II
The motor yacht tour details Rhode Island's history in the rum trade, with a cruise past mansions and former speakeasies. (Classic Cruises of Newport, 24 Bannister's Wharf, Newport)
49. Visit Allie's Donuts for light and fluffy sprinkle-covered pastries
This 49-year-old bakery is famous for them, as well as doughnut cakes formed into creative shapes (see: sunshine with sunnies, ice cream cones, even lobster). (3661 Quaker Lane, North Kingstown)
50. Meet a blue lobster at Biomes
The Marine Biology Center has touch tanks filled with sea stars, sea urchins, and crabs, plus aquariums featuring rare lobsters. (6640 Post Road, North Kingstown)
51. Go kayaking in Wickford Harbor
Rent a kayak and get a lesson from the Kayak Centre, then explore the picture-perfect waterfront. (70 Brown St., North Kingstown)
52. Watch a movie at the Rustic Tri View Drive-In
Pack the car with friends and family for an outdoor flick at the last standing state drive-in that showcases double features. (1195 Eddie Dowling Highway, North Smithfield)
53. Visit the new home of Narragansett Beer
The Isle Brewers Guild is a brewers' collaborative where you can sample beers from more than four New England breweries, including recently moved-in Narragansett. (461 Main St., Pawtucket)
54. Attend a PawSox game at McCoy Stadium
See minor league players run the bases at the stadium where the longest professional baseball game in history, involving 33 innings, was played in 1981. (1 Columbus Ave., Pawtucket)
55. Take a Blackstone Riverboat cruise
Learn about the early settlers of the Blackstone River Valley and see great blue heron, hawks, deer, turtles, and maybe even a bald eagle. (Festival Pier, 100 Tim Healey Way, Pawtucket)
56. Hitch a ride on the Newport Dinner Train
This locomotive follows the bay as guests enjoy a fine dining experience and live music over sunset views of the Mount Hope Bridge. (Portsmouth Junction Station, One Alexander Road, Portsmouth)
57. Have a picnic at the Green Animals Topiary Garden
The oldest topiary garden in the United States has boxwood and other bushes carved into bears, an elephant, a giraffe, and more. (380 Corys Lane, Portsmouth)
58. Dress your preppiest for tailgating at Newport Polo
Arrive hours early to stake out your place on the grass, then spread out victuals and vino and watch an international match. (Glen Farm, 250 Linden Lane, Portsmouth)
59. Gain free admission to the RISD Museum
Browse the ancient Egyptian and Roman galleries for free every Sunday from 10 a.m.-5 p.m. and on the third Thursday of each month from 5-9 p.m. (20 North Main St., Providence)
60. Shop at the independent stores along Providence's Hope Street
They stock everything from high-end cookware and imported olive oils to handmade fabric creations and custom home decor. (Hope Street, Providence)
61. Teach kids about immigration at the Providence Children's Museum
The "Coming to Rhode Island" exhibit tells stories about people who immigrated to the state from around the world. (100 South St., Providence)
62. Take a food tour of Providence's Italian Federal Hill neighborhood
Pastry chef Cindy Salvato gives guests the rundown on Italian food markets, bakeries, olive oil, and a wine shop during her Savoring Federal Hill tours. (Atwells Avenue, Providence)
63. Try calamari pizza at Al Forno
The restaurant is credited with inventing grilled pizza. Their version is topped with lightly fried calamari sourced in Point Judith. (577 S. Water St., Providence)
64. Visit the Van Wickle Gates atop Brown's College Hill
The iron doors only open twice a year for convocation and commencement. If you can't catch either, it's still worth a trip for the view of the Providence skyline. (Brown University, Providence)
65. Try an authentic Neapolitan pizza at Figidini
The wood-fired oven turns out outstanding pizzas made with 00 Flour, San Marzano tomatoes, and Italian mozzarella. (67 Washington St., Providence)
66. Ride on La Gondola
The company earned TripAdvisor's certificate of excellence four years in a row for its romantic, BYOB boat tours of the city. (1 Citizens Plaza, Providence)
67. See a movie at the Cable Car Cinema
The theater has been screening acclaimed independent documentaries and foreign films since 1976. (204 S. Main St., Providence)
68. Watch WaterFire set downtown Providence ablaze
More than 80 bonfires burn along downtown rivers while music plays and performers entertain — a symbol of Providence's Renaissance. (From Waterplace Park to Memorial/South Main Street Park, Providence)
69. Shop for unusual items on Providence's Westminster Street
Visit the Arcade, the oldest shopping mall in America, along this upbeat street that's filled with locally owned shops that sell clothing, crafts, books, and art. (Westminster Street, Providence)
70. Meet the new Komodo Dragon at the Roger Williams Park Zoo
It may not be the size of the beasts in Game of Thrones, but the reptile has the potential to grow up to 10 feet long and weigh a whopping 150 pounds. (1000 Elmwood Ave., Providence)
71. Watch Movies on the Block
On Thursday nights through August, the annual program shows classic and popular films, from All the President's Men to Mean Girls, downtown at Grant's Block. (260 Westminster St., Providence)
72. Sing Japanese-style karaoke at The Boombox
Belt out hits in front of the bar or rent a private room with friends while sipping sake or karaoke punch out of kitty cat mugs. (The Dean Hotel, 122 Fountain St., Providence)
73. Taste vegan ice cream at Like No Udder
The dairy-free shop serves 12 flavors of ice cream, including mint chip and Thai iced tea made from coconut, peanut, and cashew bases. (170 Ives St., Providence)
74. Head to Food Truck Fridays at Roger Williams Park
At these weekly events that take place through September, dozens of food trucks congregate in a park that includes a carousel, pony rides, and a mini train that travels the grounds. (1000 Elmwood Ave., Providence)
75. Shop the Hope Street Farmers Market
Vendors tout everything from veggies and cheeses to locally caught seafood at this Saturday market that includes live music and runs through October. (Lippitt Memorial Park, corner of Hope Street and Blackstone Boulevard, Providence)
76. Take home a beloved fruit tart from Pastiche
This Federal Hill bakery is known for using seasonal berries to make its most worshipped dessert. (92 Spruce St., Providence)
77. Get a $55 four-course meal from a James Beard Award-nominated chef at Birch
Chef Ben Sukle was a finalist for the 2017 awards, and he offers a four-course meal for a steal while highlighting Rhody's best ingredients. (200 Washington St., Providence)
78. Try a New York System Hot Wiener and coffee milk at Olneyville New York System
The famous hot wiener spot serves them up the arm and "all the way," topped with meat sauce, mustard, celery salt, and onions, nestled in a steamed bun. (1012 Reservoir Ave., Cranston; 18 Plainfield St., Providence)
79. Soak up the outdoor music at Concerts Under the Elms
The grounds of the historic John Brown House Museum are an al fresco music venue for bands on Thursdays at 6:30 p.m. through mid-August. (52 Power St., Providence)
80. Try that other gourmet doughnut shop in Providence
You could wake up early and wait in line for a box of PVDonuts. Or you could skip the queue and sneak over to Knead Doughnuts to bite into a doughnut ice cream sandwich, available daily from noon to 3 p.m. (32 Custom House St., Providence)
81. Bike the waterfront route of the East Bay Bike Path, from Providence to Bristol
The 14.5-mile paved trail follows the former Providence and Bristol Railroad, traversing cityscape, parks, and coastal towns. (Various parking locations, including Gano Street in Providence)
82. Take a spin on the Crescent Park Looff Carousel
It includes 62 figures that were hand-carved and arranged in 1895 by Charles I.D. Looff, one of the foremost carousel designers. (700 Bullocks Point Ave., Riverside)
83. Venture out on a free Matunuck Oyster Farm tour
Learn about aquaculture on a local scale from oyster farmer Perry Raso, then stop in at his restaurant to eat shellfish. (629 Succotash Road, South Kingstown)
84. Try local whiskey at Sons of Liberty Spirits Company
Sip flights that include the distillery's single malt whiskeys distilled from beers — or try the beers that come before the spirits and compare the two. (1425 Kingstown Road, South Kingstown)
85. Take your dog paddleboarding with Paddleboard Rhode Island
Four-legged friends get up on boards during tours with their owners at dog-friendly Tucker Pond in South Kingstown. (Tucker Pond, South Kingstown, and various other locations)
86. Taste lobster chow mein at Evelyn's Drive-In
A classic go-to with a waterside view of Nanaquaket Pond, Evelyn's is famous for its lobster chow mein, plus Rhode Island clam cakes and lobster rolls. (2335 Main Road, Tiverton)
87. Gather ingredients for a cheese plate at Milk and Honey
More than 100 cheeses from all over the world, plus honey, charcuterie, and specialty foods make up the inventory at this side-of-the-road shop. (3838 Main Road, Tiverton)
88. Enjoy a sunset dinner at the Boat House
One of OpenTable's 2016 best 100 al fresco restaurants in America has a locally inspired menu and seafood with scenic water vistas. (227 Schooner Drive, Tiverton)
89. Stop at Gray's Ice Cream
Open 365 days a year, this shop serves traditional flavors like black raspberry, butter pecan, and peppermint made right on-site. (16 East Road, Tiverton)
90. Sip a coffee cabinet at Delekta's
This former pharmacy first opened in 1858, and it blends a mean Rhode Island milkshake of ice cream, milk, and house-made coffee syrup. (496 Main St., Warren)
91. Nibble goodies at Hope and Main's Schoolyard Market
The outdoor Sunday farmers market takes place from 10 a.m.-2 p.m. through October. Check out the food products made at the on-site incubator kitchen. (691 Main St., Warren)
92. Dig into a doughboy sundae at Iggy's
The window at this famous seafood spot serves doughboys topped with ice cream, chocolate sauce, whipped cream, and sprinkles. (885 Oakland Beach Ave., Warwick)
93. Glimpse the gates of Taylor Swift's house
The famous pop star's big white mansion sits next to the Ocean House hotel. (Bluff Avenue, Watch Hill)
94. Head to the champagne bar at the Secret Garden at the Ocean House
Speaking of the historic hotel: Its lounge boasts an oceanfront bar serving Veuve Clicquot by the glass or bottle, plus fancy hot dogs topped with sundried tomato jam and basil aioli, desserts, and more. (1 Bluff Ave., Westerly)
95. Have a retro beach day at Misquamicut Beach
The old-timey atmosphere comes courtesy of the beach bars, drive-in movie theater, classic car shows, and amusement park. (257 Atlantic Ave., Westerly)
96. Learn about French-Canadian immigration at The Museum of Work and Culture
It details how French Canadians settled in the mill town and what their lives were like. (42 South Main St., Woonsocket)
97. Bite into a Dynamite sandwich at the Castle Luncheonette
Sort of like a Sloppy Joe, the specialty includes lean ground beef sauteed with tomato sauce,  peppers, celery, and onions tumbling out of a torpedo roll. (420 Social St., Woonsocket)
98. Drink your Del's Lemonade like a true Rhode Islander
The icy, lemony treat should be slurped straight from the cup; no straws allowed. For extra points, request a pretzel stick to combine salty and sweet. (Various locations)
99. Go clamming with Rhode Island's Department of Environmental Management
The DEM's Aquatic Resource Education program's Come Clam with Me classes give one-day quahogging lessons on the bay. (Various locations)
100. Cut into a Gregg's Death by Chocolate Cake
The six-layer cake topped with chocolate morsels is available at all of Gregg's locations, and the family-friendly restaurant can only be found in Rhode Island. (Various locations)
What's your favorite thing to do in New England? Tell us on Facebook.
Jamie Coelho is an associate editor at Rhode Island Monthly magazine, where she edits the local food newsletter, The Dish. You can follow RI Monthly at @RIMonthly and @TheDishRIM.