Lifestyle
100 things to do in Vermont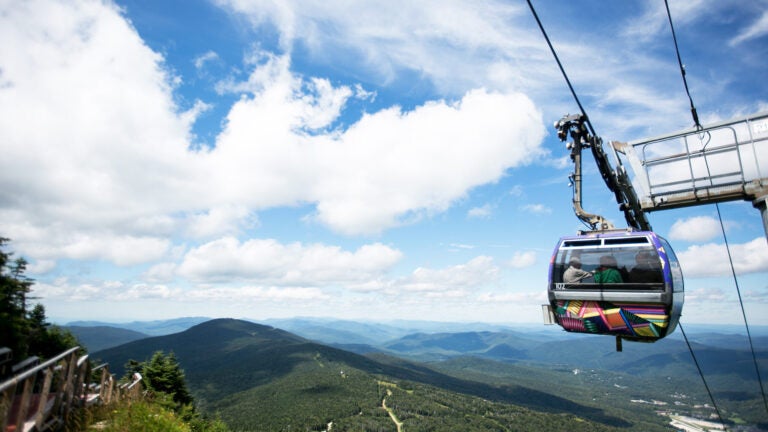 Bike, tube, or swim in Vermont's great outdoors, then treat yourself to a beer or maple syrup-flavored something. Is it just us, or do you feel a road trip coming on?
(And for 900 things to do in the rest of New England, click here.)
• • •
1. Book an overnight stay at the best hotel in the Northeast: Twin Farms
Travel + Leisure ranked this all-inclusive country retreat No. 15 among the top 100 hotels in the world and No. 1 among those in the Northeast. It "feels like a magical summer camp for grown-ups," the magazine wrote. (452 Royalton Turnpike, Barnard)
2. Pay your respects at Hope Cemetery
Each of Barre's skilled 19th- and early 20th-century stoneworkers received a solid block of granite to carve his own gravestone in off-hours, and the results are spectacular. (210 Maple Ave., Barre) 
3. Get a craft beer and a craft burger at Madison Brewing Co. Pub & Restaurant
Chef Josiah Citrin, owner of the two-Michelin-starred restaurant Melisse in California, told Food & Wine he'd fly back "in a heartbeat" to eat a burger and drink a mocha oatmeal stout here. (428 Main St., Bennington)
4. Peer out from the top of the Bennington Battle Monument
The 306-foot-tall monument, which commemorates the Revolutionary War's Battle of Bennington, offers stunning views of southwest Vermont. (15 Monument Circle, Bennington)
5. Visit the grave of Robert Frost at Old First Church
The poet rests under a small birch grove beside American, British, and Hessian soldiers killed at the Battle of Bennington. (1 Monument Circle, Bennington)
6. Watch Bennington Potters stoneware pottery form before your eyes
Take a tour of the studio behind the handcrafted pottery for a chance to witness techniques like jiggering, jollying, chumming, and burlapping. (324 Country St., Bennington)
7. Pucker up at Hermit Thrush Brewery
The tiny brewery is powered by wood pellets and specializes in sour beers that blend a refreshing bite with a bit of local funk. (29 High St., Brattleboro)
8. Learn to do-si-do at the Brattleboro Contra Dance
Locals line up — and swap partners — for live music and an old-fashioned contra dance caller at this bimonthly hoedown. (118 Elliot St., Brattleboro)

9. Mix wine and art at Brattleboro's monthly Gallery Walk
The whole town comes out to see works by local artists, with new exhibits starting the first Friday of each month. (Various locations, downtown Brattleboro)
10. Sip garlic soup at Mary's Restaurant
A longtime pioneer of Vermont's locavore movement, this country inn restaurant grows many of its ingredients on-site. (1868 North 116 Road, Bristol)
11. Order a maple creeme from Village Creeme Stand
It's the place to go after an afternoon in Bristol's classic swimming holes. The soft serve ice cream is packed with maple goodness. (41 West St., Bristol)
12. Cheer for the Vermont Lake Monsters
The minor league baseball team reps Champ, Vermont's friendly (and fabled) lake monster. (Centennial Field, 287 Colchester Ave., Burlington)
13. Grab a stack of pancakes (like Joe Biden) at Burlington's Penny Cluse Cafe
Readers of the alt-weekly Seven Days named Penny Cluse the "best breakfast/brunch" in 2016, 2015, 2014, 2013, 2012, and, well, you get the idea. (169 Cherry St., Burlington)
14. Rock out at Nectar's
The restaurant and bar, which is known for its live music, regularly hosted Phish back in the band's early days. (188 Main St., Burlington)
15. Join Burlington's weekly social gala: the Burlington Farmers' Market
Try everything from black currant snow cones to artisanal lard-brushed toast at this year-round market that overflows with local treats. (City Hall Park, Burlington)
16. Order a locally sourced cocktail at Juniper Bar
Tucked into a stylish hotel, this cocktail bar specializes in local ingredients and thoughtful drinks using fresh blossoms, maple syrup, and aromatic herbs. (41 Cherry St., Burlington)
17. Meet the creatures from the deep at ECHO Leahy Center for Lake Champlain
Kid-friendly touch tanks are filled with things that swim, crawl, and wiggle. Older visitors can learn the geological story behind New England's biggest lake. (1 College St., Burlington)
18. Taste Vermont at The Farmhouse Tap & Grill
The farm-to-table gastropub, known for its burgers and craft beer, sources from a plethora of Vermont farms. (160 Bank St., Burlington)
19. Snap a selfie with the world's tallest filing cabinet
Other towering cabinets might dispute the claim, but this 38-drawer stack remains an icon of Burlington's creative South End Arts District. (270 Flynn Ave., Burlington)
20. Attend a punk show or political lecture at ArtsRiot
With a lofty mission to "destroy apathy," this energetic music venue delivers with a great events calendar, ever-changing art, and creative cuisine. (400 Pine St., Burlington)
21. Order a flight at Zero Gravity Craft Brewery
From the flagship Conehead IPA to constantly-changing seasonal beers, the brewers turn out drafts of exceptional quality. (716 Pine St., Burlington)
22. Float while you dine at Splash at the Boathouse
Grab a drink and an Adirondack chair at this floating bar and restaurant, built on a dock at the edge of Lake Champlain. (0 College St., Burlington)
23. Bike or run out onto a lake on the Island Line Rail Trail
More than three miles of the 14-mile top-rated former railroad route goes out onto Lake Champlain and provides sweeping views of the lake and mountains. (Trail runs from Oakledge Park in Burlington to South Hero)
24. Set sail from Burlington aboard the Friend Ship
The gaff-rigged sloop cruises Lake Champlain, sailing between two rolling mountain ranges, the Adirondack Mountains and the Green Mountains. (1 College St., Burlington)
25. Hit Honky Tonk Night at Radio Bean
Charmingly dark and dingy, the bar and music venue is a local landmark, and the weekly country music jams are an ideal introduction. (8 North Winooski Ave., Burlington)
26. Sip locally distilled apple brandy at Mad River Distillers
The aged, aromatic Malvados is the Green Mountain state's answer to French Calvados brandy, and it's made from bushels of Vermont-grown fruit. (137 St. Paul St., Burlington)
27. Stain your fingers blue — or red — at Adam's Berry Farm
Gather blueberries, strawberries, and raspberries, or just try one of the farm's homemade fruit popsicles. (985 Bingham Brook Road, Charlotte)
28. Lose (and hopefully find) yourself in the Great Vermont Corn Maze
More than three miles of trails wind through the towering corn stalks, and successful navigators ring the "bell of success" at the maze's heart. (1404 Wheelock Road, Danville)
29. Step across the line at the Haskell Free Library and Opera House
The audience sits in Vermont, while the stage projects across the border into Canada. The 1901 opera house was built by a local couple. (93 Caswell Ave., Derby Line)
30. Browse local items at Dorset Farmer's Market
This year-round market has pottery, jewelry, Vermont cheese and maple syrup, and even bison for sale. (2732 Vt. Rt. 30, Dorset; the market moves to 1430 Vt. Rt. 30, Dorset during the winter)
31. Dream of Rudyard Kipling at Naulakha
The author designed his 1893 house to resemble a ship sailing on the Green Mountains, and guests can now rent the home where he lived and wrote for overnight stays. (Kipling Road, Dummerston)
32. Fill your basket with heirloom fruit from Scott Farm Orchard
Dozens of apple trees are bowed with ripe fruit each fall, including old-fashioned varieties passed down by generations of growers. (707 Kipling Road, Dummerston)
33. Hike the ridgeline of Camels Hump
Though not as high as Mount Mansfield, the rock-topped peak is the state's most recognizable, U=It was originally dubbed "Camel's Rump." (Camel's Hump Road, Duxbury)
34. Find your flow at Kingdom Trails
Fast and flowy mountain bike trails wind through the northern mountains, with trails for all abilities and ages. (478 Route 114, East Burke)
35. Sip a post-trail drink at Mike's Tiki Bar
The hub of the Kingdom Trails mountain bike scene, this open-air bar is way out in the mountains of the Northeast Kingdom. (44 Belden Hill Road, East Burke)
36. Wander through The Museum of Everyday Life
This self-service museum has no heat, and you may have to turn on the lights yourself, but where else will you see exhibits dedicated to things like dust and whistles? (3482 Dry Pond Road, Glover)
37. Attend a radical puppet show at Bread and Puppet
Progressive politics meet paper mâché at an open-air theater and art collective that's in the deep country of the Northeast Kingdom. (753 Heights Road, Glover)
38. Visit the award-winning Grafton Village Cheese
Sheep and cow's milk cheese is made from scratch at the award-winning creamery, located in the heart of frozen-in-time Grafton village. (533 Townshend Road, Grafton)
39. Get in line for what might be the world's best beer at Hill Farmstead Brewery
Named the 2015 top brewery on Earth by the prestigious RateBeer.com, Shaun Hill's craft-brewed beers call hop-lovers from all over. (403 Hill Road, Greensboro)
40. Discover the old-fashioned art of craft distilling at Caledonia Spirits
Gin made with honey, barrels made with Vermont-lumber, and a dedication to handmade products make this distillery stand out. (46 Log Yard Drive, Hardwick)
41. Take on La Chute at the Pump House Indoor Waterpark
It's always summery at this resort in the extreme north, and waterslides range from gentle to downright terrifying. (830 Jay Peak Road, Jay)
42. Have an adventure on the jaw-dropping trails at Killington Resort
From summertime mountain bike routes to Vermont's longest snow season, the "Beast of the East" is one of Vermont's most imposing mountains. (4763 Killington Road, Killington)
43. Share an intimate meal at The Silver Fork
Reservations are a must at this six-table, five-barstool restaurant, which is run by the husband-wife team of Mark and Melody French. (4201 Main St., Manchester)
44. Increase your fly fishing IQ at The American Museum of Fly Fishing
Peruse thousands of fishing-related items, such as rods, reels, and flies, some of which date back to the 16th century. (4070 Main St., Manchester)
45. Get your burger with a side of nostalgia at Bob's Diner
This diner has a 1950s jukebox and red-cushioned bar stools. Grab a burger and fries or bacon and eggs. (2279 Depot St., Manchester)
46. Traverse the largest sculpture park in the state at the Southern Vermont Arts Center
Attend cultural, educational, and creative programs year-round at this 95-year-old center, with more than 800 pieces of 19th- and 20th-century art. (930 SVAC Drive, Manchester)
47. See the Lincoln family's summer home at Hildene
Walking trails, former gardens, and a grand house make the 1905 summer home of Robert Todd Lincoln a fascinating place to explore. (1005 Hildene Road, Manchester)
48. Eat elk sausage at Up For Breakfast
The cozy eatery is known for its creative breakfast specials, such as strawberry cream cheese croissant espresso French Toast and elk sausage with pear and port wine. (4935 Main St., Manchester)
49. Watch a movie at Village Picture Shows
Manchester's only independent movie theater features two movies at a time, from current blockbusters to family flicks, classics, and documentaries. (263 Depot St., Manchester)
50. Taste homemade buttercrunch from Mother Myrick's
The shop has been dishing out the sweet stuff since 1977 by dipping toffee in milk chocolate or dark chocolate, then rolling it in roasted cashews and almonds. (4367 Main St., Manchester)
51. Learn the art of falconry at the Equinox Resort
Among the oldest hotels in the United States, the Equinox offers courses in falconry, as well as fly fishing and off-road driving. (3567 Main St., Manchester)
52. Buy a Vermont-made item at Heinel's Clothiers
This 138-year-old shop carries items for men and women, as well as accessories, footwear, home goods, and specialty items. (4964 Main St., Manchester)
53. Dine at The Copper Grouse
The restaurant is located inside the Kimpton Taconic Hotel and recommended by Travel + Leisure uses seasonal, locally sourced ingredients. (3835 Main St., Manchester)
54. Get to know an author at Northshire Bookstore
A 10,000-square-foot independent bookstore, Northshire hosts a number of author events throughout the year. (4869 Main St., Manchester Center)
55. Follow the Middlebury Tasting Trail
The path links up a family-owned vineyard, artisanal distillers, and breweries in a classic New England village. (Various locations, Middlebury)
56. Rejuvenate at the Vermont Salt Cave Spa & Halotherapy Center
Rest your bones and your mind at this wellness center with a salt cave made of Polish rock salt. (48 Main St., Montgomery Center)
57. Discover your own perfect syrup at Morse Farm Maple Sugarworks
Learn how the syrup goes from tree to table, then taste a whole rainbow of flavors. (1168 County Road, Montpelier)
58. Step beneath the State House dome
Topped with a statue of Ceres, the goddess of agriculture, the gleaming State House towers above America's smallest capital city. (115 State St., Montpelier)
59. Brunch in the heart of Vermont's capital at Kismet
Check out the savory weekend brunch menu for a handful of imaginative Benedicts served on toast, baguettes, and buckwheat crepes. (52 State St., Montpelier)
60. Snack your way through the Northeast Kingdom Tasting Center
Try aged cheeses, local pastries, and sweet sips of ice cider, a dessert wine fermented from naturally frozen apples. (158 Main St., Newport)
61. Meet the bakers at King Arthur Flour's Baking Store and Baking Education Center
Find out how to shape the perfect croissant, or just buy one made by the pros at the popular brand's flagship store, bakery, and baking school. (135 Route 5 South, Norwich)
62. Discover your sense of wonder at Montshire Museum of Science
Hands-on exhibits and nature trails make the museum a fun destination for science-lovers who usually avoid museums. (1 Montshire Road, Norwich)
63. Fly down Bromley Mountain's Alpine Slide
A two-thirds-of-a-mile slide is just one of several attractions at the ski resort's Mountain Adventure Park. (3984 Vermont Route 11, Peru)
64. Pay your respects to "Silent Cal" at the Calvin Coolidge State Historic Site
The famously quiet American president grew up in an idyllic valley, where his family's small cheese factory still produces award-winning wheels. (3780 Route 100A, Plymouth Notch)
65. Watch the master glass craftsmen of Simon Pearce
You'll see whisper-thin wine glasses shaped from molten glass in a picturesque studio at the edge of the Ottauquechee River. (1760 Main St., Quechee)
66. Go eye-to-eye with birds of prey at the Vermont Institute of Natural Science
Scientists work to rehabilitate owls, falcons, eagles, and other species, with educational programs and feeding times that are great for science-loving families. (6565 Woodstock Road, Quechee)
67. Walk through the Old Round Church
This rare 16-sided polygon structure built between 1812 and 1814 was once used as a place of worship and a community meeting place. It's now open to visitors and rented out for weddings. (25 Round Church Road, Richmond)
68. Take the ultimate Vermont road trip on Scenic Route 100
Tracing a route through quiet valleys and country villages, the winding road is beautiful in the fall when foliage illuminates the hillsides. (Route 100)
69. Drive Notch Road from Stowe
Winding past high cliffs and boulders popular with rock climbers, Route 108 is steep, narrow, and worth every white-knuckled second. (Route 108, between Stowe and Morrisville)
70. Walk the trails at Shelburne Farms
Follow paths to historic barns, a maple forest, and a gorgeous swath of lakefront at this onetime grand estate. (1611 Harbor Road, Shelburne)
71. And sip a sunset drink at the Inn at Shelburne Farms
The historic inn at the edge of Lake Champlain offers the finest outdoor dining in Vermont, with gorgeous views and blooming gardens. (1611 Harbor Road, Shelburne)
72. Discover a collector's paradise at Shelburne Museum
A turn-of-the-century hoarder with exquisite taste, the socialite Electra Havemeyer Webb gathered Impressionist canvases, quilts, and a historic steamship into a trove of art and ephemera. (6000 Shelburne Road, Shelburne)
73. Join the crowd at Bread and Butter Farm's weekly Burger Night
Live music, picnic tables, and burgers made from the farm's own ingredients make a family-friendly tradition in the Champlain Valley. (200 Leduc Farm Drive, Shelburne)
74. Feast on fresh cider doughnuts from Shelburne Orchards
At these orchards, long rows of apple trees roll down to the edge of Lake Champlain, and the doughnut fryer stays hot all through picking season. (216 Orchard Road, Shelburne)
75. Design your own best friend at the Vermont Teddy Bear Company
A machine will help you create a customized teddy bear based on the traits that tickle your fancy. (6655 Shelburne Road, Shelburne)
76. For even more burgers, feast at the Worthy Burger
A menu of burgers at this small-town eatery runs from basic to deluxe, but they all pair wonderfully with a suite of local craft beers. (56 Rainbow St., South Royalton)
77. Sleep beneath the stars at Burton Island State Park
An island campground that can only be reached by passenger ferry, the state park is a fantastic place to get away from the mainland. (St. Albans Bay, St. Albans)
78. Celebrate all things canine at Dog Mountain
Artist Stephen Huneck's gallery features a pantheon of dogs, and the onsite Dog Chapel is filled with heartfelt notes to dearly departed pets. (143 Parks Road, St. Johnsbury)
79. Keep an "eye on the sky" at the Fairbanks Museum and Planetarium
Fierce-looking taxidermy, artifacts, and an awe-inspiring planetarium make this Northeast Kingdom landmark a destination for families. (1302 Main St., St. Johnsbury)
80. Get lost in the stacks of the St. Johnsbury Athenaeum
Walk past the books that line the historic library, and you'll find a remarkable art collection, including Hudson School masterworks. (1171 Main St., St. Johnsbury)
81. Nab the elusive Heady Topper Beer at The Alchemist
At The Alchemist's Stowe brewery and visitors center, get your hands on the beer that has a super small distribution radius. But be warned: You can only take home so much at a time, and they often sell out, so check the website for current availability. (100 Cottage Club Road, Stowe) 
82. Try a classic strudel or Austrian beer at the Trapp Family Lodge
The real Von Trapp family from The Sound of Music still keeps Austrian traditions alive — and stages movie screenings — in the Green Mountains. (700 Trapp Hill Road, Stowe)
83. Take in the view from Mount Mansfield
Ascend the highest peak in Vermont, which commands panoramic views across three mountain ranges. (Route 108, Stowe)
84. Do a deep dive at the Vermont Ski & Snowboard Museum
The museum, which houses more than 7,700 ski items, rotates exhibits annually and highlights pioneers of Vermont skiing in its hall of fame. (1 South Main St., Stowe)
85. Buy a pie from a shed at Poorhouse Pies
This spirited local bakery fills self-service shelves with apple pie, pumpkin pie, and more. It's the sweetest end to a Green Mountain picnic. (23 Park St., Underhill)
86. See historic shipwrecks at the Lake Champlain Maritime Museum
The museum's lake tours use a remote-operated vehicle to explore the vessels lost beneath the waves. (4772 Basin Harbor Road, Vergennes)
87. Grab a slice at American Flatbread
Pies come layered with local ingredients at this rustic farmhouse, where there's always a free spot by the bonfire. (46 Lareau Road, Waitsfield)
88. Tube the Mad River
Snag a tube from Clearwater Sports, then launch into the easygoing current, which floats past forests, fields, and big red barns. (4147 Route 100, Waitsfield)
89. Swim in Warren Falls
Natural rock slides, a cluster of crystal-clear pools, and a shady spot in the forest make this one of the state's finest places to swim. (3919 Route 100, Warren)
90. Treat yourself to barbecue and some of Vermont's best beers at the Prohibition Pig
The restaurant serves brews from its brewery next door as well as acclaimed suds from Hill Farmstead Brewery and Lawson's Finest Liquids. (23 S. Main St., Waterbury)
91. Tackle the Vermonster at Waterbury's Ben & Jerry's Factory
Bring a friend and arrive hungry for a 20-scoop ice cream beast that's topped with brownies, hot fudge, cookies, and whipped cream. (1281 Waterbury-Stowe Road, Waterbury)
92. Try James Beard Award-winning cuisine at Hen of the Wood
Seasonally-inspired menus feature ingredients from the state's finest producers in rich pâtés, cheese plates, and carefully crafted mains. (92 Stowe St., Waterbury)
93. Watch cider flow from the press at Cold Hollow Cider Mill
There's an on-demand tap so you can try the juice just seconds after it's made in a big, old-fashioned cider press. (3600 Waterbury-Stowe Road, Waterbury Center)
94. Join the Northeast Kingdom crowd at Parker Pie Company
You'll find the finest people-watching in northern Vermont at this combination general store and pizza restaurant that also has a fantastic beer list. (161 County Road, West Glover)
95. Bare it all at The Ledges
The clothing-optional beach is a pilgrimage place for Vermont's nudists, who come out of the woods to swim and sunbathe by the Harriman Reservoir. (Ward's Beach Access Road, Wilmington)
96. Hop on a horse farm
You can tour the grounds of The University of Vermont Morgan Horse Farm from May through October. (74 Battell Drive, Weybridge)
97. Try some of the state's most creative fare at Misery Loves Company
With a tiny dining room and open kitchen, this beloved restaurant brings big flavors and creative preparations. Don't miss the cocktails, either. (46 Main St., Winooski)
98. Tour Winooski's finest pours on a Cocktail Walk
Visit a series of craft cocktail bars to meet local distillers, learn bartending secrets, and taste specially-mixed drinks. (Various locations, Winooski)
99. Hop a horse-drawn wagon through Billings Farm and Museum
There's tawny Jersey cows, milk to be churned, and baby animals to cuddle every spring. (69 Old River Road, Woodstock)
100. Place your bets on Joe's Pond 
Buy a dollar ticket at a participating store, and guess exactly when the ice will break the following spring to win a pot of money. (Various locations) 
What's your favorite thing to do in New England? Tell us on Facebook.
Jen Rose Smith writes about travel from her home in northern Vermont, and is the author of three guidebooks to the region. You can follow her adventures on Instagram @jenrosesmithvt.