Lifestyle
6 pumpkin carving tips from the guy who can sculpt an entire 'Star Trek' scene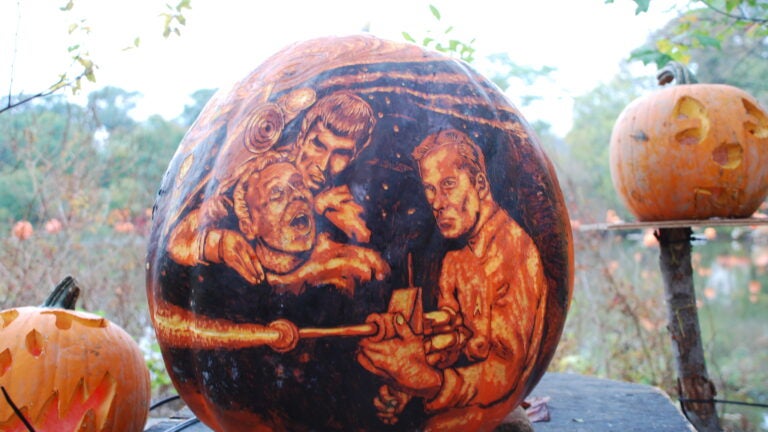 When you think of jack-o'-lanterns, you probably imagine the typical triangular-eyed, toothy-smiled pumpkin.
Over the past 25 years, John Reckner and his team at Passion for Pumpkins have carved everything from John F. Kennedy to the Brooklyn Bridge into the orange fruit. Right now at Providence's Roger Williams Park Zoo, you can head to the Jack-o-Lantern Spectacular and see 120 featured and 5,000 background pumpkins by Reckner's team.
If you and your family are looking to step up your jack-o'-lantern game, here are six tips Reckner recommends for creating and preserving a pumpkin.
Don't shy away from pre-made patterns.
Reckner said even if you carve just a simple witch or cat "in a 60- to 70-pound pumpkin with a light inside, it looks pretty fantastic." He suggested Walmart, Michaels, and Google Images to find a pattern.
If you do go freehand, bulk up your toolbox.
First up: a ballpoint pen and alcohol. "Just use a simple ballpoint pen to sketch out a rough sketch," Reckner said. "Toy with that. Use a little alcohol to clean the mistakes." Next: an oil-based marker. Reckner said that, before starting to carve, he goes over the image with the marker, which can be used with the alcohol to create different shades of gray and a three-dimensional effect.
Sand down your finished product.
Using sandpaper, which Reckner said gives your pumpkin a finished look, is a technique that's been a staple of Reckner's team's for the last two to three years. "Over the years we've picked up a few tricks of the trade," Reckner said.
Then give its insides a little spritz.
Reckner applies sprays of water and bleach to the interior of his carvings to help them last longer. He said his goal is to to make his pumpkins last a week, but just a couple of sprays could make your jack-o'-lantern stay the good kind of scary for an extra day or two.
Avoid concrete.
Your masterpiece should stay off the driveway. "[Concrete] will rot the pumpkin very rapidly," Reckner said. "You're better off keeping it on the grass."  
Use an LED light instead of a candle.
Candles and fluorescent lights will heat up the insides of a pumpkin — "heat up the pumpkin and cook it, so to speak," Reckner said — so he and his team only light their carvings with LEDs.
Jack-o-Lantern Spectacular at Roger Williams Park Zoo in Providence runs until Nov. 5.