Local
MGM sets opening date for Massachusetts casino
MGM Resorts International President Bill Hornbuckle said Wednesday that the company is now targeting Aug. 24 as the new opening date for the $960 million hotel and casino complex it has been building in downtown Springfield.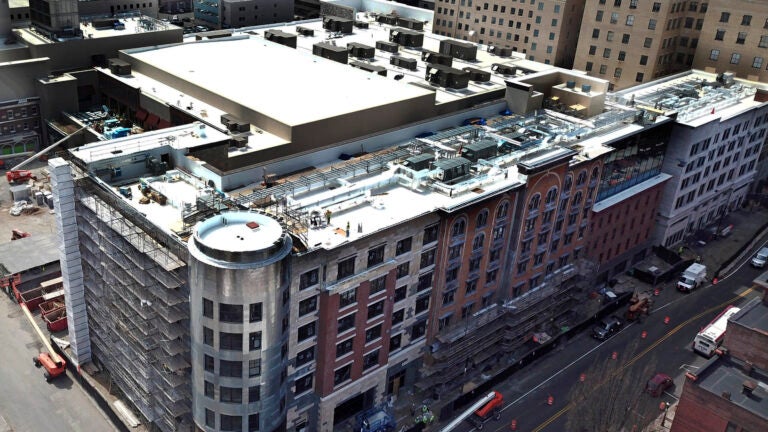 BOSTON (AP) — The fate of Wynn's glitzy Boston-area casino may still be up in the air, but rival MGM says it is on track to open the first Las Vegas-style casino resort in Massachusetts sooner than expected.
MGM Resorts International is now targeting Aug. 24 as the new opening date for the $960 million hotel and casino complex it has been building in downtown Springfield, President Bill Hornbuckle told The Associated Press on Wednesday.
The company previously envisioned the casino, which is being built on 15 acres, opening sometime in September, but relatively mild winters and steady progress on a nearby highway project impacting the casino have allowed construction to move slightly faster than anticipated, he said.
Slot machines are being placed on the 125,000-square-foot gambling floor, the 250-room hotel is being furnished and workers are turning their attention to rehabilitating of the city's historic Armory, Hornbuckle said.
But like other company officials in recent weeks, Hornbuckle declined to address reports that MGM has been quietly negotiating with Wynn Resorts to take over its more than $2.5 billion project on the Everett waterfront, which is slated to open sometime next year.
''We're not going to speak on rumors,'' he said. ''Whatever happens in Boston is up to the gaming commission, and that story is yet to be told.''
The Massachusetts Gaming Commission has been investigating allegations of sexual misconduct by Wynn Resorts founder Steve Wynn and what the company's board might have known about them. The results of the investigation might impact the company's license to operate in Massachusetts.
Wynn resigned as chairman and CEO and later sold his company shares after the Wall Street Journal reported that several women said he harassed or assaulted them and that one case led to a $7.5 million settlement. He denies the allegations.
Wynn has filed a defamation lawsuit against The Associated Press for its reporting on a separate allegation made to police.
MGM Resorts International CEO Jim Murren said Thursday it would have to be an ''extremely unique situation'' for the company to consider another major project after opening new casinos in China and the U.S.
''I just don't see it,'' he said when asked about the possibility during the company's quarterly earnings call.
Officials also acknowledged that revenues at its U.S. casinos declined by about 1 percent year-over-year to $2.1 billion. The company attributed the drop in part to challenges drawing patrons back to Mandalay Bay, the Las Vegas resort where a gunman fired on a music festival from his hotel suite, leaving 58 people dead and hundreds more injured in October.
New Wynn Resorts CEO Matt Maddox also has tamped down on the speculation, saying in a CNBC interview Wednesday that ''Boston is not up for sale.''
A day earlier, however, he told investors the company would to take a ''hard look'' at the Boston-area project if there were indications that ''contagion'' from the Massachusetts controversy was affecting the rest of its business.
Taking over Wynn's development in the more desirable Boston market would require MGM to find a new owner for its casino in the western part of the state. Massachusetts law prevents casino operators from holding more than one state gambling license.
Gambling analysts have suggested the Indian tribes that operate Connecticut's Mohegan Sun and Foxwoods resorts would be the most obvious suitors if the Springfield property became available, though a spokesman for the tribes shot down the idea on Wednesday.
''Speculation about us buying Springfield is rumor mill trash,'' said Andrew Doba.
The Mohegan and Mashantucket Pequot tribes broke ground in March on a 200,000 square foot casino in East Windsor, Connecticut, that is meant to directly compete with MGM just a few miles across the state line.
But the tribe's project has been delayed because the U. S. Department of Interior has not signed off on a revised revenue sharing agreement between the federally recognized tribes and the state.