Local News
New Hampshire explores turning Ruggles Mine into state park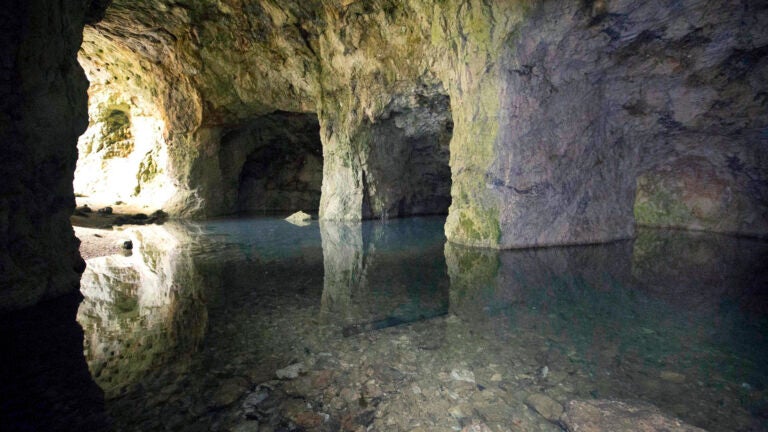 CONCORD, N.H. (AP) — This mine is your land?
A 215-year-old mineral mine — site of an enormous pit with tunnels and caverns that make up the oldest and largest mine of its kind in the United States — could someday belong to you and me. State officials are in the early stages of exploring whether to buy the Ruggles Mine in Grafton and turn it into a state park.
Ruggles produced mica and other minerals for 160 years before the Searles family bought it in 1960 and turned it into a tourist attraction. The 235-acre (95-hectare) property, which also has a gift shop and a small museum, attracted thousands of visitors annually until 2016, when Geraldine Searles, then 90, closed the mine and put it up for sale.
The current asking price: $900,000.
Cheryl Senter, who spent summers in Grafton growing up and now owns a cottage there, recently started an online petition promoting the state park idea. She's discussed it with the commissioner of the Department of Natural and Cultural Resources, which oversees the parks division.
"Everywhere I go, when I bring it up, there is someone in the group who's gone to Ruggles Mine," she said. "Kids love hunting for treasure, and so do adults. The possibility that you might uncover something really cool is the hook. As a kid, that was thrilling to me."
The property has plenty of room for a campground and would be an ideal base from which to explore other regions of the state, said Senter, a photographer who has done work for The Associated Press.
"It has so much going for it, and it would be such a boost," she said. "I have such fond memories of Ruggles Mine. It just sparks my imagination every time I see it up in the hills there."
Amy Bassett, spokeswoman for the Division of Parks and Recreation, said Director Phil Bryce recently floated the idea to the State Park System Advisory Council, which recommended looking into it.
"Where we are now is making sure does this match our mission and does it make financial and operational sense for us," she said.
New Hampshire has more than 90 state park properties that attract about 6 million visitors per year. The properties receive about $2.5 million a year through the capital budget but otherwise are funded by fees.
The original $2 million asking price for the mine was dropped to $900,000 a year ago, said Douglas Martin, of Keller Williams Realty.
"It was disappointing, but I also wasn't really surprised that we needed to do a big adjustment," he said. "It's such a unique property."
Andrew Cushing, of the New Hampshire Preservation Alliance, said he has had a few meetings with state officials about the potential for the mine to become a state park but the price likely would have to come down more.
Senter said she hopes that will be the case.
"I just couldn't sit back and let things fall apart," she said. "I want to see everyone be able to enjoy that beautiful spot."