Local
Here's what to expect at the MGM Springfield casino opening next week
The $960 million, 2 million-square-foot complex includes a five-story hotel and 125,000 square feet of gaming space.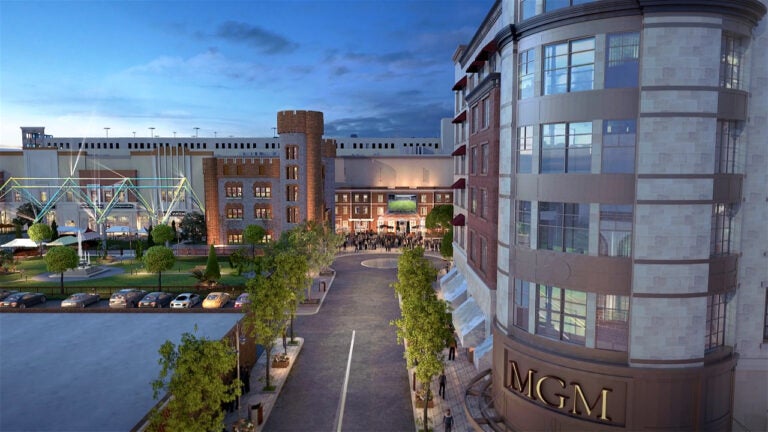 Massachusetts will have its first full-scale casino next week when MGM Resorts International opens the doors to its downtown Springfield location.
And it's massive.
The $960 million, 2 million-square-foot complex on Main Street spans three city blocks and includes a five-story hotel, 125,000 square feet of gaming space, shops, and numerous restaurants, owners say.
Thinking of making the trip to MGM Springfield, either on opening day, Aug. 24, or after? Here's what to know:
There's plenty to play…
The sprawling casino is home to roughly 2,550 slot machines and 120 gaming tables, along with a poker room and a VIP gaming area, according to MGM.
If that isn't your thing, or you're looking for a break in the action, the resort complex also boasts an eight-screen movie theater; an 8,000-square-foot pool; a spa; a 10-lane bowling alley; and a "Topgolf Swing Suite" where you can test out your fairway chops in a three-simulator lounge.
"Visitors can play in groups or practice solo while enjoying gourmet bites and inventive cocktails," a press release said. "When it's time to take their shot, players will step up to a large, theater-style screen to try their hand at a selection of virtual games. Each simulator can fit up to eight players and offers fun no matter the guest's skill level."
You can also catch a show at the nearby 8,000-seat MassMutual Center, which will host "large-scale conventions and events," MGM said in a release. (Stevie Wonder is scheduled to stop by the MassMutual Center Sept. 1).
…
and plenty to eat (and drink)
You can grab a bite to eat at Chef Michael Mina's Italian eatery, Cal Mare, or at The Chandler Steak House, with executive Chef Meghan Gill at the helm, according to MGM.
Visitors can also find the TAP Sports Bar and the South End Market as other places to satisfy appetites, or they can grab a cold one at the Commonwealth Bar and Lounge, the Lobby Bar, and the Knox Bar.
Order this drink and get a motorcycle
Yes, that's correct.
There's a drink on the Commonwealth Bar menu called the "Indian Sidecar" — an homage to Springfield's past as the home of Indian Motorcycles, established in 1901 — available for $25,000.
The cocktail comes along with a bottle of 1901 cognac and, you guessed it, an Indian motorcycle.
The drink is a blend of the "1901 single vintage Croizet cognac, Grand Marnier Quintessence, and fresh lemon," with a gold sugar rim on the glass, according to MGM.
Those looking to drop some zeros off the price can still enjoy a similar drink for $25, "the Commonwealth Sidecar," made with Hennessy XO cognac, but the bike is not included.
There's a hotel and places to shop
If you feel like spending the night, there's a hotel for that.
A boutique hotel at the resort includes 250 rooms that MGM said are "inspired by the historic significance, iconic architecture and literary legacy of its urban surroundings."
"Each space is punctuated by details such as quotations from the works of Emily Dickinson and whimsical Merriam-Webster-inspired works of art," a release said.
Shoppers can check out the street-level shops, which include Kringle Candle, Hannoush Jewelers, and the first-ever Indian Motorcycle apparel shop.
An outdoor plaza, nestled between the historic State Armory and First Spiritualist Church, will be the place to catch live events, take in farmers' markets, sample food carts, and also to hit the ice on a seasonal ice skating rink, MGM said.
Opening day festivities are planned
A parade to usher in the resort's grand opening is set for 10:30 a.m. on Friday, Aug. 24, according to a release.
The procession will step off at the corner of State and Main streets and will feature the Budweiser Clydesdales alongside local officials, "other surprise entertainment," and hundreds of the resort's employees and construction workers, a release said.
Doors will officially open once the parade reaches the resort around 11 a.m. after a walk down Main Street.
How to get there from Boston
If you're driving over from Boston, you can make the approximately 92-mile trip (about an hour-and-a-half without traffic Google Maps says) by heading west on the Mass. Pike and taking Exit 6 at the Interstate 291 interchange before heading onto Interstate 91 South at Exit 1A-2A and getting off at Exit 6.
But if you're looking to be at the resort on opening weekend, you might want to consider other options.
According to Massachusetts State Police, Interstate 91's Exit 6 will be closed in both directions from 6 a.m. to 4 p.m. opening day. There's also several road closures in the area and "no parking" zones near the resort.
Police are asking visitors to park at the Eastern States Exposition, at 1305 Memorial Ave., and take a complimentary shuttle to downtown Springfield.
Amtrak service between Boston and Springfield is available on the Lake Shore Limited line, although the train is only offered once daily.
You can also grab a bus from Boston's South Station to Springfield's Union Station and take "The Loop," a free bus service, that will bring you from the station to the resort.
The Loop bus will start rolling at 1 p.m. opening day and is offered Wednesdays through Sundays from 10 a.m. to 10 p.m., according to MassLive.