Local News
The best and worst times to drive during Thanksgiving week
Find out where and when Boston traffic will be the worst.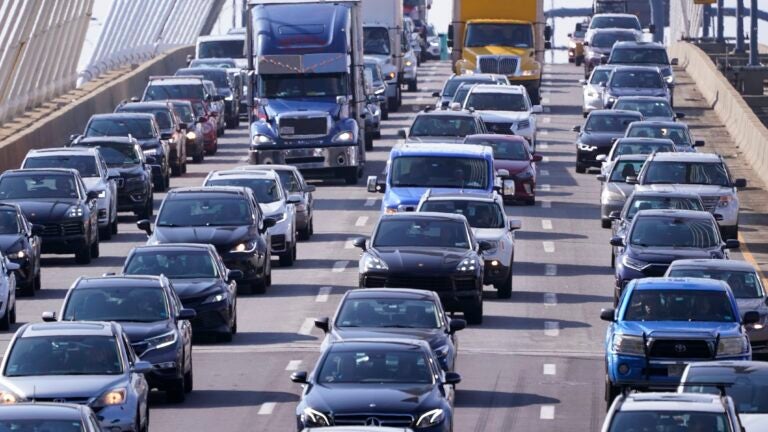 About 49.1 million people will hit the road this Thanksgiving holiday, AAA reported on Monday. Average travel times could climb as high as 80 percent over normal in some metro areas.
This year, 55.4 million people will travel 50 miles or more from home, a 2.3 increase over last year, according to the agency. It will be the third-highest Thanksgiving forecast since AAA started tracking holiday travel in 2000. The top two years were 2005 and 2019.
"For many Americans, Thanksgiving and travel go hand in hand, and this holiday, we expect more people on the roads, skies, and seas compared to 2022," said Paula Twidale, senior vice president of AAA Travel, in a statement. "Travel demand has been strong all year, and AAA's Thanksgiving forecast reflects that continued desire to get away and spend time with loved ones."
Boston drivers will find the worst traffic from Boston to Hyannis on Pilgrims Highway S, according to transportation analytics company INRIX. Drivers can expect peak congestion on Thursday, Nov. 23 at 3:30 p.m., with a travel time of 1 hour 58 minutes and traffic 55 percent over typical volume.
In general, the worst times to travel during Thanksgiving week are between 2 and 6 p.m. on Wednesday; 11 a.m. and 3 p.m. on Thursday; and noon to 4 p.m. on Friday and 3 to 5 p.m. on Saturday and Sunday, according to the report.
"The day before Thanksgiving is notoriously one of the most congested days on our roadways. Travelers should be prepared for long delays, especially in and around major metros," said Bob Pishue, transportation analyst at INRIX, in a statement. "Knowing when and where congestion will build can help minimize holiday traffic frustrations. We advise drivers to use traffic apps, local DOT notifications, and 511 services for real-time updates."
The best times to travel during the holiday week are before 11 a.m. on Wednesday; before 10 a.m. and after 5 p.m. on Thursday; before 11 a.m. and after 7 p.m. on Friday; and before noon on Saturday and Sunday, INRIX reported.
In anticipation of Thanksgiving travel, MassDOT said it will restrict all roadway work, outside of fixed work zones, from 5 a.m. on Tuesday, Nov. 21, through 5 a.m. on Monday, Nov. 27 in District 6.
Need weekend plans?
The best things to do around the city, delivered to your inbox.