National News
Why did a Southwest plane's engine blow apart in midair?
Here's what we know about the investigation.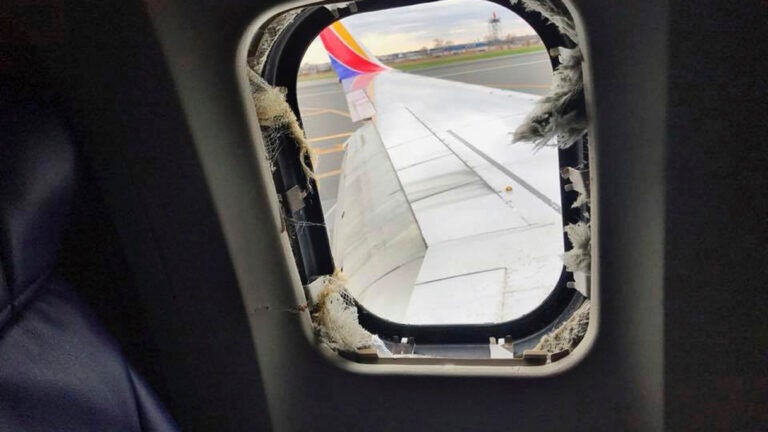 PHILADELPHIA (AP) — U.S. airline regulators said Wednesday that they will order inspections on engine fan blades like the one involved in fatal failure that killed a woman in a plane that made an emergency landing in Philadelphia.
The Federal Aviation Administration said it will issue a directive in the next two weeks to require ultrasonic inspections of CFM56-7B engines after reaching a certain number of takeoffs.
The FAA decision comes nearly a year after the engine's manufacture recommended that airlines using certain CFM56 engines conduct ultrasonic inspections to look for cracks.
Federal investigators said that initial findings show that Tuesday's emergency was caused by a fan blade that snapped off, leading to debris hitting the Southwest Airlines plane and a woman being partially blown out a window. She later died.
Metal fatigue — microscopic cracks that can splinter open under the kind of stress placed on jetliners and their engines — was also blamed for an engine failure on a Southwest plane in Florida in 2016.
That led manufacturer CFM International, a joint venture of General Electric Co. and France's Safran SA, to recommend last June that airlines conduct the inspections of fan blades on many Boeing 737s.
European regulators last month required airlines flying in Europe to conduct the inspection, but the FAA had not yet required them despite proposing a similar directive last August.
Investigators say a fan blade snapped off as Southwest Flight 1380 cruised at 500 mph high above Pennsylvania on Tuesday, setting off a catastrophic chain of events that killed a woman and broke a string of eight straight years without a fatal accident involving a U.S. airliner.
''Engine failures like this should not occur,'' Robert Sumwalt, chairman of the National Transportation Safety Board, said Wednesday.
Sumwalt expressed concern about such a destructive engine failure but said he would not yet draw broad conclusions about the safety of CFM56 engines or the entire fleet of Boeing 737s, the most popular airliner ever built.
Federal investigators were still trying to determine how a window came out of the plane, killing the woman seated next to it who was wearing a seatbelt. No plastic material from the window was found inside the plane.
Family members have identified the woman as 43-year-old Jennifer Riordan, a banking executive and mother of two from Albuquerque, New Mexico. Passengers say Riordan was partially blown out of the window and Philadelphia's medical examiner said Wednesday that she was killed by blunt impact trauma to her head, neck and torso.
Investigators also said the plane landed at unusually high speed because the pilots feared losing control if they flew slower. Sumwalt said the plane touched down at about 190 mph, while a jet of that size would typically land at around 155 mph.
The leading edge of the left wing was damaged by shrapnel from the engine explosion.
It is unclear whether the FAA's original directive would have forced Southwest to quickly inspect the engine that blew up. CEO Gary Kelly said it had logged only 10,000 cycles since being overhauled.
Before Wednesday's announcement, critics accused the FAA of inaction in the face of a threat to safety.
Robert Clifford, a lawyer who is suing American Airlines over another engine explosion that caused a fire that destroyed the plane, said the FAA should have required the inspections — even if it meant grounding Boeing 737s.
''There is something going on with these engines,'' he said, ''and the statistical likelihood of additional failures exists.''
William Waldock, a safety expert at Embry-Riddle Aeronautical University, said he expects that this week's incident will push the FAA to require more detailed inspections of fan blades, but the details and pace will depend on whether investigators find fatigue in other fan blades on the broken engine.
''The first thing they probably are going to do is pull every single one of those other blades off and X-ray them to see if they've got a similar type of failure waiting to happen,'' he said.
The Southwest CEO protested that it is too soon to say whether Tuesday's incident is related to any other engine failures.
Kelly said Tuesday's plane had flown 40,000 cycles. A cycle is one takeoff and one landing. Boeing delivered the plane to Southwest in July 2000.
Kelly said the plane was inspected on Sunday and nothing appeared out of order. A spokeswoman said it was a visual inspection and oil service of the engines. The NTSB's Sumwalt said, however, that the kind of wear seen where the missing fan blade broke off would not have been visible just by looking at the engine.
There are several types of inspections that airline planes must go through, ranging from an ''A check,'' which is done about every eight to 10 weeks, to more-rigorous B, C and D checks.
So-called D checks are done roughly every six years for older planes, less frequently for newer ones. It can take weeks and involves taking apart much of the plane for inspection and possible repair or replacement of parts, then putting it back together. Engines are typically removed for work during a D check.
Southwest declined to provide the plane's maintenance records to The Associated Press, but a spokeswoman said that the failed engine had experienced no unscheduled maintenance in the last 60 days.
NTSB investigators plan to visit Southwest headquarters in Dallas next week to inspect maintenance records, Sumwalt said.
___
AP Airlines Writer David Koenig reported from Dallas.