New England Travel
Campers can sleep in a beehive cabin at this getaway, named the best outdoor stay in Mass.
You'll find it in Franklin County.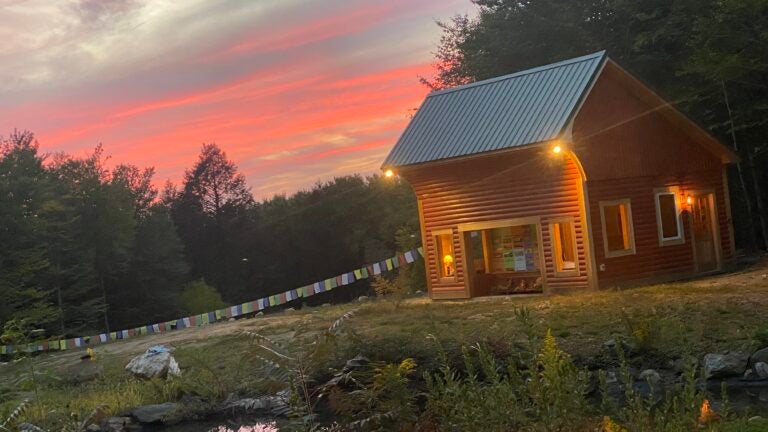 At Salamander Hollow Healing Habitat in Warwick, guests can sleep in a cabin with bees.
The Franklin County property was recently named the best Hipcamp in Massachusetts in 2023 and a runner-up for best cabin rental in the U.S. by Hipcamp, an Airbnb-like marketplace for outdoor stays that includes tent camping, glamping, cabins, treehouses, and more.
Salamander Hollow is billed as a private honeybee and human being sanctuary, situated on 17 acres of land abutting Massachusetts state forest. The Slovenian Beehive Cabin is one of four accommodations at the property. The others are a tipi with a wood-fired pizza oven, a tiny glamping cabin with an infrared sauna, and an island cabin in Tully Pond that debuts this week.
"It's really nice to see people enjoy something that you helped to create," said Mary Canning, who co-owns the property with husband Ingo Winzer.
The Massachusetts beekeeper bought the land in 1997. After running a shop called Follow the Honey in Harvard Square from 2011-2020 (which is still available online), she decided she'd love to share her land with others and created accommodations on the property before joining Hipcamp in 2021.
Canning said she studied beehive cabins during her travels to Slovenia and used them as inspiration for building the Slovenia Beehive Cabin. The cabin contains four active bee hives.
"People can actually sleep safely with honeybees," Canning said. "They're very meditative and calming. We've never had, in two years, one sting. Because the bees are on their own side. They have a metal mesh that seals them off."
Her property is special because it offers privacy as well as many opportunities for outdoor adventures, including swimming, fishing, hiking, climbing, and visiting local farms, Canning said. For example, guests can explore the New England National Scenic Trail (NET), hike nearby Mount Grace and Tully Mountain, swim, boat, and fish at Sheomet Pond and Richards Reservoir, shop organic produce at Chase Hill Farm, and more.
Canning said she loves being a part of the Hipcamp community.
"People are bringing a kind of respect and integrity to your property as guests," she said.
The tipi and cabins begin at $139 per night and are open year round, while the island shack is seasonal and begins at $75 per night.
The annual Hipcamp Awards celebrate the top-performing Hipcamp properties across the United States, Australia, Canada, and the United Kingdom.
The rest of the New England winners among the best hipcamps to visit in the Northeast in 2023 are Vernal Heights in Colebrook, Conn.; Four Acre Woods Campground in Deer Isle, Maine; Sacred Nectar Sanctuary in North Sandwich, N.H.; Glamp Frogmore in Coventry, R.I.; and Louella's Land in Westford, Vermont.
Need weekend plans?
The best things to do around the city, delivered to your inbox.