New England Travel
3 beautiful hikes at Massachusetts State Parks
Lace up and get ready to explore these hikes recommended by DCR.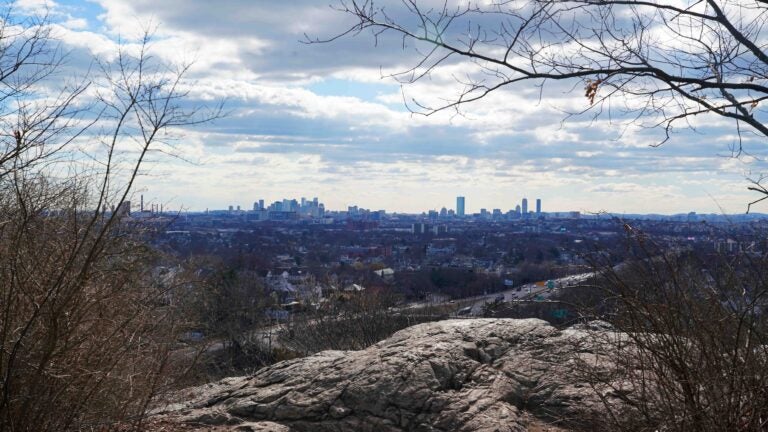 Hiking trails in Massachusetts State Parks are full of history, beauty, and wildlife, but with so many options, it can be hard to choose your next path.
We asked the Department of Conservation & Recreation (DCR) to recommend three great trails this season.
The Skyline Loop Trail in the Blue Hills Reservation in Milton is well worth traveling, according to DCR officials.
The 2.64-mile loop is "vigorous but beautiful," according to DCR, and gives hikers a taste of the longer, nine-mile Skyline Trail. The loop takes hikers over five hills, including Hancock Hill, which was once the farm of John Hancock of Declaration of Independence fame and the first independent governor of the Commonwealth of Massachusetts.
"Once you reach the summit of Great Blue Hill, be sure to go inside the observation tower, built by the Civilian Corp of Engineers during the Great Depression, and look out over Boston and the Harbor Islands," DCR advised.
Behind the tower, hikers will spy the oldest oldest continuously used weather station in North America, noted DCR.
When we asked Boston.com readers to share the trails they discovered and loved most during the pandemic, the Skyline Loop Trail was at the top of the list.
DCR recommends hikers bring sturdy footwear and plenty of water due to the elevation.
Cedar Swamp Trail in Douglas State Forest in Douglas
Hikers can enter "the mysterious world of an Atlantic white-cedar swamp" on this .5 mile hike, according to DCR officials.
As hikers walk, the environment changes from a typical New England mixed hardwood forest into a cedar swamp, explained DCR, as Atlantic white cedar and hemlock trees replace oak, maple, birch, beech, and ash.
"The thick growth of these evergreens allows little light to reach the forest floor," according to DCR. "Keep an eye out for the unique foliage native to the swamp like sphagnum or 'peat' moss, skunk cabbage and cinnamon ferns, as well as the wildlife that calls the swamp home."
The trail is fairly easy, but has a couple of steep and rocky sections and is narrow in places, DCR noted.
Robert Frost Trail in Mount Holyoke Range State Park in Amherst
Fans of Robert Frost can experience nature through the writer's eyes on this 4-mile hike that honors the iconic poet's Massachusetts connection.
Frost spent part of his life in Massachusetts, teaching English at nearby Amherst College.
"Take in the beauty beyond hiking to a peak; you don't need a scenic view to find beauty in nature," according to DCR. "Appreciate what is all around you, what you have here and now."
Hikers can look for a hidden pool and a fork in the road while exploring the interpretive trail, DCR noted, which is an easy to moderate hike.
Hikes recommended by readers
Blue Hills Reservation in Milton
"It has everything: A great trail along a river, miles of flat, wide trails, as well as miles of steep narrow trails. No matter your mood, you can find a section with trails to hike, from the popular, and crowded, Skyline Trail, to small trails that only those of us 'Trail Tracing' ever visit. Plus there are many interesting historical sites within the Blue Hills, from archeological dig sites, to old house sites to trails laid out by the native Americans." — Bob V. from Easton
Blue Hills Reservation Skyline Trail
"I love this hike. Although not very high, it has some great views from the summits. It's also surprisingly rugged, with some (easy) scrambling and lots of ups and downs — almost 4,000 feet of ascent if you do the whole trail out and back. Being so close to Boston, it's a great place to train if you are planning a mountain trip." — Charles J. of Concord
Borderland State Park in North Easton
"There are so many scenic hikes around the state, but for me Borderland is special because I grew up just a few miles down the street. We would visit pretty often, all four seasons: hiking and biking in the spring-summer-fall, then sledding, cross-country skiing, and ice-skating in the winter. I ran my first cross-country foot race there (age 10) and my last Hockomock League Championship race at age 17. It holds so many vivid memories and landscapes for me. It's where I first became cognizant of all the tree varieties of eastern Massachusetts. I even built a Lego replica of the Ames family mansion when I was in 7th grade. Some of my earliest map obsessions developed from studying the park and exploring every book and cranny. There's just something Secret Garden-y, otherworldly about Borderland. I've traveled, climbed, and mountain bikes in much more spectacular, exotic places in my lifetime, but Borderland always feels like home. That, and being able to pick up a fresh, hot, Greek-style pizza at Cousin's just a few miles down the road, makes for a best day ever." — Derek H. from Austin, Texas and native of Mansfield
Mount Greylock State Reservation in Lanesborough
"With the new construction of a visitor's center at the base of the mountain and trail improvements, hiking the tallest peak in Massachusetts has never been easier! Construction on mini cabins is expected in the near future!" — Fred from Adams
Mount Greylock via Hopper Trail in Williamstown
"Subdued surroundings, no hint of tourism, the State did not overdo the summit roads. It is back woods, surrounded by farmland. Clean air, little noise, and not crowded." — Edward T. from Worcester
Need weekend plans?
The best things to do around the city, delivered to your inbox.