New England Travel
5 things to do when visiting Scituate
Visit a lighthouse, hit the beach, eat fresh seafood, and more.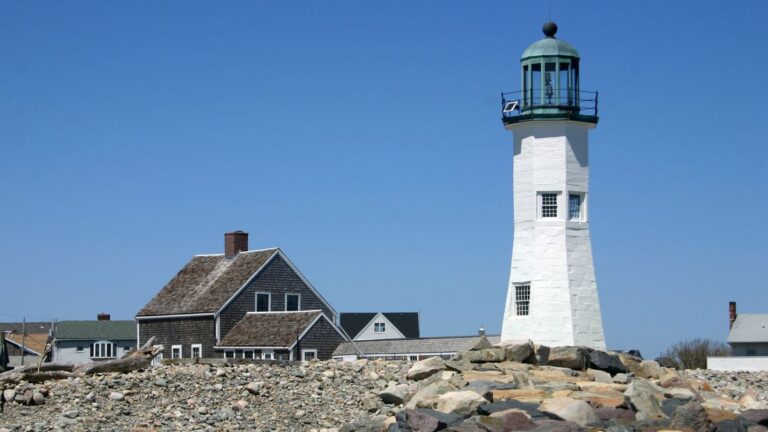 The quaint coastal town of Scituate, located halfway between Boston and Plymouth, is one of America's oldest towns and has been designated the most Irish town in America.
But what makes the South Shore town so special is its natural beauty, according to Patrice Maye, a resident for 19 years and the founding chair of the Scituate Harbor Cultural District.
"What is exciting about it is it's a waterfront community and all of the natural beauty that that entails," said Maye, the executive director of the South Shore Art Center in Cohasset. "Our waterfront is huge. We have a very long coast line within our town."
Scituate offers about 21 miles of coastline. And it doesn't get much prettier than picturesque Scituate Harbor, which is chockfull of things to do, Maye said. The working harbor offers food, entertainment, shopping, cultural activities, and more.
"There literally is something for everyone," she said.
Ahead, Maye shares her picks for what to see and do in Scituate.
The Scituate Harbor Cultural District extends along the harbor from Cole Parkway and Front Street at St. Mary's Church to the historic Scituate Lighthouse.
"We have a wealth of businesses within that walkable trail," Maye said.
Folks can shop, dine out, and enjoy bustling Scituate Harbor, she said. Visitors can shop for clothing, jewelry, and gifts and view the work of local artists at Front Street Art Gallery.
For entertainment, visitors can check out the Harbor Bandstand Series on Thursday nights between May and October and the monthly Scituate Harbor First Fridays event, in which harbor businesses stay open later and offer fun activities.
Cultural events are also planned annually, such the Scituate Harbor Art Walk, taking place this year on October 6.
"Artists are making art right on the street. Musicians are playing. I can't even tell you how exciting it is to just walk down the street and be immersed in art," said Maye.
The beautiful Scituate Lighthouse, also known as Old Scituate Light, draws plenty of visitors each year, Maye said. Established in 1811, it is the 11th oldest lighthouse in the nation.
"It is so iconic," Maye said. "There's just something that calls to you about that lighthouse. It's just visceral."
The history of the lighthouse is fascinating, she said.
"What's exciting about Scituate light is it actually played a significant role in the war of 1812," she said.
The lighthouse is currently undergoing a $2 million renovation, which includes restoration of the structure's 92-year-old lantern room on top. It should be completed this year, said Maye.
The lighthouse is typically open to the public during Scituate Historical Society's Open House dates, posted each year. The lightkeeper's house is a private residence, but the walkways are available daily.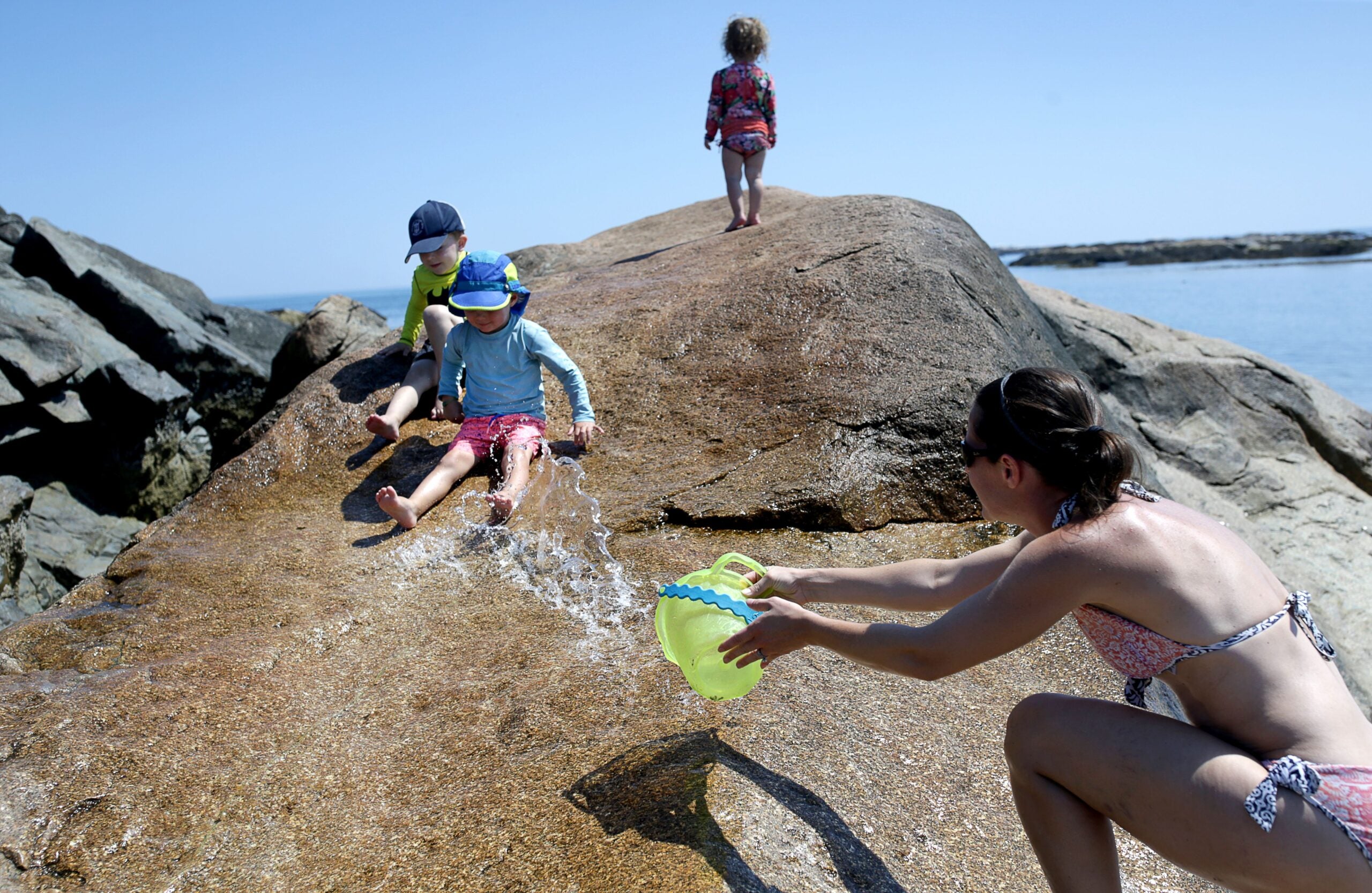 A popular summertime hangout in Scituate is the Spit, a barrier beach with an large salt marsh located at the mouth of the North and South rivers that is accessible by boat or by walking the trail and boardwalk from the Preble Property.
Before planning a trip to The Spit, it's worth noting that it's best to walk there at low tide or risk the trail being flooded, and there is no public parking at the boardwalk, according to the North and South Rivers Watershed Association. Folks take their boats or can rent kayaks and canoes from Bullman Marine to get there, Maye said.
Though getting there can be a challenge, it's well worth the trip, Maye said.
"It's stunning. It's a beautiful place," she said.
Scituate beaches include Egypt Beach, Humarock Beach, Minot Beach, Museum Beach, Peggotty Beach, and Sand Hills Beach. Folks can get non-resident beach stickers through the town, and it's best to get them early because they can sell out, Maye said.
"We have beautiful beaches," Maye said. "My favorite beach is Peggotty. It's a beautiful sandy beach. There's a lot of space."
Whether visitors are in the mood for fresh seafood, pizza, traditional Irish food, or food served with a spectacular harbor view, Scituate can deliver, Maye said.
"We have a wealth of restaurants, and I'm proud of that," she said.
Satuit Tavern and Mill Wharf Restaurant & Pub are good bets for seafood and more, and Salt Society serves "fantastic" sushi, she said. Maye's favorite place for pizza is Crust and the family-owned waterfront pub T.K.O. Malleys is great for grabbing a burger with a view, she said.
Folks can get their traditional Irish food fix at The Voyage Irish Pub & Restaurant, she said, billed as "the quintessential Irish Pub."
For dinner with a side of live music, visitors can go to the Galley Kitchen & Bar and Hibernian Tavern, she said.
"Our live music scene is pretty good," Maye said.
Finally, for date night, it's worth making a reservation at Oro, Maye said, where the daily catch is from local fishing boats and the produce is from small farms up and down the coast.
Scituate has sister cities in West Cork, Ireland, Sucy-en-Brie, France, and Santa Catarina do Fogo, Cape Verde and the town celebrates them all with annual activities, Maye said.
"We are trying to be more present and have more events that celebrate our sister partnerships," she said.
In July, the town celebrated its first Cape Verdean Independence Day celebration at the Scituate Harbor Community Building with music, food, and raffles.
Scituate also has a Sister City Film Festival in the winter and celebrates Bastille Day in the summer. During the town's annual Heritage Days celebration, the sister cities are recognized as well.
"We had all three flags flying: Irish, Cape Verdean, and French. It was pretty cool," she said.
Other ways to celebrate Irish culture in Scituate: explore the Maritime & Irish Mossing Museum, attend the annual St. Patrick's Day Parade and hit the South Shore Irish Heritage Trail, Maye said.
What readers recommend:
Food / beverages:
Dribbles — @jackwilcox02
Lucky Finn Cafe — @jessica_glutenfree
Mullaney's Fish Market — @jessica_glutenfree, @sal8mkr
Salt Society — @jessica_glutenfree
T.K.O Malley's — @pto0606
Vine Bar — @bosfoodgirls
Activities:
Beaches — @jessica_glutenfree
Need weekend plans?
The best things to do around the city, delivered to your inbox.