New England Travel
A South Shore pumpkin patch was voted the best in Massachusetts
You'll find it in Plympton.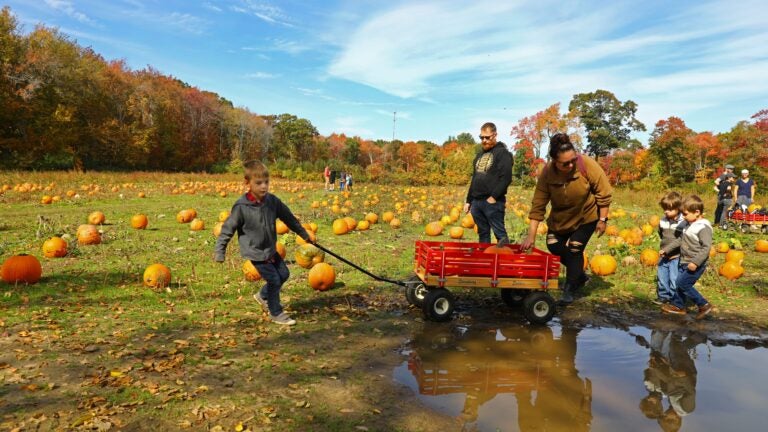 Pumpkins are a necessity for many fall activities, from baking a delicious pie to carving haunting jack-o-lanterns. According to a recent FamilyDestinationsGuide.com poll, the best pumpkin patch in Massachusetts can be found at Sauchuk's Corn Maze and Pumpkin Patch in Plympton.
Sauchuk's Corn Maze was the first large-scale corn maze in Eastern Massachusetts, being grown in 2007 by Scott Sauchuk, according to the maze's website. Today, the farm has expanded to include other fun activities, such as pick-your-own apples and pumpkins, goat petting, and family-friendly games.
"From the beginning, it was a success, attracting thousands of people, especially young families, to experience wide open expanses of farmland and enjoy healthy physical activities, pick-your-own pumpkins, and fun games," reads the Sauchuk's Corn Maze website.
The poll surveyed 3,000 families to find the best pumpkin patches in each state. The other top voted pumpkin patches in Massachusetts include Belkin Family Lookout Farm in Natick, and Connors Farm in Danvers.
---
We want to hear from you: Where is the best pumpkin patch in Massachusetts? Do you think it's one of FamilyDestinationsGuide.com's top three, or is it somewhere else? Fill out the form below or e-mail [email protected], and your response could appear in an upcoming Boston.com article.
Where is the best pumpkin patch in Massachusetts?
Newsletter Signup
Stay up to date on all the latest news from Boston.com