Parenting
6 family-friendly things to do before school vacation is over
Fill the remaining days with these events.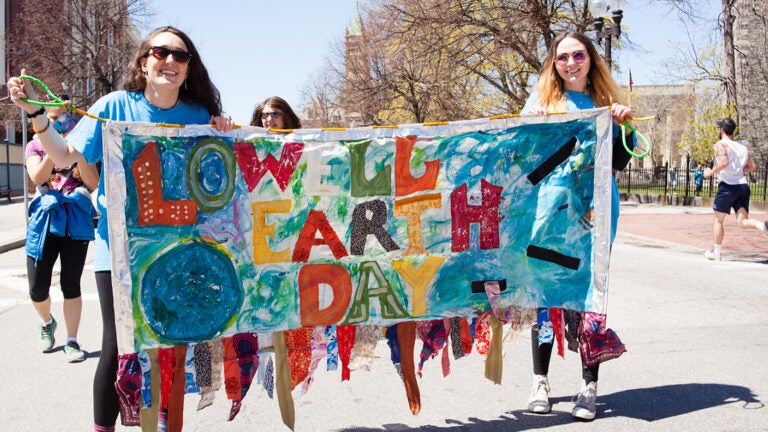 For an essential guide to the city, sign up for How to Boston, Boston.com's weekly culture and lifestyle newsletter.
April school vacation wraps up this weekend, so take advantage of the myriad ways to get kids out of the house and entertained before classes begin again on Monday.
It's your last chance to take your little scientists to the Cambridge Science Festival, which began April 13 and wraps up on Sunday. This year's festival, which has been chock-full of more than 200 events at 70 different venues in Cambridge and beyond, will offer plenty of events in its final days. Happening this weekend: Your family can play with magnets and coils of wire to discover how electricity is created at the Cambridge Public Library, learn the science of local food at the Boston Public Market, nab free admission to Harvard's Peabody Museum, and more. (Through April 22 at various times; various places; some events are free and others require admission fees; all ages)
Your kids will be able to jam out, play with puppets, and listen to stories in the children's area of this festival. They won't want to miss the hands-on activities area, either, where they'll be able to make crowns, create musical instruments out of household materials, and learn origami. The main festival will include concerts from folk singers and performers doing dances from the Middle East, Egypt, China, and other parts of the world. It's all happening at a three-day event that's expected to attract 3,500 guests and feature about 1,000 performers. Note that most of the programming for children will take place during daylight hours on Saturday and Sunday. (Friday, April 20 through Sunday, April 22 at various times; Mansfield High School and the adjacent Mansfield Middle School, Mansfield; $9-$85, free for kids 8 and under; all ages)
Go exploring with your kids, and save money while doing it. In celebration of National Park Week, all national parks will waive their fees on Saturday, one of just four days in 2018 when all national parks cost $0 to enter. (The first day took place on Jan. 15, and the other remaining free days are Sept. 22 and Nov. 11). There are more than 400 national parks in the United States, and many of them are free every day, but 118 of them normally charge to enter, according to the National Park Service. National parks across New England that will waive fees include Adams National Historical Park and Cape Cod National Seashore in Massachusetts, Saint-Gaudens National Historic Site in New Hampshire, and Acadia National Park in Maine. (Saturday, April 21 at various times; various places; all ages; free)
View thousands of daffodils during a family outing to the Tower Hill Botanic Garden's annual Daffodil Day on Saturday. The floral fun will begin at 10 a.m. with face painting, a daffodil sing-a-long, and a story walk. Families can watch a Daffodil Parade at 12:30 p.m. and after that take part in art-making with community artist Laura Evonne Steinman, daffodil dye demonstrations, and a walk. Tower Hill is encouraging kids of all ages to dress as daffodils. (Saturday, April 21 from 10 a.m. to 4 p.m.; Tower Hill Botanic Garden, Boylston; $15 for adults, $5 for kids ages 6-18, free for kids age 5 and under; all ages)
Earth Day is Sunday, April 22. Celebrate with your kids — and Dr. Seuss's The Lorax — on Saturday at the Franklin Park Zoo. Children will also have the chance to discuss birds, tigers, and farm animals with zookeepers, and ways to keep our planet healthy with people from organizations like the Arnold Arboretum, Massachusetts Horticultural Society, and the Emerald Necklace Conservancy. Families can save 15 percent off of ticket prices by buying online. (Saturday, April 21 from 10 a.m. to 3 p.m.; Franklin Park Zoo, Boston; $19.95 for adults, $13.95 for kids ages 2-12, free for kids under age 2; all ages)
Another Earth Day celebration option is the Lowell Earth Day Parade and Festival in downtown Lowell on Sunday. The parade — full of bands, puppets, and costumed characters — will begin at 12:30 p.m. at the Lowell National Historical Park Visitor Center and finish at the United Teen Equity Center (UTEC). The destination: a festival with food, music, face painting, crafts, and scavenger hunts, and the exhibits of about 50 local and state organizations, said Tyler Arrigo, program coordinator for sustainability at UMass Lowell and one of the event's planners. (Sunday, April 22 from 12:30 p.m. to 4 p.m.; United Teen Equity Center (UTEC), Lowell; free; all ages)