Real Estate
Nantucket will vote on short-term rental restrictions. The island is divided over the issue.
The vote takes place on May 6.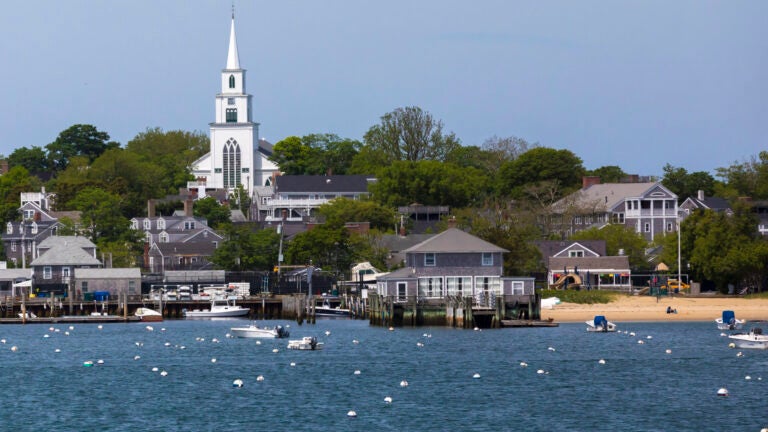 Nantucket residents are divided over whether short-term rentals should be restricted at the popular vacation destination.
Warrant Article 60, which would restrict short-term rentals in residential zones of Nantucket, will go to vote at the island's annual town meeting on May 6.
Nantucket, located about 30 miles off the coast of Cape Cod, is known for its beautiful beaches, cobblestone streets, and quaint cottages. It was named among the top five islands in the U.S. by Condé Nast Traveler and among the most magical island getaways in the U.S. by Country Living.
Here's what to know about the short-term rental debate on the island.
The island's housing problem
Reasonably priced housing on Nantucket, whether for sale or rent, has been difficult to find for years and became even more difficult during the pandemic, according to The Boston Globe.
Nantucket's sky-high real estate prices have pushed out longtime residents and made it hard for business owners to acquire staff.
"We're in the most extreme situation, I would think, in the Commonwealth," said Tucker Holland, Nantucket's municipal housing director. "The average listing price on a home today is $6.2 million. You have to be earning $591,000 a year to afford the median home on Nantucket. I mean that is just an untenable situation."
Short-term rentals on Nantucket provide approximately 80 to 85 percent of the lodging nights on the island, Holland said.
"There's no question that if your objective is financial return, that you can generate more short-term renting a property here than what you could generate renting it on a year-round basis," he said.
A short-term rental workgroup has been formed to study the situation and make a recommendation during a special town meeting in the fall, Holland said.
Town leaders have recommended that voters take no action on Article 60 in May and wait for the results of the workgroup, he said.
What is Article 60?
Article 60, sponsored by Emmy Kilvert, a lifelong Nantucket resident, would amend the zoning bylaw to prohibit short-term rentals in residential zones of Nantucket, except in the following two instances:
"In residential districts, Short-Term Rentals are permitted on Owner Occupied properties. For purposes of this section 139 only, the duration of Owner Occupied shall be at least six months in each calendar year.

For non-Owner Occupied properties in residential districts, a Short-Term Rental shall be considered a permitted accessory use provided (1) the primary dwelling and secondary dwelling, if applicable, are each used for long-term residential use more than short-term rental use; and (2) the Short-Term Rental is registered with the Town in accordance with General Bylaw § 123."

— Article 60
The article would prohibit strictly commercial short-term rental businesses in the island's residential districts, according to Kilvert. Homeowners would still be able to rent their year-round and seasonal properties, Kilvert noted in the Nantucket Current, as long as they use them as a residence more often than as a short-term rental.
What supporters say
Several island residents have expressed their views in the Nantucket Current over the past few months.
Passing Article 60 is "one of the most important and urgent decisions the island can make to protect itself and its future," Kilvert wrote in the Nantucket Current, because investors outside of Nantucket are turning the island into "an overcrowded, island-wide tourist zone with too many unregulated [short-term rentals] in our neighborhoods."
Kilvert was required to get the signatures of at least 10 registered voters for the citizen warrant article.
"Since the large majority of residents agree we should protect the tradition of renting our homes to visitors in some way, we can begin with a very simple and straightforward step of amending our zoning bylaw to clarify that [short-term rentals] are allowed in residential neighborhoods as long as the short-term rental use is secondary — or in zoning language, 'accessory' — to the primary residential use of the property," Kilvert wrote.
Resident Eric Silfin called Article 60 "a straightforward solution" in his letter to the editor of the Nantucket Current.
"We do not want our neighborhoods to become benefit centers for for-profit commercial interests," he wrote. "The short-term rental industry has become big business. And Nantucket is a prime target for increasing commercial investment in residential areas to run mini hotels. If we do nothing, we leave homeowners and neighborhoods unprotected and commercial interests unrestricted."
"Article 60 is not perfect, but it is good and it is now," wrote resident Peter Hoey, in his letter to the editor of the Nantucket Current.
"It's critical to our community that we tap the brakes on short-term rentals to protect local housing and island neighborhoods," wrote resident Georgia Raysman in her letter to the editor of the Nantucket Current.
What opponents say
Resident Chris Bevis said Article 60, though well-intentioned, "would eliminate the vast majority of family-owned second homes that are also used as seasonal rentals, wreak havoc on the island's economy and create an enforcement nightmare for the town" in his letter to the editor of the Nantucket Current.
Resident Robert Vidoni, in another letter to the editor of the Nantucket Current, said residents worry that they will lose their property rights and live in fear of lawsuits, and that tourism-dependent island businesses will suffer. He said Article 60 won't work for residents who, for example, own property bought as income for retirement, want to keep an ancestral home in the family using the rental income for its upkeep, or cannot live in a non-winterized cottage.
Vrbo, an online marketplace for vacation rentals, called Article 60 "short-sighted" in a statement on social media and said it would have "a devastating effect" on the island's short-term rental community and tourism economy.
"Article 60 would immediately stop many part-time resident homeowners from operating short-term rentals," Vrbo wrote. "The part-time resident homeowner would have to use the home themselves and/or do long-term rentals for more days each year than they host short-term rentals."
An anonymous homeowner took to the Facebook page Nantucket Together, a coalition of Nantucket taxpayers, to detail how Article 60 could result in losing a family cottage of 58 years.
"Obviously a six-month owner-occupied requirement would be absurd and incredibly unfair for us, as our cottage is only suitable for occupancy approximately five months a year. Over the years we have rented to long-time (and very responsible) tenants to allow us to afford to keep our family home," the homeowner wrote. "… Our beach cottage is located in a prime water-view location. If Article 60 passes, and we are forced to sell our cottage, a wealthy new owner will undoubtedly tear it down and build something much larger."
Resident Mary Mack, in her letter to the editor of the Nantucket Current, wrote the following to Kilvert: "We all love this island. We all wish it were not so crowded in the summer but isn't it really just about wanting to return to the civility and kindness that existed between the year round and seasonal population? I do see that your article would eliminate any increase in investor-only [short-term rental] operators but how many traditional vacation rental options do we trounce in the meantime?"
Not a new debate
The debate over short-term rentals on Nantucket isn't new.
Last year, residents voted for the regulation and registration of short-term rentals, but two other proposals were tabled and sent to a workgroup for further study: One would have permitted short-term rentals by right in all residential districts, and the other would have allowed short-term rentals for year-round residents and required a special permit by non-residents and second homeowners.
In 2021, Nantucket residents voted down a short-term proposal that would have banned property owners who don't live on the island year-round from leasing homes to tourists for more than 45 nights a year, or for less than a week at a time.
Island businesses were against the proposal, reported The Boston Globe, because they feared it would make it harder for tourists to find lodging and Nantucket's economy relies on tourists.
Need weekend plans?
The best things to do around the city, delivered to your inbox.