Restaurants
Olivia Culpo says 'everybody should come' to her family's new comfort food restaurant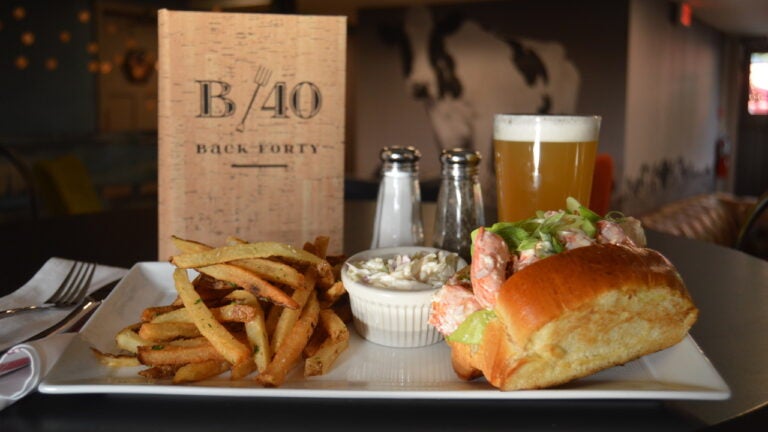 Olivia Culpo may travel the world as a model and brand ambassador, but for her newest venture, she's all about family, food, and home. And you're invited.
The Miss Universe winner has teamed up with her restaurant-savvy family to bring Back 40, a relaxed venue focused on comfort food with the occasional twist, to their home state of Rhode Island.
"It's hometown, country-style, all-American cuisine," Culpo, a former Boston University student, told Boston.com. "It's going to be big and welcoming."
Located in North Kingstown, south of Providence and near to Cranston, where Culpo grew up, Back 40 opened Tuesday. It's named after the untamed acreage behind a farm.
Culpo and her father, restaurateur Peter Culpo, are silent financiers, while her cousin Joshua Culpo and Justin Dalton-Ameen (no relation to Culpo) will be running the day-to-day operations.
The family has long been involved in the restaurant industry. Peter Culpo has stakes in several restaurants in the Boston area, including both of Parish Cafe's Boston locations and the Hill Tavern in Beacon Hill. He also owns Lulu's, a gastropub in Allston, along with managing partners Joshua Culpo and Dalton-Ameen, and a fourth partner.
"I love working closely with my family," said Joshua Culpo in a statement. "Olivia saw the success we had with Lulu's and we have been throwing the idea of opening another restaurant in our home [state]."
The fact that Back 40 is in Rhode Island is what makes the enterprise so special to the Culpos, and family collaboration will definitely continue with Back 40, Culpo said.
"I loved growing up in restaurants, I loved growing up in hospitality," she said. "My brothers and sisters and cousins are all going to work at the restaurant."
The exterior of the sprawling 3,800 square foot venue is designed to look like a renovated barn, with red paneling and big black barn doors. Inside, there's a wraparound bar with 25 beers on tap, plus a private dining area. There's enough seating to accommodate 125 people, plus 40 more on the outdoor patio, Culpo wrote on Instagram.
The menu includes much of what Culpo grew up eating with her family, including homemade pasta and flatbreads. She's especially excited for the branzino, a whole bone-in fish with chimichurri and bib lettuce (market price); chicken pot-pie fries, which are "a fry version of a chicken pot pie" with garlic aioli ($8); and the lobster roll, starring Maine lobster knuckles with citrus aioli on a split bun ($18), because she's an East Coast gal with the corresponding passion for seafood.
Other menu highlights include blistered shishito peppers with lime and sea salt ($8), crispy hot dogs with pork Bolognese and marinated tomatoes ($12), burrata with grilled peach ($12), and fried chicken with whipped potatoes and honey butter ($16).
"We have created a menu that not only incorporates the great drafts we have but also compliments them," said executive chef Kim Scarano in the statement.
The Johnson & Wales culinary graduate previously worked at the Kingbird restaurant in the Watergate Hotel in Washington, D.C.
Culpo hopes to stop in on a regular basis — somewhere in between appearing in films and strutting it at fashion shoots and posting adorable Instagram selfies with her beau, New England Patriots wide receiver Danny Amendola.
"It's going to be hopping!" Culpo said. "Everybody should come."
Back 40 is open seven days a week for lunch and dinner.
20 S. County Trail, North Kingstown, Rhode Island; back40ri.com