Restaurants
A team of New Englanders is opening a Maine seafood shack — in Denver
Maine Shack will serve lobster rolls and more with lobster shipped from Maine.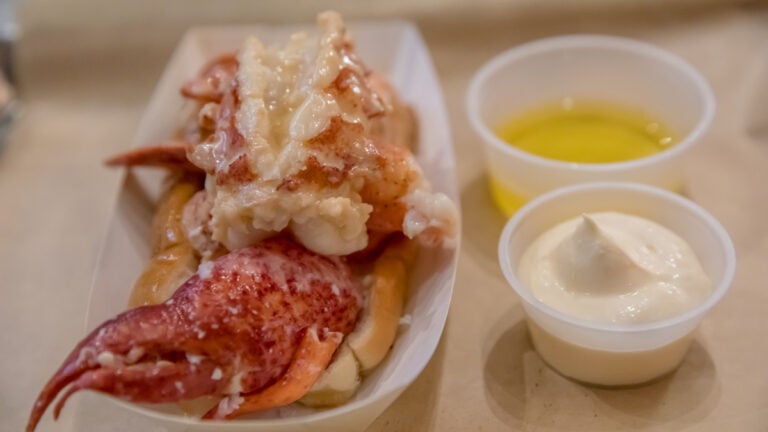 Maine native Drew Ryan moved to Colorado in 2006, and he has sorely missed the fresh seafood of home ever since.
So he's bringing the lobster that Maine is so famous for to landlocked Colorado by opening a fast-casual restaurant called Maine Shack.
"I love Maine. I love Maine cuisine," said Ryan, 45, who grew up in the Augusta area. "That's why I wanted to start this business."
The restaurant, slated to open in early September, will offer five different types of lobster rolls. That includes the big guy, the "Lobsterado."
"This roll, you have to eat with a fork before you can actually get into the sandwich," he said. "It's huge."
The "Lobsterado" will include a quarter pound of claw and knuckle meat with a butter-poached tail on top, inside a New England-style, split-top, buttered bun with a side of butter and mayonnaise. It will sell for $34. The smallest lobster roll on the menu will cost $12.
(Of the pricing, Ryan said his restaurant's will be "a little more expensive than most prices in Maine, but if you want to compare pricing to places in downtown Boston, we're right in line.")
Opening the restaurant is a dream that's been four years in the making for Ryan, a music producer with a fine arts degree. But Ryan is no stranger to the restaurant industry. He grew up helping out at his dad's food distributorship by driving a delivery van full of ingredients to restaurants and clam shacks along the coast. Now Ryan is trading in music to enter the restaurant business full-time.
"I came up with the business plan back in 2014," Ryan said. "I started going back to Maine and talking to sources — lobstermen, different companies there — about how I can get the product out here."
Then he partnered with Max Mackissock, Juan Padro, and Katie O'Shea of Denver's Culinary Creative Group — the team behind the Denver restaurants Señor Bear and Bar Dough — and John Caprio, the general manager of Colorado's Fiddler's Green Amphitheater. Ryan isn't the only New Englander on the team: Caprio hails from Revere, Mackissock is from New Hampshire, Padro is from Charlton, and the restaurant's chef, Craig Dixon, is from Saugus. O'Shea is a Harvard University graduate from Virginia who lived in Boston for eight years and the Worcester area for five years. She met Padro in a beer line at Fenway Park.
"It's really a New England crew," Ryan said.
So how does a restaurant in a landlocked Mountain State get fresh seafood? Ryan said that the restaurant's lobsters will come from Stonington, Maine, on Deer Isle, and arrive in Colorado by plane within two days of being caught. He assured that "the lobster is so fresh, you can taste the seawater."
Other lobster items on the menu will include lobster pot pie, lobster mac and cheese, lobster BLTs, and lobster grilled cheese. There will also be haddock, scallops, and clams, all from Maine — or nearby.
"The clams are coming from Maine and, if we can't get them from Maine, we'll get them from Ipswich," Ryan said.
For those who prefer food from dry land, Maine Shack will also serve New England-style roast beef sandwiches and whoopie pies, Maine's official state treat, for dessert.
Judging from the turnout at the two pop-ups the team has hosted at Italian restaurant Bar Dough this summer, there's a hunger in Denver for Maine food, Ryan said. At the first pop-up in June, a two-hour lunch service, he said the team ran out of 40 to 50 pounds of fresh Maine lobster meat in a little over an hour.
"We had a line down the block a half hour before we opened," he said. "It was crazy. And then the clams went shortly after that."
During the second pop-up, which took place earlier this month over a period of two days, the team went through 200 pounds of lobster meat.
"There's no one really doing exactly what we're doing," Ryan said. "You can't find a whole belly clam out here. You can't find steamers out here. The lobster rolls have too much mayo, too much celery."
The 1,300 square-foot restaurant will seat 50-60 people and include an outdoor patio, as well.
Ryan traveled home in February to scour Maine for items with which to decorate the restaurant, filling a U-Haul truck with lobster traps, netting, barn wood, buoys, and a 6-foot-tall lighthouse he plucked from Maine antique and pawn shops and marine salvage yards. The red wooden lobster-adorned paper towel holders that will sit on each of the restaurant's tables were made by prisoners at Maine State Prison, he said. Customers will be greeted with a blown-up photo of Portland Head Light when they enter the restaurant — it was snapped from Ryan's buddy's lobster boat.
"I want the feeling to be like you're stepping into Maine," he said.