Restaurants
A famously remote Maine restaurant asked for reservation requests by mail. Here are some of the 20,000 postcards it received.
"We had some that had us break down and cry, or break down and laugh."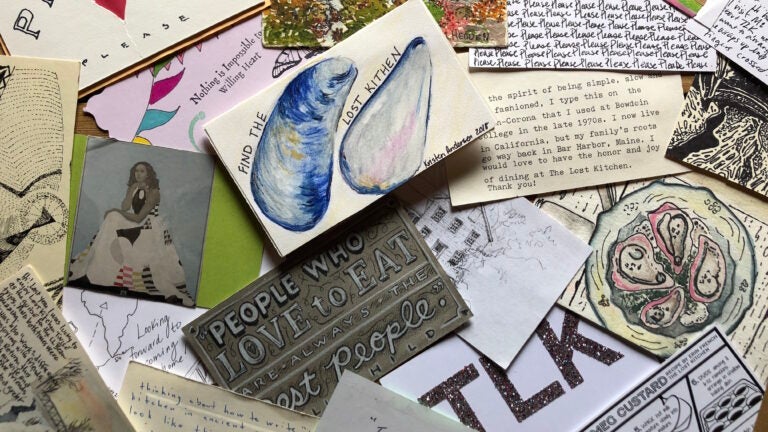 When The Lost Kitchen, a 45-seat restaurant in the small town of Freedom, Maine, opened its phone line for reservations last April, it received around 10,000 calls in 24 hours. Owner Erin French knew that the process, which kept members of her staff up for 30 hours straight trying to clear out the restaurant's voicemail, was unsustainable.
So this year, The Lost Kitchen only took reservations by mail.  
"It was kind of more of a survival decision than anything else," French said. "My gut just told me this is the best way, and the most authentic way that we can handle the traffic."
The instructions were simple: On a 3-by-5-inch note card postmarked between March 31 and April 10, include your name, address, phone number, and email address. A message was optional. Then, The Lost Kitchen would choose potential customers' cards at random in order to book reservations.
Accustomed to frustrated patrons who aren't able to nab a heavily sought-after seat, French anticipated that people would forego trying when they heard of her new process.
"I thought that it would be less this year," she said. "Maybe six or eight thousand."
Instead, she received just under 20,000 cards, double the number of requests received in 2017. The mail poured in from across Maine, every state in the U.S., and 21 countries.
The cards themselves were as diverse as the people who sent them. Some people followed the directions carefully, sending in a blank card with only contact information. Others used every nook and cranny of the 3-by-5 space.
"We had some that had us break down and cry, or break down and laugh," French said. "There are hilarious ones, and sad ones, and then artwork. Like beautiful paintings, or collages, or little comic strips, or poems."
She recalled stories of double-lung transplants, cancer, and a woman who moved to Maine following the death of her husband.
"She bought the [Lost Kitchen] cookbook to rediscover her joy and love for anything," she said. "Maine was going to be this fresh start for her."
It took French and her team three weeks to sift through the mail and pick the lucky cards at random. Drawing the cards wasn't limited to staff — anyone was allowed to get in on the action, from the UPS man to French's daughter.
"There were a few days where some hot pink and glitter ones got chosen because there was a 9-year-old girl here helping us," French laughed. "She kind of couldn't help herself."
The restaurant's staff organized the chosen cards by evening so they can learn about who will arrive each night.
"We get to connect and be like, 'We've got two parties coming in from Texas.' And then, 'Oh my God, there's someone coming in from Hawaii tonight,'" French said. "If there are stories on the back of them, you have an idea of who these people are before they even come in the door."  
All of the note cards, even the ones that weren't chosen, are still at the restaurant.
"We're figuring out what to do with them," French said. "Some of them are pretty powerful."
The Lost Kitchen; 22 Mill St., Freedom, Maine; findthelostkitchen.com