Ski blogger Sam Lozier is spending a chunk of this winter in Kashmir, India at Gulmarg.
As I wrote about earlier, the snow in Gulmarg hasn't been the best recently. In an effort to make lemonade out of a bad situation – and for a change of scenery – Allen and I decided to head down to Srinigar for a night. Our two-day trip turned out to be the most memorable part of our time in India so far.
Our adventure began at our home in India, the Green Heights Hotel. Flipping through our Lonely Planet Guide, we managed to come up with a few significant things we'd like to see and do in Srinigar. Not being the wealthiest of ski bums, we decided to save a little money by taking the bus. Two of the Kiwi girls staying upstairs liked our (lack of a) plan and decided to tag along.
The group assembled, and we left the hotel at 11 a.m. En route, we were passed by a taxi full of workers from the GreenHeights who encouraged us to jump in. "Whatever," we thought; the roads are bad, might as well ride in the cab to Tangmarg, the end of the mountain road. Not five minutes into our journey we came across a flipped over bus at a hairpin turn. Shocked, and with our jaws on the floor as we drove past, we did not regret our choice of transportation.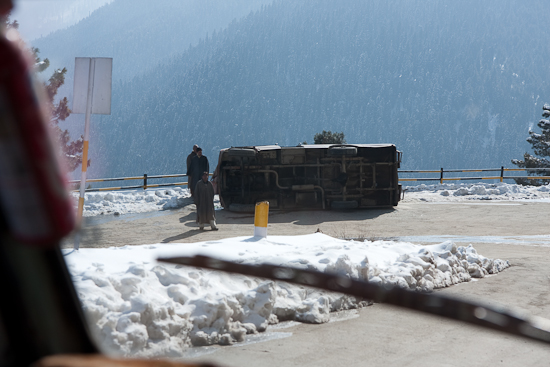 Tangmarg was busy when we arrived, as it was some kind of market day and there were women (a rare sight in Gulmarg) shopping everywhere. We picked up a few macaroons and a loaf of bread from the Snow Bakery, and set off to look for a bus to Srinigar. Eighteen rupees and 20 minutes later, I was on the most flamboyant bus I've ever seen, put-putting toward the city as Kashmiris deftly jumped on and off the moving vehicle at their respective stops. It quickly became very apparent that Westerners rarely take the bus into town, and the children especially regarded us with long googly-eyed stares.
Within a few minutes of the beginning of the ride, the standard inquest began: "From where is your home?" "Are you not married, where is your wife?"
Then it got a little unusual; "Why do you go to Srinigar?" "Have you heard about the unrest?"
"What?"" …. "No, what's going on in Srinigar?"
But we never got an answer beyond "it's no big deal, you'll be fine," accompanied by the typical Indian head wiggle.
I figured it'd be prudent to get a newspaper in order to get a handle on what was going on. At one of the few actual bus stops (not rolls), we bought one Low and behold, the entire above the fold of the Kashmiri times read:
"Kashmir seething with anger over boy's killing: Defiant demonstrations across valley clash with police, CRPF. Over 100 injured, four serious in hospital." The headline was accompanied by two photos of riot police battling a mob with sticks and rocks.
Suddenly, our lack of planning felt pretty naïve and reckless. Even now though, when faced with direct questions, our fellow bus riders still assured us that everything would be fine, that the protesters had no quarrel with Westerners, their issue was with India. Reassured, and unwilling to turn around, we continued to enjoy the eye-popping ride to Srinagar.
As Allen and I took in the scenery and dodged questions about our marital status, the two Kiwi girls we were with made fast friends with a nicely-dressed female student who promised to look after us when we arrived. Where we finally got off the bus, it was quite clear we were not in a nice or touristy part of town, and we were quite glad to have the company of the young lady at that point.
A phone call got us in contact with Yusef, a houseboat owner, who promised to speed right over and collect us. True to his word, in less than ten minutes an autorickshaw screeched to a halt in front of the fire station we were waiting at. A rather large man jumped out, hurried the girls into the one he arrived in and flagged down another. An autorickshaw is a tiny, enclosed, three-wheeled vehicle with a two-stroke engine and motorcycle handlebars for controls. Somehow we managed to fit Yusef, Allen, and myself across the back of the second rickshaw. With the driver (also not small) there had to be at least 700 pounds in the car. Yet, after replacing the door that had fallen off as Yusef got in, we still managed to speed off into Srinigar traffic towards DalLake and Yusef's houseboat at a white knuckle pace.
After a day spent traveling and worrying about riots, we were all struck by how immediately relaxing the glassy water of DalLake was. As we sat and sipped tea on Yusef's ornately carved porch, surrounded on all sides by snow covered Himalayan foothills, and the slow pace of the lake, it was easy to see that life had not changed significantly on the water in the last 100 years. As evening started to set in, we all got into a shikara and set off for a paddle around the lake. We sipped even more tea as we slipped quietly by the lake dwellers lives as they gardened, shopped, cooked, and played cricket on small patches of reclaimed and floating land.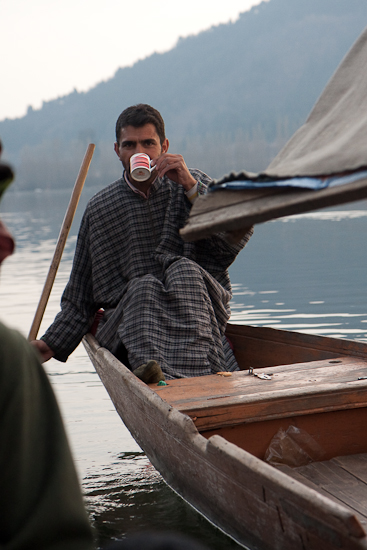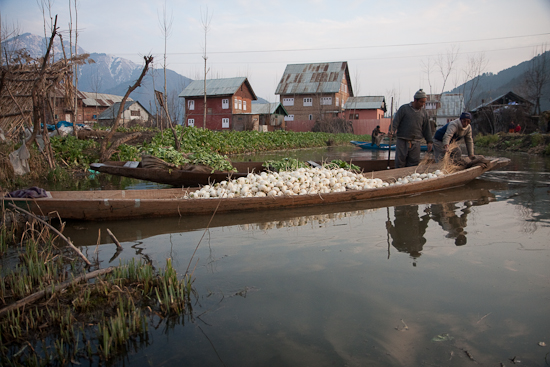 Dusk joined us as we reached a non-descript wood-carving shop that Yusef insisted we see. Steeling myself for the hard sell, I prepared my best jaded attitude for the shop, but was immediately overwhelmed by what lay inside. In this floating workshop, near the back of a decrepit houseboat neighborhood, sat some of the most amazing wood carvings I've ever seen. Captivated, we spent an hour examining the hundreds of years of work that had gone into creating the shop's inventory.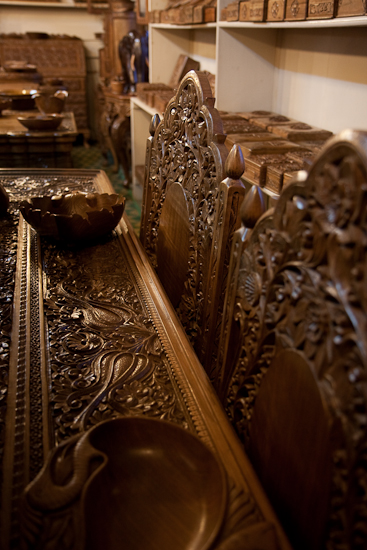 A short paddle returned us to Yusef's houseboat and a delicious home-cooked chicken curry. Dinner was followed by a game of cards and a long conversation with Yusef about Kashmiri politics as he smoked hash – joint after hash joint- and slowly melted into the couch. As the evening wound down I made my way to my ornately carved bed where I was embraced by a massive pile of blankets and the best sleep I've had in a very long time.