Travel
Luang Prabang lights up the senses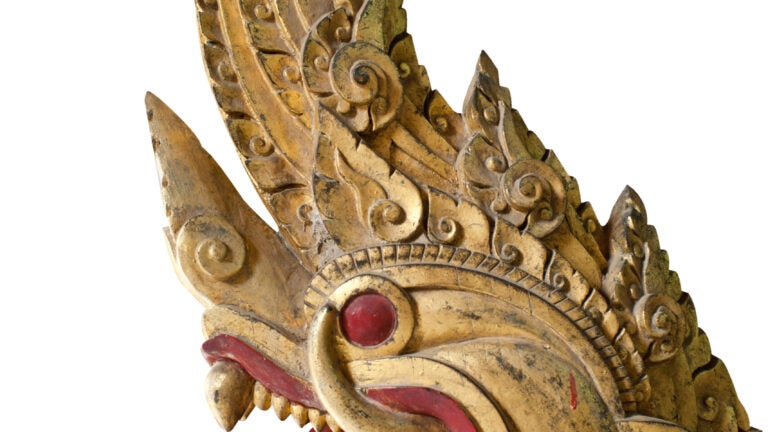 LUANG PRABANG, Laos — The monks and novices appear a block away under a streetlight, arranged by age and, roughly, by height. In the early light, their orange robes glow near-fluorescent. The only sound is the padding of their bare feet.
I sit across from a pair of women, sashes over their left shoulders, one pregnant, the other elderly, seated on mats on the sidewalk. The monks chant together, then file in front of the women, each receiving handfuls of sticky rice in their begging bowls as part of a charitable act that is said to feed the spirits of their ancestors and build merit in a future life.
For a sleepy little town, Luang Prabang can light up your senses in a heartbeat.
Here, scooters, cars, and tuk-tuks — the three-wheeled motorized vehicles used as taxis — putter through town as if the speed limit were 20 miles an hour. Life moves slowly, and there's an openness of emotion, from the nervous tug at the hem of a woman who is seeing her family off at the airport as we arrive, to the smiling children we meet one afternoon who, instead of making peace signs or goofy faces when they pose for a picture, put thumb to thumb and fingers to fingers, making a heart with their hands. If this town were a person, it wouldn't have a mean bone it its body.
Unsurprisingly, those who make the town into a destination instead of a waypoint find that its quiet rubs off on them. Many who come to see the monks and the temples end up staying longer than expected, just to soak up the calm. You need more time if you want to begin understanding the complexities of this town of 50,000.
On our first day here, my wife, Elisabeth, and I walk down the main road, passing temple after temple, their great roofs sweeping skyward, capped with dragons, while inside, a great, golden Buddha invariably dominates the room. Just standing there is intensely comforting yet I get the distinct impression that I'm just skimming the surface.
The next morning, I backtrack a bit and meet Toubee Phommavanh, a former novice monk turned tour guide, who explains what we see at Wat Xieng Thong, the most-visited temple in town.
Phommavanh points out the dorms, a simple kitchen, the drum tower with its intricate stencil designs and the main worship hall, or sim, with its wide-sweeping roof that he says looks "like a hen protecting chicks under its wing.''
He explains the ornate facade of the carriage house, built in 1959 as a place for people to pay their respects to King Sisavang Vong
(1885-1959), where golden Hindu gods and demons decorate its door.
"Wait,'' I interrupt, "is it Buddhist or Hindu?''
"It's both,'' he says, explaining that historically, the area is Hindu and animist, with Buddhism arriving in the 14th century.
"Hinduism and animism are the worship of gods and spirits. Buddhism is teaching people to be good. Buddha came from a Hindu prince who had been reincarnated many times,'' he says. To the outsider, it might sound like finding the Star of David in a Roman Catholic church, but "here, the religions can dovetail. We follow our ancestors. We can believe both.''
These temples, combined with the French Colonial architecture that dots Luang Prabang, earned the town UNESCO World Heritage status in 1995, but that designation brings up a thorny issue. Tourism brought changes to the town and tourists, poking their cameras into a line of monks during the morning alms, can make the leap from the sacred to the profane with the click of a shutter. Has life here been improved by becoming a UNESCO town?
"Nobody has the same answer,'' says Francis Engelmann, a cultural specialist from France who has lived in Laos for 16 years and previously worked as a city planner and UNESCO adviser. "This town lives on tourism. It provides all the wealth, income, jobs, and opportunity here.
"Some say that UNESCO status turned the town into a cultural Disneyland, a place that's lost its soul. But before UNESCO status happened, there were no jobs and no children. It saved the town from disaster,'' he says, yet nearly every point in his argument has a counterpoint.
We're visiting during the dry season and poor farmers, desperate for arable land, use illegal but tolerated slash and burn tactics. Some days, the burning of the hillsides is so heavy that ash falls like black snow. The red light of dawn remains with us all day because the sun is obscured by smoke, something that would be even more prevalent without tourism's boost.
Engelmann points out that UNESCO status caused tour companies to swarm in, bringing guesthouses, luxury hotels, and dorm-style backpacker hostels. In 2009, the high-end Aman Resorts chain opened the Amantaka, with rooms starting at $700 per night.
Yet it's in restaurants where I see a return to authenticity and in the town's main market where I get the feeling that it never left.
Restaurants serve dishes festooned by tangles of vegetables that taste like they have been ripped right out of the jungle. At Tamarind, we try barbecued cured pork cooked over the flames with lemongrass stalks, and a dish of deep-flavored greens, the least exotic of which is mint. At Coconut Garden, a salad arrives dense with peanuts, herbs, bits of dried red pepper, and banana leaves. It is intensely tasty, stressing texture and an appealing bitterness — two addictive keys to understanding local taste.
The next morning, I take a short tuk-tuk ride outside of the town center to Phousi market and find that whole jungle on display. Every recognizable food item is matched by something that I have never seen before.
"Those,'' says a local chef, pointing toward cabbage and broccoli, "are for the hotels with Western clients.''
"And what's this?'' I ask, holding up a thicket of leafy greens.
"That?'' he replies, "That has no name.''
Later that night, I take a lazy bike ride through town, following the Mekong River and the bumpy back streets, and hear the chanting when I stop to adjust my seat. I follow the sound to the dilapidated Wat Pak Khan, walk up to a side door, then take a seat on the floor in the back corner. Here, every evening in the dying light, monks come in for vespers, praying under their golden Buddha.
It feels like everyone else in town is heading for coffee or getting ready for dinner. At the temple, there is no tourism, no UNESCO, just the privilege of observing an intimate ritual. I'm not taking photos anymore. It is just me and the monks. I realize that more than almost any other town I have been in, one of Luang Prabang's greatest rewards is pulling me into its flow.
On my last morning in town, I rise early to watch the morning alms procession and sit on the quiet side street, across from the two women I saw on my first day in town. Soon, I notice the eldest pulling at the string that attaches the top and bottom of her rice basket and a moment later, she turns the top into a bowl, fills it with half of her rice, and offers it to me. By the time I have crossed the street, she has slid over to share a mat with her neighbor and given me her low stool.
Dawn has barely broken, the monks have yet to arrive, and in my hands I have a basket of rice to offer as a gift.