Travel
50-foot Tall 'Poptimus Prime' Balloon Sculpture Breaks Record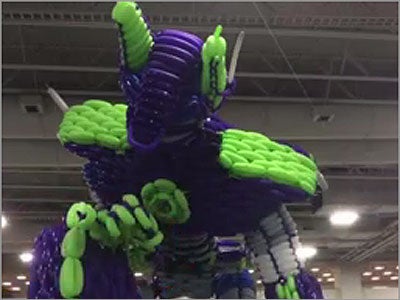 It's a dream come true, no doubt, for many little boys — a 50-foot tall Optimus Prime made entirely of balloons.
And a New York balloon artist named John Reid made the dream a reality by creating "Poptimus Prime'' for the 2014 Salt Lake Comic Con.
It took 42 hours and 4,302 gray, purple, and green balloons to create the Transformer. Reid's efforts broke a record for the largest balloon sculpture ever made by a single person, according to Record Holders Republic , which sent a representative to the event. The word is still out on whether the sculpture will also make the Guinness World Records, reports geyserofawesome.com.
"Check this off my bucket list!!!!'' Reid posted about the experience on the Facebook page for his company Epic Balloons.
The balloon was too tall for the Salt Palace Convention Center, so Reid and 10 volunteers reconfigured the leader of the Autobots into the kneeling position.
Watch him create the entire sculpture in this "Poptimus Prime Time Lapse'' video Reid posted on YouTube:
[fragment number=0]
What's Reid's next project?
He posted this on his Facebook page today: "I'm currently working on a major project with one of my best friends, that will be coming together after over 3 years of top secret work…''
What could it be? An entire balloon town?