Travel
Kiefer Sutherland Says You Should Eat at These Three Restaurants in London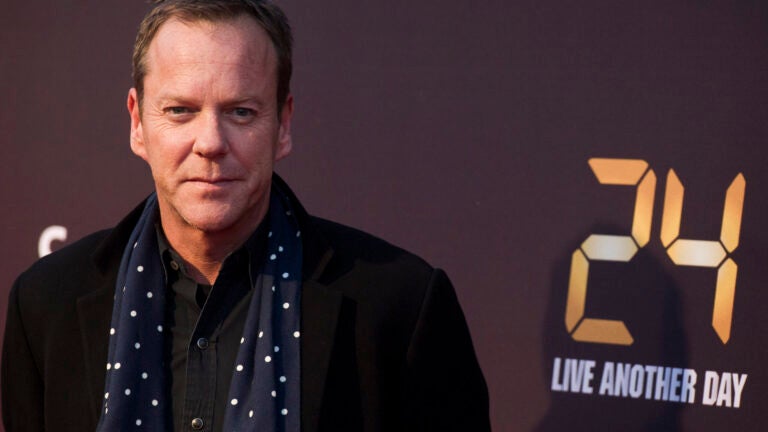 In the show "24: Live another Day,'' the CIA's London branch is hunting down Jack Bauer in the streets of England.
But actor Kiefer Sutherland's real-life experiences in London are quite different from his fast-moving script. Sutherland likes to linger in a teeny tiny Indian restaurant the size of a closet located in Shepherd Market.
Sutherland, who was born in London and raised in Canada, talked to Rachael Ray recently about the restaurant scene across the pond.
"The food is extraordinary there now,'' he told Ray. "London, for the longest time, was known for bangers and mash and meat pies and a really well done steak, which was not great. It was not known as a culinary destination. And that has changed now.''
If you'll be dining in London, Sutherland recommends you eat seafood, Chinese food, or Indian food. And here's why.
Scott's is "the best fish restaurant in the world,'' Sutherland said.
The restaurant offers oysters, fish, seasonal game, meat, and vegetarian dishes.
For those who like Chinese food, Sutherland strongly recommends eating at China Tang, Dorchester Hotel.
"One of the best Chinese restaurants, if not the best restaurant that I've ever been to in London, " he raved about the eating establishment.
The menu offers dim sum, dumplings, duck, lamb, pigeon, lobster, squid, and more.
And, finally, if you have a hankering for Indian food, head over to New Taj Mahal in Shepherd Market for great food and ambiance.
Sure, there's curry, lamb, and naan breads. But the restaurant's unusual dining area is as noteworthy as the food, according to Sutherland.
"You have to actually go down the stairs and you would literally think you were in Mubai in some little closet hangout,'' said Sutherland. "There's like four tables, the windows are painted green, I don't know why.''
Sounds like a perfect hiding spot for Jack Bauer.