Travel
Man Proposes to Girlfriend With Travel Video Four Years in the Making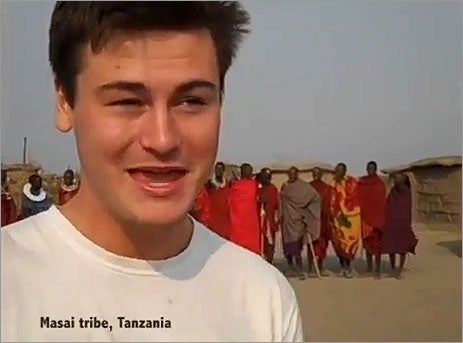 Sept. 30, 2010.
That's the day Jack Hyer and his girlfriend Becca went on their first date.
Afterward, he wrote this in his travel journal: "I'm going to marry this girl eventually.'' And an elaborate idea for a proposal formed in his head. That was four years ago.
Hyer, who calls himself a "globetrotter, explorer, budget travel expert'' on his Twitter profile, has traveled 100,000 miles through 28 countries and spent four months abroad over the past four years. During that time, he and Becca were mostly apart, he said in his video introduction. So he worked on a proposal video.
He proposed this month, on the night of their college graduation. He told her the video was a "graduation slide show.'' But when she watched, she saw Hyer singing the 1988 hit song "I'm Gonna Be (500 Miles)'' by the Proclaimers to her while walking through places like Cambodia, Israel, Greece, China, and Tanzania.
Becca said yes. And the video went viral.
But there's more. The couple, who volunteered together at an orphanage in Africa in 2012, is using the video's success to help the orphans they met there. They are asking visitors on YouTube to donate money to send those kids to school. And, as of this writing, they've raised more than $1,800.
And, finally, it looks like the future Mr. and Mrs. Hyer will be honeymooning in Belize — for free. The Belize Tourism Board liked the video so much, it offered the couple a free honeymoon via Twitter:
[fragment number=0]
Hyer's response?
[fragment number=1]
Budget-friendly travel doesn't get much friendlier than that.