Travel
Man Stuck Overnight in Las Vegas Airport Shoots Epic Music Video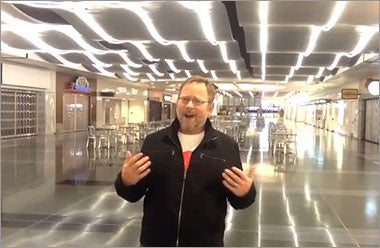 Richard Dunn was stuck overnight in Las Vegas' McCarran International Airport.
So what did he do? He shot a music video, of course.
While most people probably would have crawled up in a corner and caught some Zzz's, Dunn was inspired to act out the song "All By Myself'' by Celine Dion. He shot the video on his iPhone and then edited it when he finally got home to Georgia.
Dunn told the Canadian Broadcasting Company his overnight plight in the empty airport was his own fault — he gave up his seat on Delta Air Lines in exchange for vouchers and couldn't get on another flight until 6 a.m.
"I thought, well I don't have enough time to go to a hotel so what do I do? I've got my phone and an empty movie set, let's see what trouble I can get into,'' Dunn said in the interview.
So how did he get those great shots all by himself? He was pretty clear-headed and resourceful for a man on a mission in the wee hours of a Vegas morning. He taped his iPhone to a ruler, creating a tripod by sticking the ruler between his luggage. He also strapped his camera to his bag and set it on the escalator to achieve a different perspective.
Why Celine Dion? Well, she's kind of a guilty pleasure, he revealed. If Dunn returns to Las Vegas this summer, perhaps he can get some stage time with Dion. She's currently performing not far from where the video was shot, at the Colosseum at Caesars Palace.